Warm Greetings From The Road
What an absolutely wonderful welcome to be able to bring you with this edition of The Compass! It's been an extraordinary, emotional summer for all of us – our guests, travel partners, and incredible Tauck Directors – as we resumed our land journeys and cruises in so many destinations around the world. The return to travel in 2021 is unlike any travel experience any of us has ever had – and we'd like to share some of the stories, videos and photos with you as our "summer to remember" turns the page to autumn and marks the return to even more destinations (including Canada and Ireland). But first, here's what traveling this year is all about.

A Christening to Remember

ms Andorinha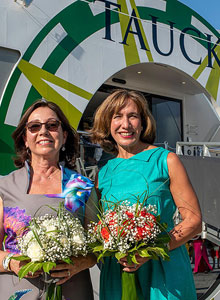 We discovered that the old adage "all good things are worth waiting for" is true – and truly, for all of us at Tauck, one of the highlights of this summer of 2021 was the emotional christening a few weeks ago of our newest riverboat, ms Andorinha, designed specifically for cruising along Portugal's Douro River. Tauck President Jennifer Tombaugh and our Chief Culture Officer, Sharyn Cannon, shared the honors as godmothers; it was a memorable day and inaugural cruise. Teams from Tauck, and our ship partner Scylla, joined about 35 guests for this very special first departure. Take a look at some of the highlights –

A Return to Europe's Rivers

"Being together, laughter and learning – what it's all about" – CEO Dan Mahar

Those words from CEO Dan Mahar perfectly describe what we all felt upon our long-awaited return to cruising the rivers of Europe. Dan shared his thoughts in a fabulous interview that in turn we'd like to share with you, courtesy of James Shillinglaw, Editor in Chief of Insider Travel Report. It took place aboard ms Andorinha during her inaugural voyage – and it's powerful.

Exploring America

Memorable moments close – or not so close – to home

There is an indomitable spirit that's shared by all who travel on our 2021 journeys in North America, whether it's an outdoor adventure shared in the amazing national parks of America's West or beautiful Alaska, learning a new skill or craft, or revisiting somewhere you've been before – and then seeing it through new eyes. It has been an extraordinary summer for travel throughout the US, with much more to come this autumn as guest-favorite fall foliage journeys begin again in the Northeastern US (and Canada). Take a look at a few of the memorable moments our guests, Tauck Directors, and travel partners enjoyed this summer.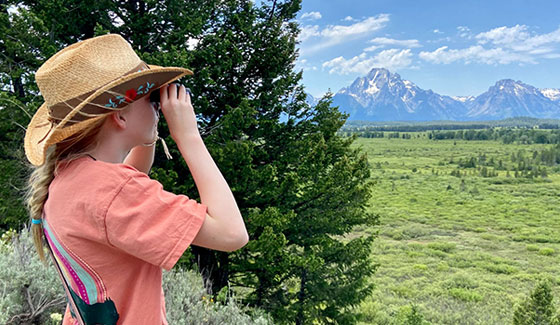 Quite Simply, The World

And it is a world we could not wait to explore together again

Africa – from Kenya to Tanzania, Botswana, Rwanda, South Africa and more – Egypt, Jordan, Morocco, Costa Rica. These are among the destinations across the globe that we're once again exploring with guests in 2021; places that stirred our imagination and kept us dreaming of travel. And now – we're here. Join us for a look at two destinations, Africa and Costa Rica, as seen through the eyes of our Tauck Directors and guests.

The Seas Are Calling

Where Small Is Big

Our return to Small Ship Cruising in 2021 has taken us from the Mediterranean Sea to the Greek Isles, the waters that surround Iceland, and the intriguing Galápagos Islands. Prior to our Galápagos cruises beginning in September, Robin Tauck and her daughter Colleen cruised the Galápagos archipelago and shared some wonderful photos. Guests on our Iceland and Greek Isles cruises did the same – take a look.
If You're Ready, We're Ready
2021 News – Autumn

The months of Autumn – September and October – are traditionally among our guests' favorite times to travel. We can't wait to welcome you back this year to explore fall foliage in the US and Canada, the advent of the cultural season throughout Europe, the lingering glow of summer aboard a small ship or river cruise… Visit our Open for Travel page to find our up-to-the-minute 2021 fall journeys and departure dates.
Основная рекомендация – получайте займ до 10 000 рублей только на
своё банковскую карту и онлайн, это выгодно.