East, West – and North – of the Mississippi River
A true melting pot of cultures, history, national and natural treasures, North America is an amazingly diverse and wondrous destination to explore. In this edition we'd like to introduce you to our newest journey, Life on the Mississippi, along with a look at our early 2021 departures of Wonderland: Yellowstone in Winter, a little bit about what Preservation Hall in New Orleans has been doing this past year, a behind-the-scenes look at the National Archives – and a fabulous recipe for scones (complete with stories) from our partners at The Fairmont Empress in Victoria Canada.

Life on the Mississippi
New for 2021, New Orleans, Memphis and legacies along the river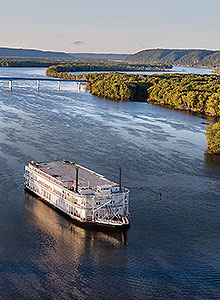 As iconic as America itself, we're so pleased to introduce our newest North America journey. You're in for a memorable adventure along the great Mississippi River on our new-for-2021 7-night Mississippi River Cruise aboard American Duchess – a boutique-styled paddle wheeler that combines classic river traditions with a modern-day flair – along with 2 nights in New Orleans and Memphis at iconic hotels. Get a closer look at the Mississippi, and Life on the Mississippi, inside.

Preservation Hall Jazz Band
Traditional New Orleans Jazz in the French Quarter
One of the highlights on Life on the Mississippi and New Orleans & Mississippi River Country is a visit to Preservation Hall for a private performance of the legendary Preservation Hall Jazz Band. Bourbon Street has been a little quiet these days – but the music keeps playing! There were some "silver linings" this year that Ron Rona, Artistic Director, shared with us.

Wonderland: Yellowstone in Winter
Celebrating nature at its finest, winter-style
Wonderland: Yellowstone in Winter, with all of our travel protocols in place, had some real modern-day explorers out in the field test-driving the experience – and as guests discovered, it was as memorable and wonderful as Tauck experiences have been for 96 years. As you'll discover when visiting the national park during the winter – when the valleys are snow-covered and bison, elk, wolves and bighorn sheep wander freely – Yellowstone's amazing geologic features are even more spectacular in the winter climate; this journey is an experience unlike any other. Take a look at some photos from these first departures, along with some quotes from guests.

Inside the National Archives
Tauck's 10-year partnership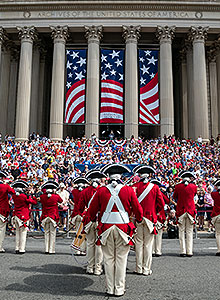 For the past 10 years, we've partnered with the National Archives to provide a special experience for Tauck guests on In Freedom's Footsteps: Philadelphia to Washington, DC. Tauck guests enter the Rotunda of the National Archives early, before the doors open to the public, for a private viewing of the Founding Documents – the Declaration of Independence, the Bill of Rights, and the Constitution, and a look at how documents are preserved. Taylor Collison, Marketing & Communications Manager and Jim Doumas, Deputy Executive Director for the National Archives Foundation put together some behind-the-scenes information and photos to share with you in this edition.
Steeped in tradition in Victoria, Canada
The Fairmont Empress and a recipe for scones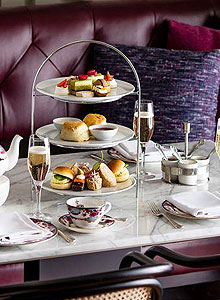 North of the border, our partners at Fairmont, Empress in Victoria, British Columbia, shared with us a great story about the royal china collection at the hotel, along with the recipe for their famous scones. On Grand Canadian Rockies, guests spend two nights in charming Victoria at the hotel and experience the hotel's signature Afternoon Tea. Read on, and we're certain you'll enjoy the recipe!