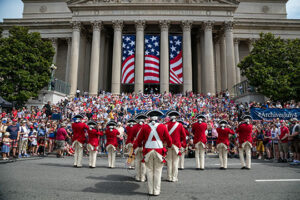 The Charters of Freedom rest in the Rotunda at the National Archives, on display for visitors from all over the world. However, this was not always the case. The original Declaration of Independence and US Constitution were kept out of the public eye and housed at the US State Department until 1921. After the National Archives was constructed from 1931-35, both were eventually reunited with the Bill of Rights at the Archives in 1952.
Overlooking the Charters are the famous murals painted by Barry Faulkner, which were crafted specifically for the Rotunda, and at the time, each were the largest single canvas paintings in the world. The left mural is a depiction of the signing of the Declaration of Independence and the right illustrates James Madison handing the Constitution to George Washington.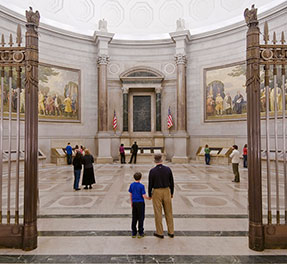 The room itself was designed to encapsulate the look of a neoclassical temple. Opposite the Charters are the towering bronze doors, which was the original museum entryway into the Rotunda. Today, those doors only open twice per year for special occasions which include the annual July 4th celebration held on the portico steps on Constitution Avenue.
Visitors experiencing the National Archives are treated to more than the excitement of seeing the original framing documents of America. Guests learn the firsthand stories of the nation's struggles and triumphs. The "Public Vaults" exhibit displays countless priceless records, video clips, and sound recordings, telling the human stories and impact from the Emancipation Proclamation to Rosie the Riveter and so much more.
Aside from the Rotunda, the Public Vaults is the oldest permanent exhibition in the building, designed to give museum goers a taste of the document's preservation rooms or "stacks" and an overview of all the different types of records held at the Archives. It includes a mix of original records, facsimiles and interactive portions.
One of the prized pieces of the Public Vaults is the Copper Plate. Because the Declaration of Independence was a well-traveled document, John Quincy Adams in 1820 feared its eventual fading and wanted to make sure it could be preserved. He commissioned Washington engraver William Stone to produce a copy of it. To do so, Stone needed to carve a copper plate to replicate this precious document. In 1823, that Copper Plate was sold to the State Department to make 200 copies of the original Declaration of Independence. In the Public Vaults, you will see one of these original copies from 1823 next to the original plate itself.

Whether it's letters from George Washington, the Emancipation Proclamation, international treaties, or letters written to the President of the United States from citizens from around the world, the Public Vaults and the National Archives all together creates a tapestry of the Republic's history and allows guests to reflect on our collective role in it today.
Exploring…