While the pandemic kept us off the road during the last nine months, it didn't keep us from doing what we love the most: sharing enriching travel experiences with our guests. We've been doing it through The Compass, a weekly e-newsletter we launched in April that's chock full of stories and sensory delights that inspire us to dream and engage with the world no matter where we happen to be.
To date, we have emailed 24 editions to our guests and extended family, featuring more than 130 unique stories and video messages from our Tauck Directors, local experts and travel partners. Throughout this time, we've shared recipes, destination insights and virtual tours – remembrances of the joys of travel kept our travel dreams alive. As we look ahead to the New Year, we thought you might enjoy a look back at a few highlights and guest favorites from The Compass.
Nature's Showcase
Videos kept us connected to the places where we love to travel, showcasing a Technicolor pageantry of world wonders no matter where we happen to be. Looking for inspiration and longing to get out into the world, nature videos were among our most popular and most watched in 2020. View two of our guest favorites below:
Mother Nature inspires with visions of rebirth and renewal in our contemplative After Winter vignette.

Filmmakers Ken Burns and Dayton Duncan pay eloquent tribute to our magnificent national parks in America's Best Idea.

What's Cooking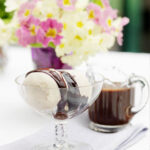 During this pause in travel, we've hungered for a taste of the world again. Thanks to talented Tauck culinary partners like cookbook author and celebrity chef Luca Manfé and Carolyn Robb, the former personal chef for Prince Charles and Princess Diana from 1987 to 2000, we were able to savor a virtual menu of international fare and prized recipes – without the calories! Bon Appetit!
Enjoy Carolyn Robb's recipe for "Quick Creamy Vanilla Ice Cream," no ice cream machine required! Travel Journal of a Royal Chef
Check out Chef Luca Manfé's frico demonstration; it was a big hit!
Making History
History is a big draw wherever we travel and in The Compass, it also proved to be a favorite topic for our guests. We are privileged to partner with some pretty amazing history experts on our trips around the world, including Winston Churchill's granddaughter, Celia Sandys, and Major General Graham Hollands, Royal Artillery (retired), whose knowledge of Normandy and the D-DAY invasion never fails to capture our attention. Enjoy hearing them talk about the subjects they know best in the videos below:
Hear Partner Celia Sandys Poem Recital written by a young 15-year-old Churchill 130 years ago, ringing with an uncanny familiarity with what we are going through today.
Listen to An Interview with Major General Graham Hollands about Normandy's "D-Day beaches in 1944.
On The Road With Our TDs
Our Tauck Directors (TDs) are among the most travel savvy and friendliest folks we know, knowledgeable about the destinations they explore and thrilled to share their passions with their guests on tour. Our TD profiles, introduced in The Compass, enable other travelers to get to know them too, learning firsthand what makes our guests rave about them:
Meet Mathieu Jaguelin, a 9-year Tauck Director, fluent in four languages and world traveler personified.
Meet Kathy Almy, a Zimbabwe native who delights in introducing guests to the magic of Africa.