One of my favourite aspects of being a royal chef was the fantastic diversity of the job and the fact that I wasn't working in the same kitchen day after day, endlessly preparing a repetitive menu. Some days there were high profile events for large numbers of guests – and tons of preparation to do! However, I always looked forward to the days when I was just cooking for the family and could indulge in spending all day working on a wonderful meal for four. Dennis, the gardener in charge of the walled kitchen garden at Highgrove, would appear at the kitchen door with his old willow basket overflowing with the most beautiful organic fruit and vegetables – and there can be no greater inspiration for a chef than produce that fresh, and that perfect. I always regretted that there wasn't an artist on hand to immortalise one of Dennis' baskets… asparagus, strawberries, meticulously cleaned baby new potatoes, and peas, in and out of their pods; all so symbolic of England in June. Then there was the deep green Swiss chard with stalks in every colour of the rainbow, yellow, white, blue and orange carrots, tied into bunches with old fashioned gardener's twine, red and golden raspberries and tomatoes of all shapes and sizes ranging from the brightest sunshine yellow through orange and red to dark burgundy. Best of all, their beautiful appearance was always a reflection of their magnificent flavour!
I have digressed; I could write endlessly about Dennis' incredible fruit and vegetables!
I loved travelling with the family, be it to a far-flung corner of the world for a grueling two-week royal tour or be it to somewhere closer to home for a private family holiday. Being part of a large tour party was exciting and I always felt an enormous sense of pride at being one of the cogs in the well-oiled machine that is the royal household. Attention to detail was top of the list when it came to logistics and organisation – and nothing was ever left to chance. There were few opportunities for 'family holidays,' and to be asked to accompany them on a private trip was the cherry on the top for me! When William and Harry were very young the family travelled to Tresco Island each summer for a few days for what I can only describe as a 'storybook English summer holiday'… sand castles, picnics of egg sandwiches and cold sausages, bike rides, ice creams and a ruined castle to explore and play 'hide and seek' in.
Tresco is one of the five inhabited islands of the Isles of Scilly, which is an archipelago of over 200 islands and rocks situated 28 miles off the coast of Cornwall in southwest England. It is a family-owned island with unspoilt sandy beaches. It is about two and a half miles long by a mile wide at its broadest point. Tresco Abbey has the most beautiful gardens surrounding it. They feature plants from more than 80 countries, many of which would not survive on the mainland but thrive in Tresco's temperate climate. There is also the fascinating Valhalla Museum, displaying figureheads from the many ships wrecked off the Scilly islands over the past 200 years! The tower of 17th-century Cromwell's Castle stands at the north of Tresco. The island is car-free and is criss-crossed by a great network of footpaths and paved roads.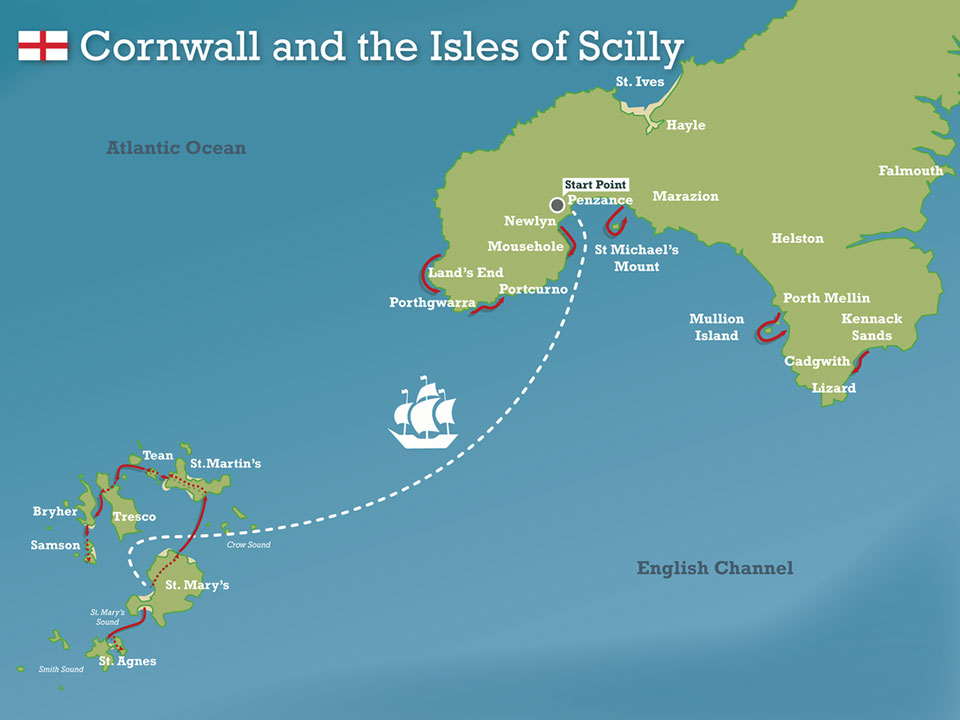 In 1337, a private estate known as the Duchy of Cornwall was established to fund the public, charitable, and private activities of the Prince of Wales and his family. The Scilly Isles has been part of the Duchy of Cornwall since its inception almost 700 years ago, and to this day it is a place which The Prince of Wales (Prince Charles) holds very dear to his heart. For this reason, alongside it's relatively remote location, it makes the perfect choice of holiday destination for the family, away from the glare of the public eye.
We stayed in Tresco Abbey with Robert Dorrien-Smith and his family. The connection between Tresco and the Dorrien-Smith family goes back to 1834 when Robert's ancestor Augustus Smith took on a long lease for the Scillies from the Duchy of Cornwall. This makes Robert Dorrien-Smith, in effect, Prince Charles's tenant – but they have a long-standing friendship.
The preparations for a trip such as this were considerably more low-key than for an official state visit. However, to reach the island we travelled by train and boat on the way there and by train and helicopter on the return trip, so I needed to travel lightly! I took as much produce from the gardens of Highgrove as I could squeeze in; apart from that, most of the basics I pre-ordered and had delivered to Tresco Abbey in advance of our arrival. The emphasis being on child-friendly picnic food!
The butler and I travelled ahead of the family. We went to Cornwall by train, arriving in Penzance. From there we got the ferry to St Mary's (the largest of the islands) and then made one final transfer to a smaller boat which took us to Tresco. We were warmly greeted by staff from Tresco Abbey when we finally arrived and there was a golf buggy, for transporting all my chiller boxes of food up the hill, while we followed on foot. By the time the family arrived, the following afternoon, I had familiarised myself with the island and spent time in the kitchen preparing such holiday essentials as homemade ice cream and chocolate sauce, chocolate cake, gingerbread men, and Prince Charles' favourite soda bread in preparation for picnic lunches. Only a handful of staff accompanied the family; protection officers, chef, butler, nanny and a valet.
The weekend was devoted to doing all the things that little boys most enjoy! There was a trip to the beach on Saturday morning, but sadly that was cut short as there were members of the press on boats at sea trying to photograph the family, using their intrusive long lenses – and this was exactly what they needed to escape from for these precious few days. Fortunately, there were many corners of the island that were not visible from a boat, even with the most prying of long lenses. On Saturday afternoon I was invited by William and Harry to join the family on bikes for a ride around the island. Members of staff seldom 'socialised' with the family, so this was a very special invitation and one which I accepted gladly. There was much laughter and fun and as Prince Charles knew the island like the back of his hand, I don't think there was a square inch that we didn't cycle over. The afternoon ended with a game of 'hide and seek' in and around the ruined castle – and some wonderful imaginary games were played and battles were fought. Prince Charles entered into the spirit of the battle wholeheartedly and was trying to make his escape from the enemy when he slipped down a grassy bank. His pristine cream chinos had a rather large grass stain on them; on seeing this Prince Harry said, "You had better clean that mark off your trousers before Ken sees it"… Ken was Prince Charles' valet!
The Prince and Princess returned to London on the Monday, but William and Harry spent another three days on Tresco with their nanny, protection officers and myself. During this time I had many more bike rides, picnics and castle adventures with them. I made many an egg sandwich and banana sandwich and I'm sure I made at least a gallon of chocolate sauce for the vanilla ice cream! I frequently pinched myself to check that this was real, as it certainly did not feel like 'work' to me. It was such a joy to see the boys experiencing so many simple childhood pleasures. For all their privilege, there is so much that they are denied due to their position.
The journey home was an adventure in itself, travelling with William and Harry. We went by helicopter to Penzance and then caught the train back to London. I sat next to William on the flight and even at just eight he was the perfect gentleman, fastening my seatbelt for me and explaining all the safety procedures. He clearly already had an amazing knowledge of the workings of a helicopter, which no doubt later stood him in good stead for becoming such an accomplished pilot! The train journey was several hours long but the time went quickly with the consumption of yet more egg sandwiches and cold chipolatas and the last of the gingerbread men. Harry drew the most beautifully detailed picture of a train which he wanted to give to the train driver to say thank you.
Of all the trips that I undertook with the family, this one certainly holds many of my most treasured memories. I look forward to sharing with you more travel tales (embellished with more culinary secrets) in the next installment. I will leave you with my recipes for vanilla ice cream and chocolate sauce as I can never make them without being transported back to Tresco….
QUICK CREAMY VANILLA ICE CREAM
No ice cream machine is required to make this gorgeously creamy, yet light and fluffy ice cream. All you need is eggs, sugar, vanilla, cream, crème fraîche and a good whisk or electric mixer. You will not find a commercially made ice cream that is anywhere near as nice as this. The recipe came from my wonderful mother for whom it was never too cold to eat ice cream!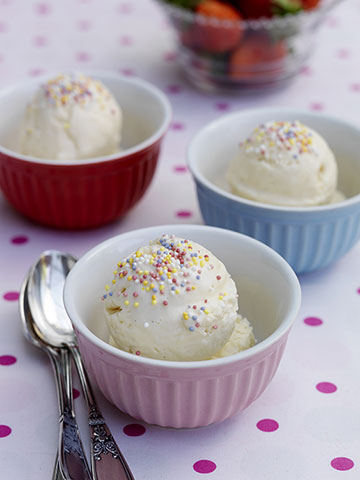 Makes about 8 good servings.
Ingredients:
4 medium, organic eggs at room temperature, separated
115g (4oz) organic golden caster sugar
5ml (1 teaspoon) pure vanilla extract
200ml (7 fl.oz) organic double cream
Method:
Place a plastic box, with a well-fitting lid, into the freezer to get cold.
Whisk the egg yolks and 90g (3 ½ oz) sugar together, over a pan of hot water, until they are pale in colour and very thick. Add the vanilla and continue whisking off the heat to allow the mixture to cool.
Whisk the cream until thick, but still smooth.
Whisk the egg whites until they reach soft peak stage and then add the remaining 25g (1oz) of sugar and keep whisking until you have a very thick and glossy meringue.
When the egg yolks and sugar are completely cold, lightly fold the cream in.
Lastly fold in the meringue, in 3 batches, taking care to mix very lightly.
Pour into the pre-chilled box and freeze for several hours before serving.
Keeps for up to 4 weeks in the freezer.
RICH CHOCOLATE SAUCE
Friends and clients often ask me for copies of my recipes, which I always love to share. This recipe is undoubtedly the one that I have given away more than any other. Served warm, the sauce is smooth, unctuous and indulgent and is the perfect companion to vanilla ice cream. Eaten cold, by the spoonful, straight from the jar (whilst hiding behind the refrigerator door) it seems to be equally popular!
Makes 350ml /½ pint
Ingredients:
120g / 4 oz butter (1 stick)
120g / 4 oz light soft brown sugar (1/2 cup)
60g / 2 oz golden syrup (3 Tbsp)
60g / 2 oz good quality dark chocolate (1/3 cup)
25ml / 2 Tbsp unsweetened cocoa powder
100ml / 1/3 cup double cream
5ml / 1 tsp vanilla extract
Method:
Combine all the ingredients in a heavy based saucepan.
Heat gently to melt the butter and chocolate and stir to dissolve the sugar.
Simmer gently for 1 minute, keep stirring constantly as it catches and burns very easily.
Serve immediately or pour into a glass jar to store.
Cool completely before sealing the jar. Store in the refrigerator.
Keeps for 3 weeks.
Variations:
Add 2 tablespoons of a liqueur of your choice:
'Crème de Menthe' for a choc-mint sauce
'Cointreau' for choc-orange sauce
'Amaretto' for choc-almond sauce
Сейчас можно легко получить онлайн займ, даже не выходя из дома, на сайте
credit-n
.
На данный момент на нашем сайте
credit-n.ru
есть возможность оформить займ онлайн на сумму от 2 000 рублей.