Intimate, relaxed cruising in Portugal and France
With the reopening of Portugal and France to travelers in 2021 (and our 2022 river cruise departure dates filling quickly), we're dedicating this issue of The Compass to the many pleasures experienced when cruising these countries' famed rivers, the Douro, Seine and Rhône. The pace is relaxed. The landscapes brushed with a swathe of beauty that is Mother Nature at her finest; there is absolutely nothing better than a quiet read, or a spirited conversation with friends, or maybe just quiet contemplation in a comfortable chair on the top deck, ensconced by views ashore of mythic vineyards and rolling hills. You find yourself inspired. We're focusing here on life ashore – vineyards, gardens, beaches and even a ranch experience with the gardians (cowboys) of the Camargue. And the fact that there's limited packing and unpacking required, with just about everything included – all this combined is what makes our Portugal and France river cruises truly "pure magic."

Introducing ms Andorinha
Cruising the Douro in Portugal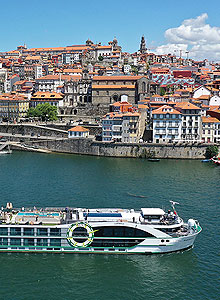 There is a new ship on the rivers of Europe – our ms Andorinha, cruising Portugal's Douro River beginning August 2021. Swallows (andorinhas) have a special place in Portuguese culture. Migratory birds, small and graceful, they mate for life, and no matter how far they travel, they always return to the same nest – andorinhas are romantic symbols of home, love, and faithfulness. In the 19th century, Portuguese sailors often had these birds tattooed on their arms for good luck, to ensure their safe return home. And so, our newest vessel is about to be christened on August 7, 2021 – with its unique name, and two very special Tauck "godmothers" performing their official duties to bring the ship good luck. We'll reveal the identity of the godmothers shortly – but in the meantime, we have a video that will inspire you to cruise aboard ms Andorinha right now, along with more information – about both the ship, and the swallow, of course.

Fruit of the Vine
Vineyards, wine and stories

Aboard the riverboat, your stateroom is where you end, and begin, your day – but the real riverboat experience is what you discover from the riverboat's many different vantage points you'll find outside of that stateroom. Passing views of terraced vineyards, or fairy tale villages surrounded by a kaleidoscope of vines and stunning colors, or legendary wine estates surrounded by budding grapevines are always new. And once ashore, whether in Portugal or France, you'll have vineyard experiences and tastings that match the views. Get a preview of vineyard experiences along the Rhône and Douro inside.

French Gardens and Châteaux
A symphony of simplicity and symmetry
Throughout France, gardens and historic French châteaux thrive independently – but often, they're found in countryside co-existence. Our river cruises along the Seine include a visit to Giverny and the home and gardens that served as inspiration for Impressionist artist Claude Monet; an exclusive early opening for Tauck guests, before the general public arrives, provides an opportunity to immerse in his world. Along the Rhône, there's no better way to learn about life in a château than to spend an evening in one – and our river cruises feature an exclusive gala evening for Tauck guests at the Duchy of Uzès, the family castle of the Duke of Uzès. We've put together additional information, and a few videos, inside.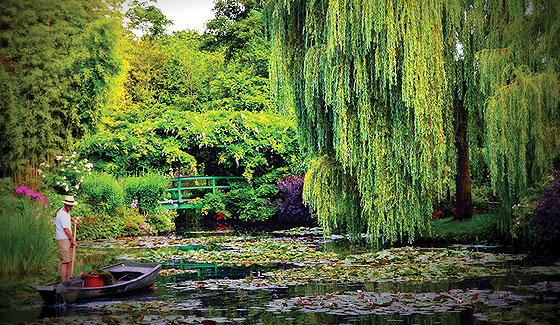 Gardians and Traditions
The Camargue of the Rhône
River cruising in France never ceases to surprise with its extraordinary range of landscapes and experiences. One such destination is the Camargue, a natural wetland region between the Mediterranean Sea and the two arms of the Rhône known for ranching, white horses and a specialized breed of bull. Our three Rhône river cruises bring guests into the Camargue for a unique ranch experience – and we thought we would provide a look at life in the region, and its deep and unique cultural heritage. Tauck Director Jean-Philippe Ruzé provides us with a fascinating look at the unique dress of the "gardians" – and we've included a video from the June 2021 "La Fête des Gardians," an annual festival in Arles that celebrates the traditions and lifestyle of the Gardians.
North and South

The famed beaches of France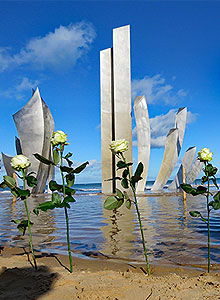 Beaches that lie along coastal France weave together threads that define the country's cultural fabric, where historic events along northern shores shaped the world and jet-setting lifestyles in the south continuously define them. Our river cruises along the Seine include a visit to Normandy's poignant WWII D-Day beaches; and river cruises along the Rhône visit the Côte d'Azur (French Riviera) – Cannes, Nice and Monte-Carlo. We're so pleased to introduce you to one of our key partners in France, Major General Graham Hollands. For the past 10 years, Major General Hollands has shared his vast knowledge, "insider stories" and expertise with guests as he guides their visit in Normandy – in our video, he provides insights into this special experience. We also have a look at some of the cultural influences found along the Côte d'Azur.

2022 European River Cruises
New! Floriade and Oberammergau, once-in-a-decade events
Our complete collection of 2022 European River Cruises is available in our ebrochure; preferred departure dates are filling quickly, so we encourage you to make your bookings now.
If You're Ready, We're Ready
2021 News – Africa and Europe:
Beginning in August, our Africa safaris are operating.
Europe Land Journeys are continually opening, beginning in August.
Visit our Open For Travel page to find up-to-the-minute 2021 journeys and departure dates.
На данный момент на нашем сайте
credit-n.ru
есть возможность оформить займ онлайн на сумму от 2 000 рублей.
Займы на карту без залога выдаются круглосуточно, так как это происходит автоматически.
Считается, ошибочно, кстати, что алтернативой кредиту является займ онлайн, но позольте, это совсем не так.