Beaches that lie along coastal France weave together threads that define the country's cultural fabric, where historic events along northern shores shaped the world and jet-setting lifestyles in the south continuously define them. Our river cruises along the Seine include a visit to Normandy's poignant WWII D-Day beaches; and river cruises along the Rhône visit the Côte d'Azur (French Riviera) – Cannes, Nice and Monte-Carlo.
We're so pleased to introduce you to one of our key partners in France, Major General Graham Hollands. For the past 10 years, Major General Hollands has shared his vast knowledge, "insider stories" and expertise with guests as he guides their visit in Normandy – in our video, he provides insights into this special experience. Major General Hollands served for 32 years with the British Royal Artillery. He commanded artillery at every level between Troop and Army Group and served as a principal Operational Staff Officer up to Army level. His service included five operational tours in Northern Ireland and a major role in the planning and deployment for Operation DESERT STORM. He has studied the Normandy battles of 1944 for over 50 years, and has resided in Normandy for the past 16 years. General Hollands has appeared on the Discovery Channel and the BBC as an expert commentator on D-Day and the Battle for Normandy.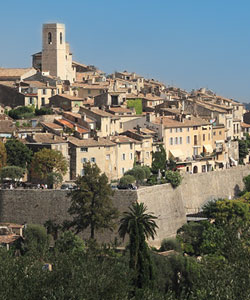 We also have a look at some of the cultural influences found on a choice of excursion along the Côte d'Azur on our Rhône river cruise French Escapade: The Riviera to Paris. The choices include a visit to the perfume capital of the world in Grasse and a tour of the historic hilltop village of Saint-Paul-de-Vence – or, an opportunity to explore Nice, the capital of the French Riviera to see how the city reflects the Mediterranean's French and Italian influences, plus a visit to glamorous Monaco and a walking tour of Monte-Carlo.
Exploring…