Of all the many skills that a chef needs to hone, the art of packing is generally not one of them. However, as a royal chef constantly on the move, being able to pack anything from your favourite razor-sharp chef's knife to the most delicate of freshly picked homegrown herbs, and transport them safely to the other side of the country (or in some instances to the other side of the planet) was imperative. Each year we undertook a couple of official overseas state visits. Careful planning was vital and so it was just as was well that I've always been one for writing extensive lists for myself! Some state visits took us to exotic locations where there was no opportunity for getting fresh supplies locally, in which case I needed to have with me all the ingredients that I required for meals for the tour party for up to a week at a time. I always travelled with my trusty box of basic kitchen utensils and equipment as some kitchens had only the bare essentials. Sometimes I had no kitchen to speak of, so set myself up in a hotel bedroom, an office space, a broom cupboard and even a large ensuite bathroom on one occasion. I loved the challenges that tours always threw up – and it certainly reinforced that you really don't need a state-of-the-art-kitchen to produce a wonderful meal, in fact you barely need a kitchen at all.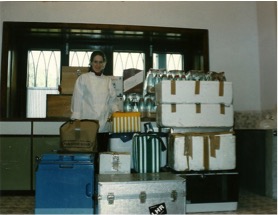 I have such fond memories of HRH The Prince of Wales' official state visit to Sri Lanka, Nepal and Bhutan in 1998. When I heard that we would be going to 'The Royal Kingdom of Bhutan', the first thing I did was consult my atlas, as apart from knowing that it is in Asia, I knew little else about this hidden gem. The "land of the dragon" is a small, landlocked nation located in the eastern Himalaya mountains bordered by India, Nepal and Bangladesh. It is smaller than Switzerland and is about half the size of the state of Indiana. The landscape is largely mountainous. The people that I encountered in Bhutan are amongst the most gentle folk I have ever met, and I loved the fact that there was no sign of any commercialised western influence on the society there. Not a 'Starbucks' or a 'Gap' clothing store to be found and the majority of the locals all wore the distinctive traditional dress.
This tour was one of incredible contrasts. First stop was Colombo in Sri Lanka where we stayed in the British High Commissioner's residence. It was a white colonial style house surrounded by beautiful exotic gardens. The house had its own staff, who were very warm and welcoming and the kitchen, which I shared with the resident chefs, was a very homely and well-appointed domestic kitchen. It was always nice to start a tour with an 'easy' location! I remember it being very hot and preparing many hundreds of canapes for several receptions to be hosted by His Royal Highness. Some aspects of the tour programme had to be curtailed as there was a lot of unrest with the Tamil Tigers at that time and several locations were deemed unsafe for a royal visitor; we were under strict orders not to leave the compound.
After several days in Colombo we travelled to Kathmandu, where we stayed in the Royal guest Palace. It had a rather intimidating appearance and was surrounded by a very tall and inhospitable metal paling fence. Outside the confines of the palace it was noisy, dusty, hectic, chaotic, hot, vibrantly colourful and swarming with people and wildly erratic moped riders. Driving past the guards and through the palace gates we left this all behind and entered a completely different world – one which was cold and sterile, felt rather unwelcoming, and was totally lacking in the ambience which was in such abundance all around it. It felt rather uncomfortable being juxtaposed in this grand palace, with the real world all around it.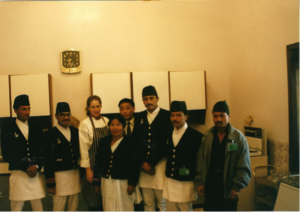 The palace staff were very welcoming and were certainly helpful in making sure I didn't get lost on the many identical and massively long walks from one part of the palace to another! The hugely long, straight, marble corridors all looked identical to me. My kitchen was very large and sparsely equipped, but was perfectly functional. My two helpers were wonderfully chatty young men who were determined that I should learn some Nepalese words (and they should learn some English.) There was much laughter, if not any great linguistic advances!
It was very rare on a royal tour to have the time or opportunity to do any sight-seeing (or shopping!) but I always tried to visit a local food market. I seldom bought anything but loved exploring and discovering new and exotic fresh produce and ingredients. Food is such an integral part of every culture and I have always loved learning about local specialities and delicacies. I was lucky enough to get to a market in Kathmandu where the food offering was fascinating but the array of pashmina's was mesmerising! So many beautiful colours, shapes and sizes but without the eye-watering price tags that are attached in London. For several years after that, family members knew what they would be getting for Christmas and birthdays, and they weren't unhappy about that!
Nine days into the tour and it was time to move on to our final destination – Bhutan. We flew to Paro International Airport, which boasts one of the most dangerous and difficult landing strips in the world. Paro is located in a deep valley near the Paro Chhu river. The airport is about a mile and a half above sea level, and is difficult and dangerous to land at because of the 18,000-foot peaks surrounding it. Also, the runway is notoriously short for landing on. This meant that the large charter plane that we had travelled in thus far could not go to Bhutan, so the party was reduced in numbers and we flew in a much smaller aircraft with a pilot who was very experienced in landing at Paro! During the flight I got my first real view of the Himalayas; so majestic.
On landing in Paro it was all hands on deck to unload the luggage from the hold and pack it into several vans, one dedicated to my boxes of food. I accompanied the driver of that van and we set off on the journey to Thimphu where we were staying in the guest palace that night. It was the most terrifying drive of my life! Narrow dirt roads zig-zagging up and down the mountains in a series of ever sharper and more precarious hairpin bends. Every corner was a blind one and the local strategy for navigating these was not to reduce speed but rather to sit on the horn almost continuously – in the hope that any oncoming traffic would hear you approaching and move away from the centre of the road towards their side. We made it in one piece. Somehow? I now feel totally justified in declining the chance to go on any roller coaster ride in a theme park – I feel as if I have done the 'real thing' and there is no need to ever do that again!
The palace where we stayed was unlike any palace I had experienced before, (and I have been to quite a few!) The colours were vivid and the décor was stunning; not remotely ostentatious, but beautiful in a rustic, simple and very traditional Bhutanese tradition. Strings of colourful prayer flags fluttered in the wind for many miles along the road that lead us to the Palace. My kitchen was small and lacked the abundance of vibrant colour that adorned every other room, but it was functional and I was happy.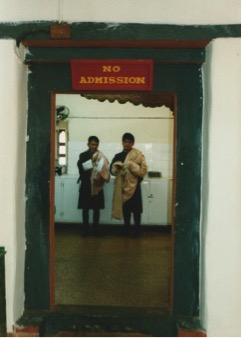 The following day we moved on to another location. Thankfully, this journey was not a repeat of the previous day's white-knuckle ride. Our accommodation was not in a palace but in a guest residence. His Royal Highness was entertaining the King of Bhutan that evening. My kitchen was not really befitting of the task of cooking for a King and an heir to the throne! There was no running water (fortunately, I had a good supply of bottled water with me). Cooking facilities comprised a gas camping stove with a single burner and an oven, of sorts. There was a refrigerator which was warmer inside than the positively arctic temperature of the kitchen itself – and it had no shelves in it. That evening I cooked dinner with my coat on over my chef's jacket – there's a first time for everything, and those firsts often happened on royal tours! There was a shiny newly purchased microwave, but there was no suitable socket to plug it into. I had two very solemn and silent gentlemen in the kitchen with me as 'helpers', though I still to this day wonder if perhaps they were undercover security by the way they watched my every move in silence! They had very long tea towels draped over their shoulders. Communication was minimal.
Although royal dinner was only for two that night, it was not an easy task. Just before the meal Prince Charles brought the King into the kitchen as he wanted to show His Majesty some of the homegrown produce from Highgrove that had travelled with us. As far as I remember, the menu included a wild mushroom risotto, (made with mushrooms that we had picked on the Balmoral estate in Scotland) followed by an apple crumble made with Highgrove apples and served with wonderful cream from the Royal Dairy in Windsor.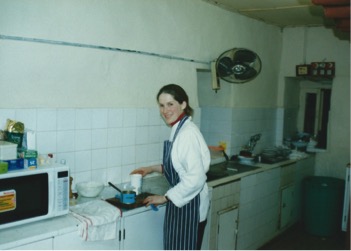 The following night, His Majesty The King entertained Prince Charles at a local restaurant. I was asked to go along and prepare a few traditional British dishes to be served alongside the array of local specialities. There were three elderly lady chefs in the kitchen and a young man, perhaps a grandson of one of the ladies. Not a word of English was spoken or understood. There was a large solid top stove in the centre of the room. On it were eight huge and very old and battered saucepans. The smell from the simmering pots was quite overwhelming and rather rancid. I lifted the lids but could not recognise anything – turned out that everything was Yak related and cooked in yak butter or milk; it seemed that not many bits of the poor beast had gone to waste. How I would have loved to be able to speak to those ladies – I had a million questions for them!
This tour is the one that I most enjoy reminiscing about, so many vivid memories, special people and the most hair-raising journey of my life!
I look forward to sharing with you my experiences from many more royal tours, in future editions!
In the meantime, Happy Cooking!
Do try my recipe for Apple Crumble – or as you would say – 'Apple Crisp'
APPLE AND CINNAMON CRUMBLE WITH BLACKBERRY CREAM
Blackberry and apple crumble is a classic English dessert, and it represents the finest in comfort food! In this recipe I have taken the blackberries out of the crumble and have blended them to a gorgeous velvety puree which I then fold into whipped cream. It marries perfectly with the warm apple filling and the cinnamon scented crumble topping, but it is also very tempting to eat it on its own.
Over the years I have made many a crumble and in a diversity of locations. The most exotic of those has to be the Kingdom of Bhutan, which I visited on an official royal tour with HRH The Prince of Wales. His Majesty King Jigme Singye Wangchuck came for dinner and I made a crumble using apples from Highgrove and served it with cream from the Royal Dairy at Windsor!
When apples are abundant, prepare and freeze them in small batches. You can also freeze a box of crumble topping; and then in the depths of winter, you can pull both out of the freezer, throw them together and in moments you have a wonderful pudding in the oven!
Serves 4
You will need either four individual portion oven-proof dishes or one 900ml (1 ½ pint) oven-proof dish
Ingredients:
For the Apple Filling:
900g (2lbs) Bramley or other cooking apples, peeled, cored and diced
40g (1 ½ oz) butter
120g (4oz) light muscovado sugar
7,5ml (1 ½ teaspoons) cinnamon
For the Crumble Topping:
120g (4oz) butter
60g (2oz) light muscovado sugar
120g (4oz) plain flour
45g (1 ½ oz) rolled oats
30g (1oz) flaked or shredded (dessicated) fresh coconut
5ml (1 teaspoon) pure vanilla extract
2,5ml ( ½ teaspoon) cinnamon
30g (1oz) pecans, chopped
For the Blackberry Cream
150g (5 ½ oz) blackberries (you can use frozen ones)
30g (1 oz) sugar
25ml (2 tablespoons) water
5ml (1 teaspoon) vanilla extract
150ml (5 floz/1/4 pint) double cream, lightly whipped
Method:
Pre heat the oven to 190ºC (375º).
Prepare the apple filling. In a heavy based saucepan or non-stick frying pan melt the butter with the sugar and cinnamon. Add the diced apple and cook over quite a high heat for about 5 minutes to 'caramelise' it.
Divide the apple between the four oven proof dishes.
Make the crumble topping. Place all the ingredients into a food processor and process until the mixture resembles chunky breadcrumbs. If making it by hand, place the butter, sugar and vanilla in a large mixing bowl and cream and then mix in the remaining ingredients.
Cover the apple with the crumble mixture.
Place the dishes on a baking tray and bake for 20 – 30 minutes depending on the size. The topping should be golden and crunchy.
While the crumble is baking prepare the blackberry cream. Cook the blackberries with the sugar, water and vanilla in a small saucepan with the lid on, for about 10 minutes, or until the blackberries are soft. Puree them with a hand blender and then rub through a fine sieve to remove the pips.
When the puree is completely cold, swirl it carefully into the whipped cream and serve with the crumble. Alternatively you can serve the blackberry puree with Greek yogurt .
Какой вариант, вы считаете, более предпочтителен при получении онлайн займа, на карту или наличными?
А, вот рассматривать вариант быстрого кредита – микрозайм, в качестве выхода, то ситуация становится не такой печальной.
Считается, ошибочно, кстати, что алтернативой кредиту является займ онлайн, но позольте, это совсем не так.