As a royal chef, travel was an integral part of everyday life. We seldom spent more than a few days in any location before moving to another. Mostly we travelled between royal residences within the UK, to fit in with Their Royal Highness's very busy schedule of engagements. However, each year there were two overseas official state visits. These generally lasted between ten days and two weeks and we would often visit three or four countries in this time. There were many different reasons for state visits taking place, generally the royal family would visit countries where they could make a difference through charitable and other aid initiatives, however, tours were also planned around celebrations such as coronations and other events of national importance.
I remember being called to a 'pre-tour' meeting at St James's Palace in January of 1997 and realising that this tour would be like no other I had been on and would give me the amazing opportunity to be in the midst of a major historical event. HRH The Prince of Wales was to represent HM The Queen at the handover ceremony of Hong Kong on June 30th 1997, officially marking the transfer of sovereignty over Hong Kong from the United Kingdom of Great Britain and Northern Ireland to the People's Republic of China. We were to be based on the royal yacht, HMY Britannia, in Hong Kong for 5 days in the run up to the handover and sail out of Hong Kong just after midnight on June 30th.
As with any tour, the planning started many months before we departed. Although this was a shorter tour than usual, it was to be particularly busy with many high-profile events being hosted on the Britannia. As soon as we had an outline of the programme, menu planning began and after a consultation with Prince Charles, menus were confirmed and ingredients lists compiled. All non-perishable ingredients were victualled onto the yacht in early March, before it left the naval base in Southampton for several destinations and British trade events before arriving in Hong Kong in late June.
There were two galleys on the Britannia, one for the ships company; cooking for about two hundred hungry sailors, and then the 'royal galley' where we cooked for the royal party and all official entertaining. We had three wonderful navy chefs in the royal galley, who worked alongside the visiting chefs (be they Queen's chefs or The Prince of Wales's chefs, etc.). The head chef was a fantastic man called 'Swampy' – it was a long time before I discovered his real name – Lawrence Marsh! He was a very important liaison in getting all our supplies on board. For fresh produce we would place orders with local suppliers (wherever in the world we were) and they would often deliver to the yacht just before we arrived, so he would carefully check the produce and stow it ready for our arrival. We generally started cooking as soon as we boarded, so supplies needed to be in place.
The galley was certainly not 'state of the art'! It was very small, poorly ventilated and in climates as humid as Hong Kong it was very hot. However, it was amazing what we managed to produce and it was always a place of much laughter and camaraderie. I was the first female chef to cook on the Britannia and there was a young sailor whom I could call on when I needed ingredients from the store. The chillers were all several floors below the level of the galley and in order to get to them you had to go through the sailors' living quarters, so I was not permitted to go down there! I was hence spared many trips up and down steep ladders with heavy sacks of potatoes and boxes of apples.
The royal tour party arrived in Hong Kong on the morning of June 24th 1997. We served a light lunch that day to HRH The Prince of Wales and several guests followed by the first official event that evening, of a canapé reception for 100 guests. The days that followed were very long and busy with not only lunches, dinners and receptions but working breakfasts too. One vivid memory I have, is of walking the streets very late one evening in search of Danish Pastries! The British foreign secretary, was hosting a breakfast meeting on board the following morning and for some crazy reason had stipulated that this was what he wanted to serve. The galley was far too hot to contemplate making any and the Hong Kong humidity dictated that even the crispiest, flakiest croissant quickly became soft and rather rubbery. However, foreign secretary Cook was not to be deterred, so once dinner had been served, I set off with a couple of sailors (who had visited Hong Kong on many previous occasions and knew it well) in search of the said confections. It was after midnight when we eventually found a bakery which had just started their night shift and we agreed to return at 6:00 am to collect our bounty. By the time they were served several hours later they still looked delicious, but were far from crisp. I doubt Mr Cook had any inkling of how much trouble he had put us to!
June 30th was a very busy day in the galley, so there was no venturing ashore. Those who did have the opportunity to do so, described an atmosphere of great anticipation and optimistic expectation but tinged with uncertainty. It was quite stormy in the afternoon which added tremendously to the feeling of the highly emotionally charged day that it was. There was a full programme of official events all day and continuing into the evening. These are some of the highlights:
16:30 Governor Chris Patten departed from Government House for HMY Britannia.
18:00 British Hong Kong troops farewell ceremony was held. Governor Chris Patten began his speech with "Today is a day of celebration, not sorrow".
18:15 Sunset farewell ceremony parade on Hong Kong waterfronts.
19:30 Cocktail reception for 4,000 guests at Hong Kong Convention and Exhibition Centre (fortunately we did not have to cater for this!)
19:45 Prime Minister Tony Blair meets for summit talks with President Jiang Zemin.
23:30 Handover Ceremony officially begins. The Prince of Wales reads a farewell speech on behalf of Queen Elizabeth II.
23:59:00-23:59:48 Moments before midnight the Flag of the United Kingdom and the British colonial flag of Hong Kong were slowly lowered to the British national anthem, symbolising the end of British colonial rule in Hong Kong. Then, a 12-second hiatus occurred between the British and Chinese anthems.
00:00 Sovereignty of Hong Kong is officially transferred from the United Kingdom to the People's Republic of China. The Flag of the People's Republic of China and the new Hong Kong regional flag were simultaneously raised to the Chinese national anthem, to officially mark the beginning of the Chinese rule in Hong Kong.
00:15 Charles, Prince of Wales and Governor Chris Patten with his family, bid the citizens of Hong Kong farewell at the Tamar site. They boarded HMY Britannia and sailed to the Philippines, from where they flew back to London.
Sailing out of Hong Kong harbour is something I shall never forget! There were hundreds of small boats in the water all around the Britannia, there were fireworks everywhere, thousands of candles burning in the windows of the many tower blocks and there were many bands playing. For Governor Chris Patten and his family, it was an incredibly emotional departure. I was fortunate to be allowed to stand on the bridge as we set sail, from where I got a fantastic view. In addition to that, although it was relatively early days for mobile phones, I was able to make a call to my parents who were watching the ceremony on television in South Africa. I told them where I was standing and to look out for me in my red dress – and whilst I was speaking to them, they spotted me. I was so thrilled to be able to feel that I had truly shared such an incredibly special experience with them across so many miles.
Very quickly we left the bright lights of Hong Kong behind us and were surrounded by just ocean and darkness as we headed for the Philippines. It was a very rough few days at sea, and not very enjoyable for those of us who were not seasoned sailors! However, it was also a time to savour, as this was the final voyage of HMY Britannia before she was de-commissioned. Disembarking for the very last time on arrival into the Philippines was so sad. The royal yacht holds a host of very happy memories for me, from many exotic corners of the globe.
Here is the recipe for one of the dishes that we served whilst in Hong Kong, taken from my cookbook 'The Royal Touch'.
CRAB TIAN WITH MANGO AND AVOCADO
If you are looking for a starter that takes next to no time to prepare and yet will still impress your guests, then this is the one for you. It is also versatile; while it is perfect for a light summers lunch it is certainly not out of place served at a formal dinner. You can vary the presentation and if you don't have ring moulds then you can shape the crab into quenelles using two tablespoons. If you are preparing this more than an hour before it will be served, leave out the avocado as it will become discoloured. In this case you could use diced tomato instead and garnish with avocado and superfine beans.
Serves 4
You will need four 10cm (4 inch) metal rings which are at least 5cm (2 inches) high OR you can use ramekins of similar size.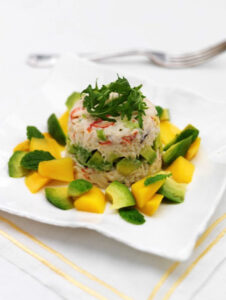 Ingredients:
For the crab mayonnaise:
400g /14 oz white crab meat
Zest of 1 lemon
1 red chilli
6 scallions
75ml /1/3 cup mayonnaise
Sea salt and freshly ground black pepper
A handful of fresh mint leaves
1 large ripe avocado
a squeeze of fresh lemon juice,
For the garnish:
1 large ripe but firm avocado
A squeeze of fresh lemon juice
A drizzle of extra virgin olive oil
Sea salt and freshly ground black pepper
1 ripe mango
A handful of wild arugula & a few extra mint leaves
Method:
Line the rings or ramekins with plastic wrap and chill in the refrigerator.
For the crab mayonnaise: Check the crab meat carefully with your fingers and remove any small pieces of shell. Finely grate the lemon zest into the crabmeat. Seed and finely slice the chilli and chop the spring onions very thinly, mix both into the crabmeat with the mayonnaise. Season delicately with salt and freshly ground black pepper. spacing seems quite wide in no. 2 in your text
Lastly, shred the mint and mix it into the crab mayonnaise.
Dice one of the avocados, squeeze the lemon juice over it and season with salt and pepper.
Divide half of the crab mayonnaise between the 4 rings or moulds.
Place a quarter of the diced avocado into each ring and distribute it evenly over the crab.
Cover the avocado with the remaining crab mayonnaise. Press down well so that the tian holds its shape when turned out.
Chill for at least 30 minutes.
Turn each tian out onto the centre of a plate and surround with small chunks of mango and avocado and a few mint leaves.
Drizzle the lemon juice and olive oil over the mango and avocado. Season with black pepper and finish with a little twist of wild rocket on top of each tian.
До 100 000 рублей в виде онлайн займа на ресурсе
credit-n.ru
без залога и поручителей, на карту онлайн.