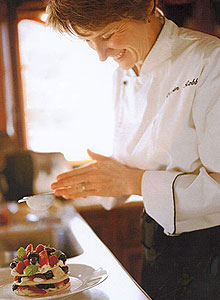 Travel and adventure have always been a huge a part of my life and, I feel, are in my genetic make-up! I grew up in South Africa. My father was a Capetonian and my mother was an English rose from the home counties. In 1947, when life was still very bleak in the UK after so many years of war, my mother set off for Africa. She travelled on a flying boat and three days later after several stops, she reached Harare in Zimbabwe. Further exploration led her to Malawi where she met my father, who was working there at the time. An expedition like this, undertaken some 70 years ago by a young girl on her own demonstrates considerable spirit of adventure, some of which I would like to think I have inherited!
After completing my time at university, in South Africa, I headed for the Swiss Alps, with just my backpack and my newly acquired French and German skills. I spent a ski season working hard in wonderful family-owned hotel in Murren. My next port of call was a fabulous culinary school in Surrey, UK from which I graduated as top student and with my diploma in Cordon Blue Cookery.  My career as a chef got off to an extraordinary start, at Kensington Palace. At the age of 21, I took up the position of chef to TRH The Duke and Duchess of Gloucester and their 3 young children; a fantastic family to cook for. This time was also a brilliant introduction to the etiquette and many protocols of working in the Royal Household. Two years later I joined the TRH The Prince and Princess of Wales and the young princes William and Harry, where I remained for a further 11 years.
Travel was an integral part of everyday life in the royal household, travelling between residences within the UK as well as overseas. The family had limited opportunities for private holidays, but those that I undertook with them, hold a very special place in my heart. Each year there were at least two official overseas state visits. These usually lasted between 10 days and 2 weeks and would incorporate visits to 3 or 4 countries. The tour party ranged in size from just a handful of people up to about twenty, depending on Their Royal Highnesses' itinerary, the length of the tour and the destination. Being a part of a royal tour was an incredible experience. The attention to detail that went into the planning and running of an overseas state visit was second to none and being a member of the tour party was akin to being a part of a very well-oiled machine. Behind the scenes, things were not always easy but I loved the challenge of recreating 'home-cooked' meals wherever in the world we were.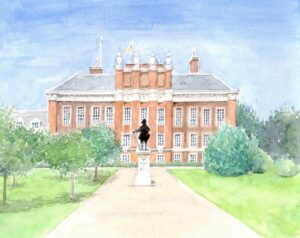 I cooked in palaces, castles, embassies, high commissioner's residences, presidential residences, hotels and private homes as well as on boats, trains and aeroplanes. Sometimes the kitchens were fantastic, but frequently they were surprisingly basic. One that I remember fondly, in Bhutan, had no running water or electricity and I used a camping stove to cook on! Being a chef on tour called for plentiful supplies of resourcefulness, flexibility and good humour but it was an enormous privilege and I have an abundance of tales to tell.
Over the coming weeks I look forward to sharing some of my favourite memories with you. These include: cooking on HMY Britannia in Hong Kong in 1993 at the historic handover, returning to Southern Africa and seeing my homeland through the eyes of a royal tour, the culinary adventures of a visit to the Royal Kingdom of Bhutan, the unexpected complications of a tour to Saudi Arabia and many more. I also look forward to sharing with you some very special recipes.