The Rhine, one of Europe's longest rivers, runs for 766 miles. From its source at the Rheinwaldhorn Glacier, in the south eastern Swiss Alps, it flows through six countries; Switzerland, the Principality of Liechtenstein, Austria, Germany, France and the Netherlands before flowing into the North Sea at Rotterdam. It begins as a small stream in the Alps but soon gathers speed and volume on its way to Lake Constance. It winds its way through some of Europe's most stunning locations, many of those visited on Tauck's incredible river cruises.
It is in Switzerland where I have had the most glimpses of the Rhine. My first solo trip from South Africa was to Switzerland. I had always dreamed of the snow-covered Alps, whilst growing up under African skies. Just as soon as I was equipped with sufficient French and German to get by, I headed to the beautiful Alpine resort of Murren, in the Bernese Oberland, where I spent a ski season working in small, traditional, family run hotel. One of its claims to fame is that it is just a black ski run away from the Schilthorn – where many scenes from the 1969 James Bond film, On her Majesty's Secret Service were filmed.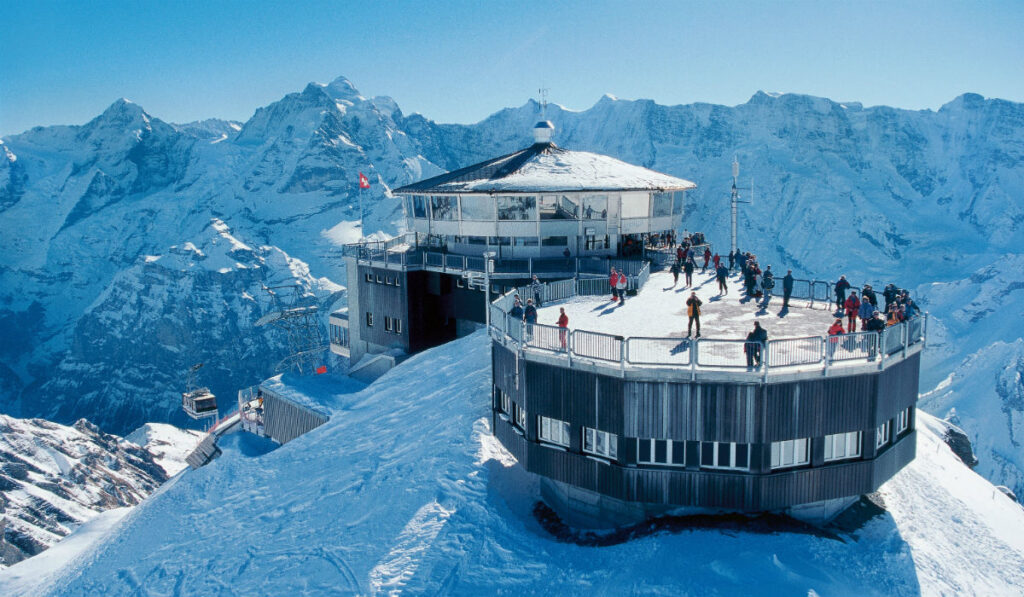 This job really marked the beginning of my great culinary adventure. At 20, I had been to university and had some restaurant work experience, but this was a very different challenge. I set off from home with just my backpack – no mobile phone for keeping in contact with my family every step of the way! Three flights, four trains, an overnight stay in a youth hostel in Interlaken, and I finally got there. The final leg of the journey was definitely the most exciting. Mürren is a car-free village, accessible only by the amazing 100-year-old funicular railway, which looked, felt and sounded exactly like a clockwork train.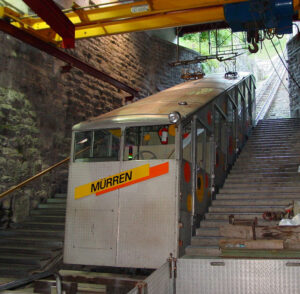 I arrived In Mürren two days before Christmas and it was unbelievably beautiful; picturesque wooden Alpine chalets blanketed in perfect snow – exactly as Switzerland had appeared in all my romantic childhood imaginings. The hotel was buzzing with happy skiers, and many a steaming aromatic gluhwein was consumed; a very festive air abounded. There was no sign of any Christmas dinner as I knew it (turkey, roast potatoes, Brussels sprouts, and Christmas pudding), but a traditional fondue must surely be the most sociable, interactive and Swiss way to share a meal with others.
The initial excitement of being in Switzerland faded quite rapidly and my first few weeks there were not the happiest, nor the most enjoyable. It was a big disappointment to discover that no members of staff were allowed to ski until after the extremely busy three-week Christmas period. I tried some ice skating, but it was not what I had travelled all that way to do! I had assumed that having a reasonable level of conversational German, I would manage fine in my role as a waitress in the hotel restaurant. What I hadn't realised is that the dialects in Switzerland vary dramatically from region to region – in fact, even from valley to valley, and the German that I could speak bore no resemblance to the local Schweizer-Deutsch dialect! This made taking orders very complicated, particularly as the patrons of The Hotel Jungfrau restaurant & bar were largely locals, so very little English was spoken. I was enormously excited by all the snow; however, being sent outside to wash the restaurant windows in a snow storm on my very first shift made me pine for the warmth of the African sunshine – something I had never previously appreciated.
I spent every spare minute that I could in the kitchen, observing and learning, having always considered Swiss hospitality to be the pinnacle. There were lots of fantastic local dishes and wonderful cakes and pastries, and I gleaned as much as it was possible to glean without being a chef. However, the staff meals were in a completely different realm, not one I enjoy reminiscing about or dwelling on! I think for the most part I lived on bread and jam when I was working. When I had a day off, I would treat myself to cheese and / or chocolate – what could be more divine than Swiss cheese and Swiss chocolate?
It was, in many ways, a lonely few months. I was very shy and was part of a hugely cosmopolitan team of staff where very little English was spoken. The shifts that I worked were long and rather unsociable hours; generally 11:00 am until about 11:00 pm. This left a lot less time for skiing than I had hoped for; however, I was always up the mountain on the first lift at 9:00 am, and most days I managed to get in about an hour of skiing before work started. I don't think I missed a single day on the slopes and became the butt of many jokes for venturing out in all weather, when no one else would dream of putting on their skis!
Overall, my time in Mürren was a great adventure and one I will always be glad I embarked upon. I loved seeing a professional kitchen in action, and as each day passed I became more certain that I did want to become a chef. To this day, I still think that Switzerland has the most delicious food that there is, however it is just as well that I don't live there as a diet of 'rosti', cheese fondue and Lindt chocolate would not be conducive to longevity!
I hope that you may be inspired to try my recipe for Swiss Style Butter Bread, a rich bread with a soft buttery crumb. It is from my cookbook The Royal Touch; Simply Stunning Home Cooking from a Royal Chef.
SWISS-STYLE 'BUTTER BREAD'
I discovered this bread when I was working in the hotel in Mürren, a beautiful ski resort in the Swiss Alps. It is a traditional bread with a very soft crumb and silky texture. For a Swiss-style breakfast, serve it with a selection of gorgeous Swiss cheeses and cold meats. I also use this recipe for making a beautiful bunny-shaped Easter bread. This is a brilliant way to spend a few hours when you have tiny, enthusiastic helpers rolling up their sleeves and getting their hands in the dough!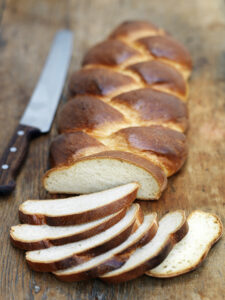 Makes 2 large loaves
You will need two large flat baking trays at least 25 x 35cm (10 x 14 inches)
Ingredients:
5 ml / 1 tsp quick dried yeast
10 ml / 2 tsp super-fine sugar
500 g / 1lb 2 oz strong bread flour (4 cups)
7 ml / 1½ tsp salt
75 g / 2½ oz soft butter (5 Tbsp)
350 ml / 1½ cups milk
1 medium egg
Method:
Mix the yeast and sugar in a small bowl and add 15 ml /1 Tbsp of warm water. Leave for 10 minutes until the yeast begins to foam.
Sift the flour and salt into a large mixing bowl (or the bowl of a heavy duty mixer).
Warm the milk gently and then add most of it to the flour with the yeast and butter.
Mix thoroughly to a soft but not sticky dough. Add more milk or flour as required to get the right consistency.
Knead the dough for 4 or 5 minutes if using a mixer or for 10 minutes by hand. If you are making the bread by hand, once the dough is mixed, you can take it out of the bowl and knead it on a lightly floured surface. When it is ready it will be smooth, silky and elastic and when you push your finger into it, it should spring out again.
Place the dough into an oiled bowl, cover with a damp tea towel and leave to rise in a warm place. It should double in size, which will take about an hour.
Knock the dough back and knead it again for a few minutes. Divide it in half and then divide each piece into three.
Roll each piece into a 'sausage' about 30 cm (12 inches) long and then lay them out next to each other. Plait them by bringing the left piece and then the right piece alternately into the centre, continuing until you reach the end of the dough. Finish by tucking the ends underneath neatly, at both ends of the loaf, and 'sticking' them down with water.
Place the bread onto a baking tray and leave to rise again for about 30 minutes. Pre-heat the oven to 200ºC /400ºF.
Beat the egg with a little salt and glaze the bread evenly all over. Bake in the centre of the oven for 35 – 40 minutes. Tap the bottom of the loaf and it will sound hollow when it is cooked.
For a soft crust, wrap the bread in a damp tea towel as soon as it comes out of the oven. For a crisp crust, leave to cool on a wire rack.
This bread is at its best fresh from the oven, but will keep for a couple of days if wrapped. It also makes lovely toast.