Nature's peace will flow into you as sunshine flows into trees.
– John Muir
It was a long path that led me to sign up for a tour of the National Parks of the American Southwest. I never saw a national park when I was growing up. I heard about them, but knew almost nothing. There wasn't one near my home, or within range of my travel resources. "National Park" was a phrase that brought no pictures to mind.
I was an adult when I first saw a national park, and it happened to also be the nation's first, Yellowstone! It was a good first for me. I was blown away by its fantastic wildlands, mountain vistas and ancestral forests, its steaming thermal springs and regal wildlife. I got it. Or it got me.
It opened my eyes in a new way to the staggering beauty that is possible in nature. For the first time I understood why people loved the national parks so much.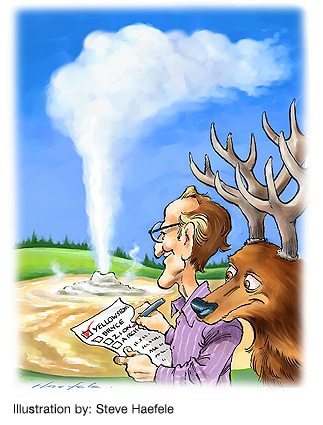 At least I had a glimmer. There are 63 national parks and 423 National Park sites. I had seen one. But it was truly stunning. I'm sure that it awakened something in my soul that had been long dormant. I believe we all retain that connection with nature, much as we may suppress it. It lives in you and it responds to those powerful places. When you get that feeling while looking at a magnificent mountain range, it's a familiar feeling. We all came out of that ocean. We're all reaching for those peaks.
When Ken Burns and Dayton Duncan came out with their documentary series and book The National Parks: America's Best Idea, I woke up to the concept in a whole new way.
The idea of setting aside and protecting some of the most beautiful places for the enjoyment of all people was a profound change in the evolution of the American republic. The national parks were conceived as a projection of the idea of democracy onto the land itself. It was a recognition that some treasures of extraordinary natural beauty rise to the status of being miracles that belong not just to a privileged few, but to everyone. And we have an obligation to protect them.
By the time the possibility of national parks was being discussed Niagara Falls was already polluted with unsightly tourism vendors eager to monetize the beauty of the falls for themselves.
According to Burns and Duncan, "By the 1860s the nation's most famous natural landmark, Niagara Falls, had already been nearly ruined. Every overlook on the American side was owned by a private landowner charging a fee. Tourists could expect to be badgered – and oftentimes swindled – by the hucksters and self-appointed guides who swarmed the railroad depot and carriage stands. The atmosphere was closer to that of a carnival than a cathedral."
Because of the National Parks we still have these beauties in the West that have not been desecrated. It's thanks to the work of a multitude of people that we have this system that protects these great places. There were many heroes of the conservation movement, some well known, many others unnamed. Now that I have come to understand it, I am deeply grateful for what they achieved long before I was born. It's a fantastic legacy. The national parks are magnificent, and they grow in value as we see how much the beauty of the world can be degraded.
Putting It Right
When I realized what I was missing I set out to discover more national parks. I signed on to a tour that visited several of them in the American Southwest, including Arches, Bryce Canyon, Zion and Grand Canyon. For me it was a good package deal to get a taste of several parks in one trip.
The first was Arches National Park. I didn't know it by name, but once there I recognized its strange sandstone structures from photographs and movies I had seen of the bizarre geological forms protruding starkly from the desert plateau. It's just incomprehensibly strange and beautiful. To see a giant boulder the size of a house balanced precariously on a tower of rock… it's insane. And yet it's a natural phenomenon. Just there.
Arches was like a giant wonderland filled with crazy-looking sandstone structures, including many giant stone arches standing over bare ground, like naturally occurring Arc de Triomphes. But celebrating what?
The guides provided the geological explanations for how those things came about through the interaction of air and water erosion and their effects on different kinds of rock and soil. Learning about that and trying to comprehend the enormous spans of millions of years made the experience even more fantastic.
At Bryce Canyon we encountered another mind-blowing geological phenomenon. It looked like a gigantic gallery of colossal stone figures. They look almost disturbingly like humanoid forms. They've been called "hoodoos," which means spirits or apparitions. How strange they are! It was hard not to see them as some kind of sentient beings.
And then there was Zion. Again, it had only been a word to me. But when I saw it I understood why it was named with a word that means "holy place" or "kingdom of heaven." My memory of it is of one of the most beautiful places ever, in every aspect, for so many uncountable reasons. The gorgeous towering peaks, starkly vertical cliffs, many kinds of fresh running water, just splendid in every way. That was Zion.
At the place known as The Narrows in Zion, visitors wade across a shallow portion of the Angel River. It has an uneven rocky bed that made walking a little unsteady. The current is gentle, but on slippery rocks it can be challenging. As I approached the water there were people of all ages making the crossing, and a woman with curly gray hair coming from the other side reached out with the walking stick she had been using for stability as she crossed, and offered it to a younger woman ahead of me who was beginning to negotiate the crossing.
"Here, take this walking stick," she said. "It really helps. Just make sure you hand it to someone on the other side, as someone handed it to me."
The receiver smiled and thanked her benefactor profusely, promising to hand it to someone on the other side. It was a moment that crystallized for me the sense of camaraderie I had been feeling with others who were present with me in the national parks. There was a feeling of sharing this indescribable thing, this sublime majesty with other people you don't know. And yet you feel a kinship based on sharing the transcendent feeling that can be inspired by those kinds of places. The nature, the beauty itself somehow creates a silent bond between you and others.
That was a very special layer of enjoyment I had not anticipated. But then I could say that I anticipated almost none of it. I don't know how much you can anticipate that kind of experience. I guess that's partly why it's so hard for people to explain why they love the national parks.
The ultimate climax of this parade of majestic beauties was the Grand Canyon, and grand it is. It is a fitting climax, even after seeing so many staggering sights. The Grand Canyon is a whole epic story in itself.
I always wanted to know what it was that was so special that drew people by the thousands, and when you asked them what was so great about it, they would be mysteriously wordless. You just have to see it, they would say. And they were right.
Your humble reporter,
Colin Treadwell