Dreaming of Scotland
For many of us, the image of Brigadoon (the enchanted village in the Scottish Highlands that appears once every hundred years) that was created in the legendary film and musical is what we have in our mind's eye when we think of Scotland. Brigadoon even has a definition in Mr. Webster's dictionary, defined as "a place that is a place that is idyllic, unaffected by time, or remote from reality." Diana Gabaldon's Outlander, whether the series of books or the television series, strikes a similar imagery. So in this edition of The Compass we bring that imagery to life and share with you Tauck Scotland, from romantic landscapes to timeless traditions, as well as introducing you to a few of our Tauck Directors and Scottish travel partners. And there's no better place to start than by taking a look at one of Scotland's most iconic – and historic – products, whisky.

Rachel Cirincione
Get to know Tauck Director Rachel Cirincione
In the US, there are estimated to be 20 – 25 million people of Scottish descent – and another 27 – 30 million people with Scots-Irish ancestry. Rachel Cirincione, a Tauck Director since 1998, is extremely proud of her 50% Scottish roots. As with most of our Tauck Directors, Rachel has traveled extensively around the globe; she spent four years in Amsterdam going to art school aspiring for a career as an artist; lived in Ireland in Bantry Bay; traveled across Mexico; worked at a ski resort in Switzerland for a year and a half; and while guiding Tauck's Africa tours, she spent many years living in Kenya: "I lived in the Masai Mara, in a house; we had hippos and hyenas in our yard at night, and once had to temporarily leave due to an invasion of safari ants." But it is Rachel's Scottish heritage that deepens her Tauck tours in Scotland – and as any good Scot (and Tauck Director), Rachel is very skilled at storytelling; she has quite the story of an early Scottish ancestor.
"Though my last name is very Italian, I am half Scottish. My great, great, great grandfather fought in the Battle of Dunbar in 1650, in one of the early Jacobite rebellion battles. He was captured, and as was the usual, sent to the Americas as an indentured servant. He was on a ship with over 1000 prisoners of war, most of whom ended up in the tobacco plantations in Virginia. He ended up in Maine, where he did his two years of service at a lumber mill, and decided to stay there once his indentured service was over. He married a Scottish lass who was serving as a domestic servant. We have a lot of information about him and his time in the New England colonies due to the fact that he was getting in trouble a lot… thus we have court records to give us a view into his life. He was arrested for insulting British soldiers, getting into a lot of fights, and public drunkenness. He apparently was quite the character."
Rachel's favorite part of A Week in… Scotland is driving into the Scottish Highlands, which Rachel describes as "truly breathtaking." Over the past 10 years she's brought many guests to the Royal Edinburgh Military Tattoo, which of course is another highlight: "I am always blown away by the performances, but at the end of every performance, the lone piper plays from the top of Edinburgh Castle. It is one of those moments where your soul is moved and an arena filled with 9,000 people stand in silence and awe."

Rab Tait, Bagpipes and Haggis
Meet our bagpiper extraordinaire
Rab Tait is Scottish Pipe Major and a longtime Tauck partner in Edinburgh – and he has put together a wonderful video presentation introducing you to some special Scottish cultural traditions. Rab shares some insights on Scotland's nation poet Robert Burns; Rab performs on "Burns Night," a celebration in January marking the poet's birthday, where he pipes in the "haggis" prior to it being served. On England, Scotland and Wales, Rab shares his bagpiping skills with guests; in our second video below he gives a special bagpipe performance outside of Holyrood Palace in Edinburgh.

History of Tartans and Kilts
A special Scottish evening in Inverness
Tartan is a woven, patterned cloth, often considered to be the "national dress" of Scotland, believed to have originated in the Highlands in the 16th century. Tartan is used to make traditional Scottish clothing such as kilts – and according to VisitScotland (Scotland's national tourist board) tartan can be worn "wrapped over a plain piece of clothing, or as a kilt, dress, skirt, bow tie, ribbon, shoes, trousers and more." Guests on A Week In… Scotland enjoy a special Scottish evening at the Kingsmills Hotel in Inverness featuring a fabulous presentation by our specialist on Scottish traditions; she shares just about everything you would want to know about tartan and kilts. Take a look at a few photos along with a special message from the Kingsmills Hotel about the Scottish evening:
"Gail Steele, resplendent in a tartan arisaid (or earasaid, a draped garment that is a part of traditional Highland dress), complete with a dagger at her hip, will tell you all about the development of tartan through the ages and will dispel a few of the myths that surround the 'clan' tartans. It all ends with a victim (or rather a volunteer) from your group being dressed in highland finery complete with all the weaponry that goes with it. You will never look at tartan the same way again!"
High Tea at Culloden House
From battlefields to high tea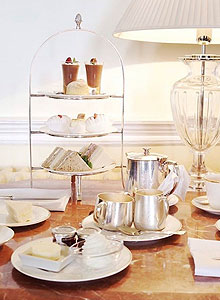 Culloden is a village, it's the area that surrounds the village, it's the battlefield that marked the end of the Jacobite rising of 1745 – and it is also the site that marks the last pitched battle fought on British soil. A visit to the battlefield is not only a learning experience, but also an opportunity to understand and connect with the type of fierce passion that has defined Scotland for centuries. Guests on A Week in… Scotland are also treated to a visit to the stunning Culloden House Hotel; Bonnie Prince Charlie used Culloden House as his lodging and battle headquarters prior to the Battle of Culloden, evoking a sense of history that lives to this day. Tauck guests visit the hotel where they have an opportunity to try a traditional Scottish culinary treat, scones. The chef from Culloden House Hotel was kind enough to share with us their own recipe for scones – and we're passing it on to you. You'll find it inside, along with a curated collection of videos and podcasts providing in-depth information on Culloden, along with a book referral and a reminder that the Jacobite risings play a significant role in Diana Gabaldon's Outlander.

Glenturret – Meet the Maker
Meet Bob Dalgarno, whisky maker for Glenturret
In the enclosed video, Bob Dalgarno, whisky maker from Glenturret, shares his inside knowledge and expertise by taking you through a whisky tasting and discussion about the redesign of their popular "Triple Wood" whisky, using European and American sherry casks and Bourbon barrels; Glenturret will be available for the first time in the USA in January 2021.
A well-known and respected name in the whisky industry, Bob Dalgarno began his career at The Macallan in 1984, where he worked through all aspects of the whisky making process, firstly in warehousing then in production. From 1996 he worked alongside the whisky maker at Macallan, then took over the role in 2000. Moving to The Glenturret Distillery in 2019, Bob brings a wealth of experience and says of his move: "I saw Glenturret as a great opportunity to work alongside an understated yet highly skilled team who influence the creation of the distillery New Make Spirit as only their hands can. Alongside this was the challenge of creating a new range of whiskies with a different cask and character profile. Building on previous experiences and having the freedom to influence and develop, respecting the history whilst writing new chapters was a perfect fit."

Landscapes of Scotland
Wild and beautiful, traditional and eclectic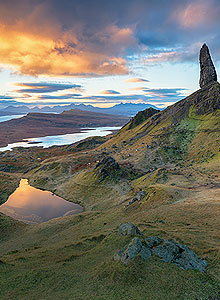 The Scottish Highlands and Lowlands are so diverse – geographically, historically, culturally – even in traditions and cuisine. From the Outer Hebrides and the islands off the coast of northern Scotland to the Highlands and the Central Lowlands and the Southern Uplands, the Scottish landscapes are endeared to writers, poets, artists – and travelers – as wild and beautiful, filled with glens, moorlands, rugged coasts, lush forests, rolling fields and rivers boasting crisp, clear water (source of the great Scottish whiskies). We've put together some videos to immerse you in Scotland's truly diverse landscapes, along with a podcast that tells the unique story of Stirling Castle.

Royal Edinburgh Military Tattoo
70+ years of pomp and circumstance
The Royal Edinburgh Military Tattoo first took place in 1950 – and for 70 years had never had a performance cancelled until this year, 2020; it is with great anticipation that plans for 2021 are now in place. The Tattoo takes place in August – and on departures of our trips visiting Scotland during that time, Tauck guests get the best seats in the performance venue, those facing Edinburgh Castle. Take a look for yourself at the amazing spectacle of the Royal Edinburgh Military Tattoo – and read a recap from Tauck Director Stephen Fischer that really brings the experience to life!
А, вот рассматривать вариант быстрого кредита – микрозайм, в качестве выхода,
то ситуация становится не такой печальной.
Не думаю, что получится оформить займ тысяч в десять очень выгодно,
уж очень велик процент по микрозаймам.
Срочный займ без залога и поручителей вы можете получить на сайте
credit-n.ru
круглосуточно, в режиме онлайн.