From battlefields to high tea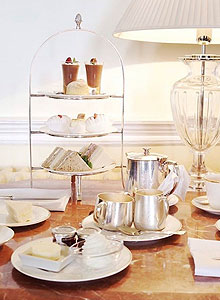 Culloden is a village, it's the area that surrounds the village, it's the battlefield that marked the end of the Jacobite rising of 1745 – and it is also the site that marks the last pitched battle fought on British soil. A visit to the battlefield is not only a learning experience, but also an opportunity to understand and connect with the type of fierce passion that has defined Scotland for centuries. Guests on A Week in… Scotland are also treated to a visit to the stunning Culloden House Hotel; Bonnie Prince Charlie used Culloden House as his lodging and battle headquarters prior to the Battle of Culloden, evoking a sense of history that lives to this day. where they have an opportunity to try a traditional Scottish culinary treat, scones.
The chef from Culloden House Hotel was kind enough to share with us their own recipe for scones – and we're passing it on to you. Below you'll also find a curated collection of videos and podcasts providing in-depth information on Culloden, along with a book referral and a reminder that the Jacobite risings play a significant in Diana Gabaldon's Outlander.
Scone Recipe, Culloden House Hotel
750 g or 5 cups flour sifted
170 g or 1 ½ sticks of butter
85 g or ¼ cup of sugar (preferably cater, superfine or baker's sugar)
64 g or 5 Tbl of baking powder
50 g or 6 Tbl of raisins or sultanas
Whole milk to bind (about 1 cup)
1 egg beaten
Using your hands, rub together the sifted flour, sugar, baking powder and salt with the butter until breadcrumb consistency. Do not overwork, you do not want to melt the butter.
Add the raisins or sultanas.
Slowly add milk until it forms a soft dough.
Gently press into a round on a floured board (or roll lightly with a rolling pin) and cut into circles with a cutter.
Gather up the left overs, re-roll and cut.
Brush the tops with beaten egg.
Bake at 180C or 350F for 14-18 minutes
Exploring…