I never saw a year when people were so glad to throw the calendar into the wastebasket. The year 2020 was grueling, but I feel optimistic about 2021. I think it is going to be a great one. After going through the toughest period anyone can remember, I see our country and our world coming into the blossoming of a new renaissance.
It may sound naïve to speak in such glowing terms. But hey, we have taken some hard knocks. We need to give ourselves a pat on the back. We made it through 2020. We'll have this to tell our grandchildren about. It sounds ridiculous, but it's true. But I won't go into all that now. I know you've had enough. So have I. So have we all.
But I do see reasons for hope. And I know that many others are feeling hopeful about the New Year. Optimism itself is a powerful kinetic force that can get people moving, and cause things to happen. So, I'm going with that for now. We have tangible reasons for optimism. In 2021 we are going to put this tyrannical pandemic behind us.
In respect of everyone's COVID fatigue, I will steer as clear of the subject as I can. I'll just say one thing about that for now in this context and then move on: vaccines.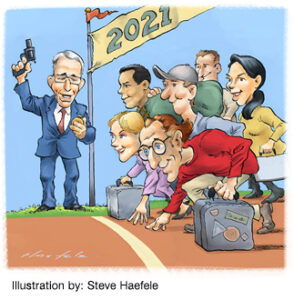 It's hard to imagine how anyone could have gotten through 2020 without being intensely challenged and having to reach deeper into their resources than ever before to maintain things they used to do effortlessly. We all learned some things in 2020. No one was exempt. In 2021 we'll be able to put our new insights into action. We'll see the cumulative effect of our new insights at work in a world that will have finally turned back the onslaught of COVID.
One of the big lessons I learned in 2020 was how important travel is to me. I always knew I loved travel. I could hardly get enough. But I developed new insight into that when travel almost disappeared from my life for months.
I've never been so confined for so long as in 2020. I was more than glad to do it to stay safe, and I made good use of the time. It provided opportunities to take on projects that are hard when life is hectic. But though I was mostly focused on how glad I was to be well, the absence of travel did cast a pall over the world. It made me appreciate how fundamentally important travel is to me.
I've always thought of travel as the greatest luxury, the ultimate pleasure. But now, after being retired from it for a while, I realize that it is a fundamental necessity to my well-being. You have to see different points of view to keep perspective.
Everyone finds their own balances on this, but I need a certain minimum amount of movement and change in perspective just to keep my bearings, to know who I am. In 2020 I discovered ways to feed my need for exploration within the necessary limits. There is always much to explore in the proverbial backyard.
I know that people are raring to go back out and explore the world. So, I expect a travel boom as soon as people feel it's safe. Many will take the trip they missed in 2020 and also take their 2021 trip as well. Travel will take off again. Airports will be bustling crossroads again, of people crisscrossing each other's paths around the world.
But it will be different. We can't go through something as grueling as 2020 without going through some changes. When travel comes back, it will be different in some ways we can predict and in others that will surprise us.
Everything will be affected by this new level of insight we have from going through this crisis. There is also a new level of compassion operating in our world. And there is something powerful in the fact that there has never been a major event that was shared by so many people at once.
In a way that unites us. We all went through this very intense experience together. There's a lot of talk about the division in America, but in the long run I think the fact that COVID is a globally shared experience will be more important than the division. We are going to see a new global solidarity among human beings when we travel again. We will see ourselves welcomed as travelers with a level of warmth unseen before.
The World Travel & Tourism Council calculates that in 2019, travel and tourism direct or indirectly accounted for 10.3 percent of global GDP. In 2020, that part of the world economy went sour. Many lost their livelihoods when tourism ceased. When travelers start coming back, many people in that 10 percent of GDP will be overjoyed to see them.
So now that safe travel is on the horizon again, travelers, travel buffs and travel professionals are wondering how it will return, what areas will open first, what kinds of travel will pick up first, how will travel be different. I've been talking with a number of travel professionals. As the saying goes, no one has a crystal ball, but I have heard there is often a tidy profit in speculation, so I offer my observations.
The underlying principle of my observations is pent-up demand constrained by the need for safety. People are wild to go traveling again. That demand is so strong it will adapt itself to whatever circumstances it encounters. Like water it will flow through whatever channels are open. As soon as people feel safe, they are going to hit the road in great numbers. Migratory species that we are, we are going to be busting through the gates.
There's a large volume of market research to confirm my observations, but to me it's self-evident that the millions of travelers who have had to confine themselves are itching to get out there again. The most important consideration will be safety. Travel trends will follow safety trends. These trends are already in progress.
Travel will begin domestically, as people venture forth from their homes. No surprise there. This has already been happening, with people taking trips in their family bubbles. The national parks were surprisingly busy in 2020.
Open air activities are seen as safer now, so adventure travel, hiking and biking have gotten boosts in interest. Adventure travel restarted in a limited way last summer. That trend is firmly established, and will no doubt continue.
Many exotic destinations are seen to be safer, so safaris, polar explorations and remote destinations have seen an increase in popularity.
Traveling in small groups of family or friends has become a common practice. The popularity of small group travel has soared, along with private departures.
COVID as well as some other events of 2020 sparked an increased concern for environmental protection. Interest in sustainable travel or ecotourism has risen sharply.
As the vaccines are distributed throughout the population, gradually the risks of traveling will subside. So now that the possibility is on the horizon many people are planning to return to Europe, still the most popular tourist destination in the world.
Probably the most exciting thing about traveling again will not be to go back to normal, because we can't go back, but rather that when we get out there again, we will discover a new world.
I wish you all the best for the New Year!
Your humble reporter,
A. Colin Treadwell