Cathy, I said as we boarded a Greyhound in Pittsburgh,
Michigan seems like a dream to me now,
It took me four days to hitchhike from Saginaw,
I've gone to look for America
– Paul Simon, "America"
February is the month of President's Day… and it's a good time to plan a journey in search of America.
President's Day was created by the Uniform Monday Holiday Act of 1971. Previously we celebrated Lincoln's Birthday on February 12 and Washington's Birthday on February 22. But someone apparently got the insight that they could combine the birthdays of George Washington and Abraham Lincoln into one Monday and call it President's Day. Why this was done I can only guess.
So now we have one day to honor a generic, nameless president, as if they were all the same, just interchangeable parts. For many people now President's Day is just a day for appliance sales. More states observe the Black Friday shopping day as a holiday than Lincoln's birthday.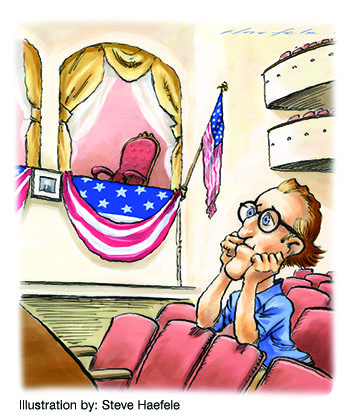 For the Love of History
I am out of synch with the trend to de-emphasize American history. I'm the guy driving the opposite direction at rush hour, one lonely voice in the wilderness. I would rather see more emphasis on history.
Why not? American history can be a source of endless fascination. And it draws to our attention things we should be grateful for. It gives all Americans something to cherish and share, some solid common ground. And history provides a perspective that makes it easier to understand and deal with difficult current events.
Unfortunately, American history has been de-emphasized in schools. In 2012 Perspectives on History magazine reported that 88 percent of elementary school teachers considered history a low priority. Even top universities such as Stanford no longer require studies in Western Civilization.
A 2014 report by the National Assessment of Educational Progress found only 18 percent of American high school students proficient in US history.
The teaching of American history in schools has declined at the same time that our country has become more divided. I can't help but think a stronger understanding of our history would give Americans a better appreciation of what that legacy means to us all today and show us that there are still things we can virtually all agree on.
I think we all owe it to ourselves to open the treasure chest of American history. It's not only good citizenship, it's an enchanting subject. In my view, the best way to dive into it is through travel. I have learned more history from traveling than I learned in school.
Travel as Education
When I say that travel is the best way to learn history, I don't mean exclusive of reading books, watching documentary movies or attending classes. Those things go together.
Traveling brings history to life and sparks the interest that drives the motivation to learn more.
As a student I often saw my lessons as dead words on a page and wondered, "Why should I be interested in this?" I had other more immediate concerns on my mind. But when you have traveled to a place and a good guide has awakened your imagination to what lies behind the surface of what you are seeing, history comes to life. It becomes more thrilling than any movie.
When I began to travel internationally, my travels fueled my interest in history and I began to learn with relish. When you are interested in something, no one has to compel you to research it.
If I'd traveled more when I was still in school, I would have been a better student. I would have better appreciated what my teachers were trying to show me.
That's a wonderful thing about how things have evolved in my lifetime. Because travel is so much more accessible today than it was in my day, people can much more easily provide international travel opportunities to their children and grandchildren. The benefits to those children are beyond measure.
Where to Begin
You can study American history by heading out in any direction in America. By definition American history is everywhere in America. You can study different parts of that history in different parts of America. Everywhere you go you can pick up a little bit of history as it pertains to that place.
But the ultimate single place to go to begin to understand the foundation of American history is Washington ,D.C. That is where you can get the most vivid, concentrated course in what the country was founded on and where it came from.
Moving around a city with such magnificent monuments as the Washington Monument, the Lincoln Memorial, the U.S. Capitol, the White House, and literally countless other landmarks of history, is constantly and repeatedly breathtaking. But to even begin to take it in you need good professional guidance from the people whose job it is to create your personal access into what you are seeing.
Good Guides
One more essential component of a good history education program is professional guidance. Without professional guidance, you will miss much of the significance of what you are seeing.
Tour guides and tour directors are the teachers of the university of the open road. They are tremendous resources for those who want to learn, to get past the surface appearances of things.
I walked into Ford's Theatre and saw the actual place where Lincoln was sitting when he was murdered, where the assassin fled by climbing over the rail of the box and falling onto the stage, injuring himself, yelling some bizarre slogan and then hobbling out of the theater. To be there at that very scene where that ghastly event actually happened, and to have it dramatized by a gifted guide had a huge impact on me. It still has a strong physical effect on me to think of it now. That was one of those moments that justifies the whole trip.
There are government buildings in Washington that are much more than just buildings that house government functions. The Library of Congress is not only one of the world's greatest collections of published material, it's also an architectural beauty that feels like the secular analog of the Sistine Chapel. It's a monument to education and learning, as a basic staple of a democratic country.
Washington has many amazing museums, from the Smithsonian Institution to the National Gallery of Art and the National Museum of African American History.
There is no better place to start than Washington, the city that was built from the ground up as the capital of the new republic. You can see more of the history of its founding and subsequent development there than any other single place.
There is more to experience in Washington D.C. than you could fully take in in a lifetime. I suppose only the tour guides themselves have the opportunity to make the most of it. But it's only a small part of the whole picture.
The pre-revolutionary foundations of the United States took place in New England, Virginia, Philadelphia, New York and various other places. Philadelphia is where the Continental Congress met that ratified the U.S. Constitution. New York was the first capital of the country, but gave up the title after a year to the District of Columbia.
The study of American history can take a lifetime, and different parts of the country bring to life various aspects of it, the pre-revolutionary settlement of New England, the westward expansion and of course the Civil War.
In Boston you can walk the two and a half mile Freedom Trail that takes you by 16 sites marking major historical events in the early establishment of the nation.
At Gettysburg you can look over the calm landscape and let your imagination take you back to a day when thousands of Americans died in battle with each other as part of what Lincoln would call the birth of a new nation. After that you will never read the Gettysburg Address with indifference, if you ever did.
I think now more than ever is a good time to travel to reacquaint ourselves with the roots of the American republic. It was a unique moment in history, and the nation has a very special place in the history of democracy, and in world events in the 21st Century.
Traveling through history is entertaining, inspiring and often produces a chill running up the spine. And besides being fascinating in its own right, it could be a step toward binding up the nation's wounds.
Your humble reporter,
A. Colin Treadwell
Если Вам требуется займ на карту без отказа уже сегодня, то
здесь
вы всегда сможете подобрать лучший вариант.
Срочно и круглосуточно оформляйте все займы
только здесь. У вас не попросят дополнительных документов и справок.
Лучшим выходом для получения микрозайма будет оформление заявки
здесь
, на нашем сайте лучшие варианты кредитования онлайн.