Unseen heroes here at Tauck, our Reservations Sales Counselors (RSC) are the first point of contact for travelers looking to book the trip of their dreams. They are the ones who answer the calls and field the comments, patiently and passionately lending an ear, answering questions, explaining itineraries, handling logistics, and virtually holding hands with guests and travel advisors eager to make the right travel decisions.
This year, they added shock absorber and interpreter to their vast repertoire of travel expertise as they helped guests and advisors navigate the unending, always changing, and often inconsistent travel restrictions, regulations and requirements of our COVID-recovery world ­– in different countries, cities and towns all over the world! They also kept up with our Open For Travel updates, unexpected tour and flight cancellations, on-tour changes, policy changes, deadlines, and so much more without missing a beat – not an easy feat when they were working from home and the phones were ringing off the hooks! According to our guests and travel advisors, who were grateful for their help and ever-cheerful phone demeanors, "they always know what they are doing and make everything easier!"
How do they maintain calm when chaos – and longer than usual hold times – rattle "Res"? We asked Randy Blosio, Vice President of Reservations, to share the secrets of their signature dedication to guest service and satisfaction.
"It's who they are as individuals. They are dedicated to providing the best personal experience and exceptional service possible, building meaningful personal relationships along the way. Many in Reservations have been here for years providing unprecedented service to our guests and Travel Advisor partners. They are caring people who are truly passionate about travel and making travel dreams come true for all our guests."
Orna Fomin, Director, Call Center Operations, shared how busy her team of Reservations Sales Counselors (RSC) were, engaging with our guests on the phones and delivering awesome guest experiences even before the guests travel. She told us about one letter she received from a guest who was excited and reassured to book her family's trip to Scandinavia.
"Your reservations counselor is a marvelous advocate for your impeccable services. She was both personally and technically a wonderful Tauck representative and helped me completely rebook my flight arrangements after American Airlines cancelled and changed one of my flights. She was very patient and worked for one and a half hours making sure all the changes were done. If it hadn't been for her help, we probably would have cancelled the whole trip."
She recognized her amazing team through another letter she received from a guest who "could not be more comfortable speaking with your agent. He reassured me and addressed all my concerns. He was patient and did not brush me off as I had many questions given the world situation. He just made me feel important. Every single person that I have spoken to at Tauck has been so knowledgeable, helpful, patient and kind."
They are in the unique position to take the pulse of our guests before and after their trips, connecting with them in ways that make the entire guest journey personal. Each week we have a meeting to share what they are hearing on the phones so we are better able to address their concerns and comments in a timely manner. Throughout these conversations are kind kudos and gems that keep our RSC going no matter what comes their way.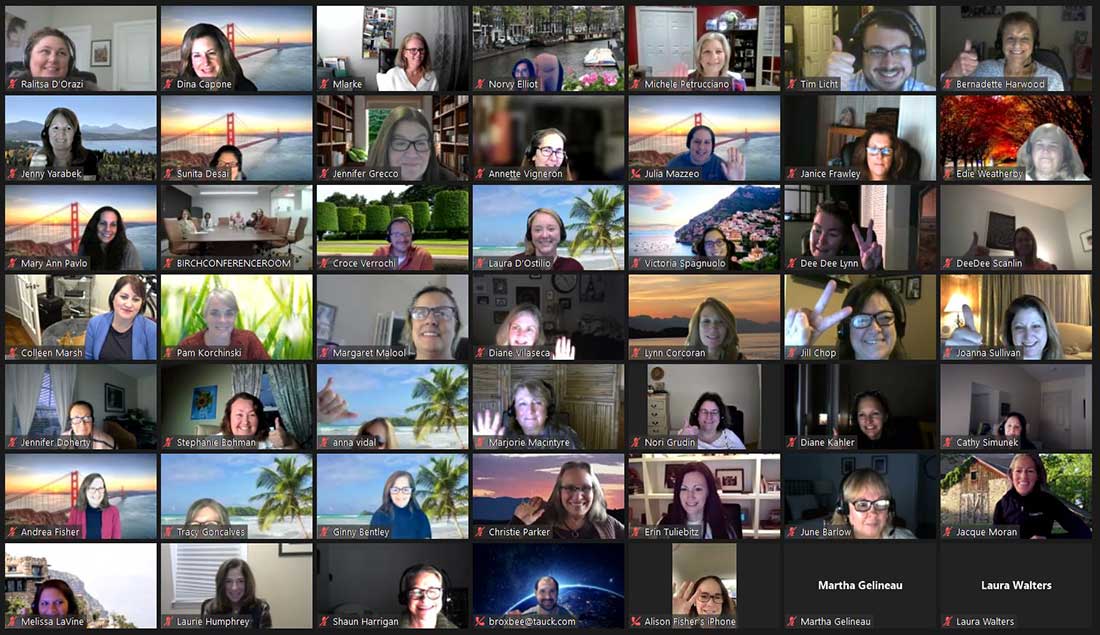 What they are hearing on the phones
Tauck is the Lay's Potato Chips of tours – you can never have just one! 
Once I get on the plane and land with you guys, I have no more worries.
Not to brag, but I have a lot of money and I plan to spend EVERY BIT of it on Tauck! I just love traveling with y'all. 
You would never know we were living through COVID; our tour could not have been more wonderful!
 I love calling Tauck because everyone is so nice!
You're doing a Tauck-kind-of-job!
I called three other companies and without a shadow of a doubt, Tauck is hands-down the very best customer service out there! I won't consider the other companies.
We will not travel with anyone else. The experience Tauck delivers cannot be matched by any other tour operator. I am also happy with the way Tauck handled things during COVID.
You don't see this kind of customer service anymore and certainly not consistently like I have experienced with Tauck.