Traveling would be worthwhile if only for the fact that it is good discipline. No matter how many possessions you have accumulated, when you travel you have to leave everything behind except what you can carry from place to place. You must streamline your existence to a bare minimum. That is a huge accomplishment in itself and a major component of the travel experience.
As monks go into monasteries and renounce possessions to gain spiritual clarity, there is some value to the experience of paring down your existence to the essentials for a while. It's a kind of spiritual exercise.
Packing is a good reality check because we come into this world with nothing and we will leave the same way. It's a good exercise to occasionally cut the umbilical cord to our possessions and experience life free of encumbrances.
Those things will be waiting when you get home. But they may have less hold on you after you've discovered how much fun you can have without them. It may even encourage you to do some clearing and move some of those possessions you don't use anymore to someone who can.
Serious Business
Packing tends to be an afterthought to the planning of a trip, and it's easy to underestimate its importance. But it is actually very serious business because you may find yourself at a wonderful destination without something you really need. That can really detract from your enjoyment of precious vacation time.
Try as I may, however, through hundreds of trips, I never get it 100 percent right. Always at my destination there is at least one thing I wish I had brought, and something I carry that I never use. Perfection eludes me. But that is part of the joy of travel. You never know exactly what to expect. You can't experience the new without exposing yourself to the unknown.
Packing Anxiety and How to Relieve It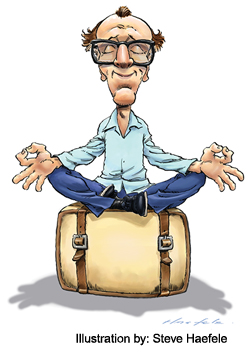 I never wait till the last minute to start packing. The longer I wait, the more anxiety builds over the uncompleted task, and the prospect of having to fly out the door without things I need.
For me the packing process begins when the departure date is set. At that moment, the necessity of packing appears on my mental horizon, and gradually looms larger and larger until the job is done.
Because of some bad experiences and the grim prospect of ending up at the destination without some essential thing, anxiety starts to build if I procrastinate in packing. As easy as our modern transportation system makes it, traveling around the world is still a big thing, and the consequences for poor planning can be pretty unkind when you are suddenly far from home without an essential item.
It starts with a subconscious process of daydreaming and speculating. What should I bring? What do I not wish to lug around from place to place? What is essential for that period of time in that environment?
I find it helpful to make a list of things as they come into my head. Even this deep into the digital age, pen and paper are still my favorite organizational tools. No later than a week before departing it's time to physically gather things together. Everything I put in my suitcase adds to my sense of comfort and security, knowing that is one more thing I will not forget.
It starts as a rough draft. At first I am grabbing everything I think I may need, focusing on things I can't do without. It's messy at first. The pile grows and I quickly come up against space limitations. Then I have to start weeding out and reducing the pile to a minimum. I am making many choices as I go, to take one thing and leave another behind. Until the moment I walk out the door, things are in flux.
Here are a few reliable principles that help me in packing.
● Travel light. I subscribe to the theory of traveling light with the option of buying things at the destination. That can't be done in some places. A little research into what can be purchased at your destination can help you pack appropriately. Laundry service provided by hotels and ships can also help lighten your load.
● Make a list. As mentioned above. Start early and keep working with it.
● Check the weather. It helps to anticipate your needs in a place that may be hard to imagine before you actually go there.
● Pack gifts. For some destinations especially I like to pack some things to give to people there. I often end up, for example, with many unused promotional ballpoint pens cluttering my desk drawer. In some countries they are highly valuable to people who don't have anything to write with. So I like to give them away at whatever opportunity presents itself. That also leaves space in my bag for souvenirs.
● Keep essentials close. Don't put your personal valuables in checked baggage, including passport, medicines, credit cards, cash, jewelry, electronics or anything necessary and not easily replaceable. It is unfortunately not safe in transit. Keep those things on your person at least till you get to your destination and have a safe place to store them.
● Plan days. I find the best way to plan my clothing needs is to plot how many days I will be traveling and to think in terms of what outfits I will need each day, rather than just packing a bunch of my favorite clothing articles. When I break it down day by day I see that I won't need much, and I avoid having mismatched things I won't wear.
● Think layers. Warm clothes are usually needed at some point even in tropical regions. You can conserve space by planning layered outfits that give you versatility in dealing with weather changes.
● Comfortable shoes! Among the most essential considerations when traveling. Don't neglect this one. If you are going to Italy, of course, you can buy great shoes while you are there.
● Act on your impulses. I have found that when an idea pops into my head about something I may need, I must act on it right away. That may be the only time the thought occurs, and many times I have kicked myself for finding myself without something that I thought about but didn't get around to packing.
● Try rolling clothes. It can be preferable to folding and stacking both in terms of space utilization and for keeping clothes relatively unwrinkled.
● Wrinkle-free clothing. Something to consider when shopping and when packing. Some clothing travels well, some doesn't. Today some clothing is designed for travelers, such as jackets that are light and warm, fabrics that dry quickly and wrinkle minimally, safari pants that unzip into shorts. Worth exploring.
Packing as a Way of Life
I find that the more I travel, the more the packing process becomes ingrained in the way I think. If I am traveling a lot, I am sometimes literally living out of a suitcase. But that is not necessarily a bad thing. It is a modern jet-set version of the zen-like, monastic experience of simplifying one's existence, paring it down to the basics. It shows me I don't really need a lot of possessions around me all the time.
Staying in hotel rooms or lodges I find myself living in a simple space furnished sparsely with carefully selected things. It's a relief that the space is not cluttered with all my possessions from home. It demonstrates to me that all those possessions are not essential to my life, and may even bog me down.
That is one of travel's great lessons. We are all just travelers here, and some day we will leave all of our possessions behind. Maybe it's best to unclench our fists and fully enjoy the experience of living.
Until our next meeting, I bid you
Happy Travels
Your humble reporter,
A. Colin Treadwell