The River Rhine is known for fairy tales, legends and folklore – but when it comes to stories from the country at the mouth of the great river, The Netherlands, Hans Brinker or The Silver Skates is often the first thought – but in actuality, the country's most famous stories are those of ingenuity and genius. Ingenuity in the engineering of the waters that reclaimed the land, now such an important part of the economy. And genius in the country's artistry, vividly contrasted by the artistic excellence of Rembrandt and van Gogh.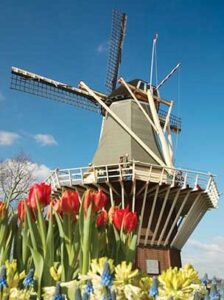 There is, of course a vast legacy of mythology, fables, fairy tales and legends portrayed in Dutch folklore. The stories may not be as well known as other European tales, but they are unique to The Netherlands reflecting a variety of cultural traditions. The country is known in popular culture for its windmills, tulips, canals and cheese – but also known for a revered port and venerated river. And within a land of stories and legends, the blend of nature, ingenuity, artistry and culture have created a destination of contrasts and harmony.
The capital is Amsterdam – and key to the city's success as a trading center was turning streets into water lanes, so that goods arriving at the seaport could float directly to shops and warehouses. On a cruise through the city, you can't help but notice that the merchant houses lining the canals are all equipped with winches and pulleys to hoist items to the upper floors, away from the risk of floods. Centuries of ingenious water control allowed water from rivers and the sea to flow lazily through the urban landscape; in rural areas it enabled a country where half the land is below sea level to exist at all.
But in times of war, those carefully controlled tides could be a formidable weapon. In the Eighty-Years War with Spain in the 16th century, the Dutch sometimes ended sieges by letting the water loose on invading armies, and flooding the countryside. The same tactic was used against French invaders in the 18th century; when the floodwaters froze in winter, Dutch soldiers were equipped with skates. Sluices were built into dikes to let the water go at strategic points that would effectively turn Holland into an island. By the 19th century, Amsterdam was defended by a carefully designed ring of fortifications, sluices, and lowlands that could easily be flooded to impede invaders. But by the time these defenses were ready, they were nearly obsolete in the game of 20th century warfare.
Following are two videos with additional details of water and ingenuity – and for artistic genius, we've included insideTauck presentations on the hand painted artistry of Royal Delft through the eyes of Painter Laurens van der Velden, and an opportunity to learn the secrets of Belgium chocolate on a visit with our longtime travel partner Maxime Pliester, owner and operator of Concept Chocolate in Brussels, Belgium.
Exploring…
Займы на карту или наличными всегда доступны по ссылке:
credit-n.ru
. Оформите выгодный микрозайм уже сегодня.
Онлайн займы до 100 000 рублей можно получить
на сайте
в течение 15 минут с момента подачи заявки.
Если Вам требуется займ на карту без отказа уже сегодня, то
здесь
вы всегда сможете подобрать лучший вариант.
Считается, ошибочно, кстати, что алтернативой кредиту является займ онлайн, но позольте, это совсем не так.