I never knew the charm of spring
Never met it face to face
I never knew my heart could sing
Never missed a warm embrace
'Till April in Paris
Whom can I run to?
What have you done to my heart?
(from "April in Paris", lyrics by Yip Harburg)
In spring, a man's thoughts turn to … travel… at least mine do. How nice to hear that song this morning on the radio about the unforgettable experience of April in Paris! It tells of someone who never really experienced the full impact of spring before experiencing it in Paris. I think that's a true story. There are many times when you have your first experience of something at a specific place and thereafter you always associate it with that nexus of time and space.
Those are the kinds of experiences I think we seek as travelers, something that makes an indelible mark on your soul and can never slip into the vast sea of undifferentiated, forgotten moments.
Spring is when the earth comes to life again. New vegetation comes roaring out of the dormant, fertile earth. Nature awakens from its hibernation. Spring is the joyous release from the confines of winter.
After being cooped up for months of cold, dark weather, it is a joy just to go outside. Anywhere you go in spring will have that special glow of spring, a bonus attached to the trip, courtesy of nature.
When spring arrives, the naked branches of the trees suddenly spurt out buds that will erupt into voluptuous cherry blossoms and apple blossoms and the young green leaves of the new season. At every point across the map nature is orchestrating its great awakening.
Brilliantly colored flowers burst through the dead ravages of winter and adorn the landscape in one vast sweep. Ah, spring! Spring is the natural world's expression of rapture.
How could anyone not love spring? Spring is the new baby, and the new baby is always the favorite.
Ah, but for now it is only a distant and remote dream.
Dreams of Spring in Winter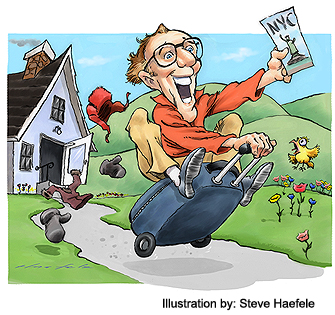 As I write this during a harsh cold snap in Vermont, the bustling winter holiday season has drawn to a close. In the calm after the head-spinning holiday distractions comes the grim realization that the winter solstice is only the beginning of winter. Whatever cold weather, snow, slush and grime we have had up to this point was just the tail end of autumn. After that we have three months of hardcore winter to look forward to.
I enjoy winter. It's time to hole up inside where it's warm and engage in quiet indoor activities, such as reading, watching movies, organizing, fixing things around the house, etc. In winter I don't feel guilty that I'm not outside taking advantage of the good weather. But after a while, I've had enough. And then spring comes as an emancipator.
Suddenly going outside is not something you have to bundle up for. The weather is no longer an oppressive force you have to gird yourself against. It becomes your friend. In spring weather conditions reach optimal levels for human comfort. Wherever you are you want to go outside just to experience it.
Up north of the Mason-Dixon Line, we have a good three months of deep winter to get through after the holidays. In January we wind down from holiday reveling and face the fact that winter is not going anywhere for a long time. In February we can congratulate ourselves that we have made it through January, but we still have two months of winter before any relief. By the end of March, we've had enough. We're champing at the bit.
And then finally … there is April.
April Come She Will
Spring is the joyous release from winter's oppression. It is the perfect time to travel. It's when environmental conditions are precisely gauged for human pleasure and well being, as if the environment were just an extension of our own metabolic systems. We experience being in tune with nature.
Whether you travel far, or just connect with spring in your home area, spring is a great gift. To choose it as a time to travel adds an extra layer of pleasure to your trip. 
Spring is the equinox, the middle point in the annual swing between summer and winter. It is our experience on the ground of the movement of the earth in relation to the sun, the vantage point from which we witness a cosmic event. 
T.S. Eliot famously wrote that "April is the cruelest month," but I suspect there was some irony in that. April is cruel in that it brings the promise of spring, but sometimes falters in its delivery on its promise.
Spring doesn't obey the dictates of the calendar. It tempts us, flirts with us, approaches and then backs away again, leaving us in another blast of winter's chill. We experience a taste of the euphoria of spring, then winter comes back and slaps us down again. But in spring, as winter battles against the onset of summer, we are assured that summer will eventually triumph.
If you are choosing a season to travel, spring has a lot to be said for it.
Spring Travel Versus Summer Travel
Summer is the traditional travel season. Because summer is vacation for most schools, it is when most people take vacations. That makes summer tourism's high season. And that is one good reason to choose spring instead for travel. Travel destinations are markedly less crowded in spring.
Because it's high season, summer is when costs are highest and availability is lowest. Summer will have the thickest layers of tourists between you and whatever you are seeking. For those who want a little more elbow room when they go to the Eiffel Tower or New York City or Machu Picchu, spring is a better bet.
Generally the weather in spring is gentler than in summer, though that varies with time and place. In many popular destinations the heat can be oppressive at the peak of summer. New York City can be heaven in spring and in fall. But at the peak of summer in New York you can easily understand where the name "Hell's Kitchen" came from, and why so many residents leave the city in August.
Top Travel Destinations in Spring
If you are wondering what the best spring travel destinations are, you can find many lists online. Lists are always fun, but for me the list of spring destinations would be almost endless, because spring makes every place nicer. 
Where to go in spring? Almost anywhere. Pretty much every place is at its best in spring. In tropical destinations, there is no spring because there is no winter to recover from. They can be great almost any time of year, including spring. There are destinations in the southern hemisphere that are having fall when it's spring in the north. Often that works out well too, in places such as Johannesburg, Sydney or Rio de Janeiro.
Some tropical destinations will be milder in spring, and that is something to consider, depending on what you want out of your vacation.
Although the range of great spring travel destinations is virtually infinite, there are some attributes that make a place particularly attractive in spring. One big factor is vegetation. If there are flowers, spring is the time to see them.
New York, known mostly for concrete, stone, steel and glass is also a city of many parks, and spring hits with a powerful clang when the new flowers come up in the parks and cultivated squares. Everything in New York is concentrated. As the sense of confinement in winter is exaggerated, so is the sense of relief when spring comes. You'll experience it in spring when practically the entire population of New York, plus thousands of tourists are out on the streets thirstily drinking in the spring air and sunshine.
Holland is another place where spring shows itself in an exaggerated way with its massive fields of blindingly colorful tulips. Flowers burst out along the canals of Amsterdam and the people blossom too, making it one of the most colorful origin points for a European river cruise.
Gardens, parks and flowers can be enjoyed in cities around the world, from Tokyo to Edinburgh, to Chicago, to Beijing. And spring sweeps gloriously across the countryside in wilderness areas such as Yellowstone and Yosemite.
And of course, we cannot forget Paris. The City of Light is at its unforgettable best in spring with its many gardens, parks and outdoor cafes with potted plants and window boxes, and the euphoria of millions of Parisians and tourists celebrating the coming of the mild weather.
If you have that kind of experience in Paris, as in the song, you will always have Paris.
Every spring.
I wish you a rapturous spring.
Your humble reporter,
A. Colin Treadwell
И мне бы очень не хотелось переплачивать за микрозайм на карту именно сейчас,
так как очень жаль денег.
До 100 000 рублей в виде онлайн займа на ресурсе
credit-n.ru
без залога и поручителей, на карту онлайн.
Лучшим выходом для получения микрозайма будет оформление заявки
здесь
, на нашем сайте лучшие варианты кредитования онлайн.