Throughout history, remembrance of those who served their countries is a window to the past that provides a deep connection to the present. In this edition, we share insights and reflections on the Civil War, World War I and World War II by our travel partners and friends who are experts in their fields.

We're so pleased to introduce you to one of our key partners in France, Major General Graham Hollands. For the past 10 years, Major General Hollands has shared his vast knowledge, "insider stories" and expertise with our guests as he guides their visit to the D-Day beaches of Normandy. Major General Hollands served for 32 years with the British Royal Artillery. He commanded artillery at every level between Troop and Army Group and served as a principal Operational Staff Officer up to Army level. General Hollands has appeared on the Discovery Channel and the BBC as an expert commentator on D-Day and the Battle for Normandy. Our local experts and Tauck Directors work very closely together – so we asked Tauck Director Marianne Radwan to host an exclusive interview with Major General Hollands. Originally from London, Marianne has been a Tauck Director for almost 15 years and has guided tours throughout the world. A linguist and trained interpreter for the United Nations, Marianne is fluent in French and has guided tours in France for 14 years.


In 1890, the largest 19th-century epidemic of influenza, known as the "Russian epidemic" spread rapidly worldwide; it was particularly devastating throughout Europe. At 15, young Winston Churchill was a student at Harrow; possessing a keen interest in writing, he penned his thoughts on the epidemic in a poem titled Influenza for the school newspaper, The Harrovian. One of our key travel partners is his granddaughter Celia Sandys – and she recorded Influenza for this edition of The Compass. Celia is an internationally recognized author, speaker and television presenter on the subject of her grandfather, Sir Winston Churchill; she shares her stories and insights with guests in special presentations on many of our London journeys.


Joshua Lawrence Chamberlain was a professor from Bowdoin College who joined the 20th Maine and commanded a key position at Gettysburg, which became a turning point in the Civil War battle. We're pleased to present this vignette that was specially produced for Tauck by our longtime partner, award-winning filmmaker Ken Burns, who profiles this extraordinary "ordinary man" who was not a professional soldier – but like many volunteers, he was drawn to the conflict and showed exemplary courage and resourcefulness in the face of the trauma of the Civil War – and then returned home to the life he left behind.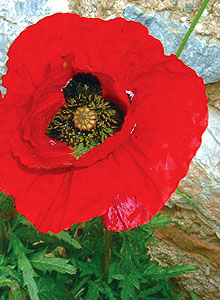 There are many ways to support and remember those who served – and those who currently serve – their countries. The red poppy is one of the most recognizable symbols the world over, worn to honor and commemorate military personnel and civilians who lost their lives in wars. The story of the significance of the poppy begins in World War I, when the fields across France and northern Belgium suffered significant damage from the military activity. A Canadian, Lieutenant Colonel John McCrae, spotted an unlikely sight in early spring of 1915 – bright red flowers, poppies, emerging from the damaged earth of battlefields. He was tremendously moved by the sight, inspired to pen In Flanders Field in remembrance of the fallen soldiers that lay beneath those poppies. His poem was published, and the poppy became an official symbol of remembrance in countries around the world. Homemade poppies are excellent craft projects, for adults and children alike – they can be made from a variety of materials, including silk.


Tauck Director Lilly Dimling shares a fascinating presentation on the French Resistance, the collection of strategic and essential intelligence efforts in France against the German occupation during World War II. Lilly joined Tauck in 2017, primarily working on the riverboats along the Rhône (where she gives this presentation). She has built a career in a variety of roles and industries, always with an international focus, including hospitality, wine sales, and non-profit programming in developing countries. Lilly has lived in Prague, Sydney and Beaune, France; she has master's degrees in East European Studies, Sustainable Development, and Wine Business, and is a Certified Wine Educator (CWE). Lilly is passionate about wine, history and protecting the environment.
Download French Resistance Timeline