"Though we travel the world over to find the beautiful, we must carry it with us, or we find it not."
Ralph Waldo Emerson
Great explorers shared their discoveries, hopes and inspirations with the world, and the trails they blazed are our pathways today. There is an explorer inside all of us – and like all of the great explorers who came before us, it is the stories we share upon our return from our travels, whether near or far, that define our experience.
Sunday is Father's Day, and we send best wishes for the day to all those celebrating!


Scott is a California native who is a true explorer, having traveled extensively throughout his state as well many countries in Europe. He is fluent in Italian, thanks to his six years in Bologna, Italy as a student, then as a teacher and professor's assistant. He is currently pursuing a PhD in Italian Studies at the University of California at Berkeley, has a Master's Degree from the University of Pittsburgh in Italian Literature, and an undergraduate degree from UC Santa Barbara in Art History and Italian Culture. His passion and enthusiasm for the cultural awareness that travel brings is shared with guests in destinations across the globe.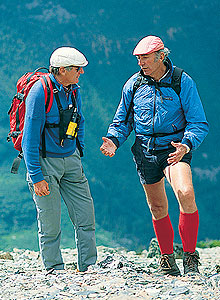 When it comes to the world's great explorers, we have to include our Chairman, Arthur Tauck, on that list. One of his enduring legacies was the creation of a unique summertime activity in the mountains of Western Canada – heli-hiking. We thought we'd share a version of the story about the birth of heli-hiking, courtesy of our partners, Canadian Mountain Holidays; it is an excerpt from Heli-Hiking & Mountaineering, 2001. Enjoy different perspectives by the two people who created it – Arthur and Hans Gmoser, who was President of Canadian Mountain Holidays:
PART I
By Arthur Tauck
Chairman, Tauck
I had no idea that from an ad in the Banff Yellow Pages for CMH (Canadian Mountain Holidays), that Tauck would one day have a thriving transformative experience enduring for over 40 years in the Canadian Rockies.
In April 1976, I went heli-skiing with my son Chuck and was introduced to the Cariboos – an experience of my lifetime. I was amazed at the Cariboo Lodge, its comfort and cuisine; but even more, the social chemistry among its guests and staff was "magical" – and this got my juices going. I tracked down this guy who ran CMH, Hans Gmoser. I wanted to bring our clients to his lodges in summer, and let them partake of the alpine experience and purity of the mountains, far from the crowds (and we were out of space in the resorts of Banff, Lake Louise and Jasper!). Hans the Skeptic soon became Hans the Enthusiast. In 1978 – with a single mailing – we got 900 people to experience the mountain magic of the Cariboos; in 1979, we had 1,200 guests who embraced the high mountain environment. It was a joy to watch, and it brought tears to our eyes to see them climbing in and out of helicopters, pushing themselves – walking along ridgelines, seeing glaciation, and sliding down snowy slopes.
My original goal, to create Heli-Hiking to get added rooms in the Rockies, has long faded! Now, I realize that Heli-Exploring rekindles the dreams, ambitions, and abilities inside of all of us.
Thank you, Hans!
PART II
By Hans Gmoser
Founder, Canadian Mountain Holidays
I was the original skeptic, not recognizing what would become CMH's whole new business venture – a palette of summer mountain fun in several of our ski lodges; a visionary move.
In April 1976, my phone rang. A man said he was Arthur Tauck, and I had no idea who he was. He told me about his skiing at the Cariboos with his son, and that he wanted to start a summer venture. I replied that we shut everything down in summer to save money, and I was not interested. He said he operated bus tours in the Rockies, and perhaps we could use the Cariboo Lodge? I didn't want to go on; we hung up and I forgot the whole thing… until he called back two weeks later. Soon, I realized I could not get rid of him. But what would CMH do with his bus tour guests for two days? Nature talks? I finally said, "No thanks." But Arthur wouldn't give up, so in 1977 we flew up to the Cariboos with Ivor Petrak, Manager of the Banff Springs Hotel, and Lizzie Rummel, a lifelong skier, hiker and climber now approaching 80. It was an ecstatic visit, and we soon designed a test program.
The first summer, 1978, we achieved 87% occupancy – and in 1979, Cariboos was full at 100% occupancy! By 1982, we were operating at the Cariboo, Bugaboo and Bobbie Burns Lodges. Remarkable! We were often dealing with people who'd never seen mountains except from a distance; we had older folks walking through green alpine meadows and hiking along rocky ridges. These guests showed more enthusiasm and accomplishments than any of our Heli-Skiers, and it was highly rewarding for us. We finally saw the light – thanks to the loyalty of those Tauck clients who will go anywhere with Tauck; it saved our CMH Company.
Thanks, Arthur!


We're pleased to present this vignette that was specially produced for Tauck by our longtime partners, award-winning filmmakers Ken Burns and Dayton Duncan. Ken and Dayton share insights into the Crow nation through stories about the life of Joe Medicine Crow, an elder of the Crow tribe whose grandfather was a scout for George Custer at the Battle of Little Bighorn.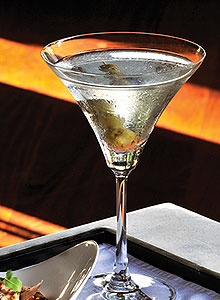 Arthur Tauck has a behind-the-scenes story about the Garlictini – we asked him to share it for this edition of The Compass: "In Lech, Austria, at the Hotel Berghof, there was a bartender named Willy who had won a competition for introducing the 'Cocktail of the Year' at a European contest among bartenders. His creation was the Garlictini. It was so simple, yet so different. Willy used a frozen Martini glass. With a slit in a clove of garlic, he would rub the garlic around the rim of the glass. He poured either gin or vodka (3 oz.) into a shaker of ice… then it was stirred, not shaken. Add a teaspoon or two of olive juice and pour the mixture into the chilled glass with a garlic stuffed olive. Or two. You may ask, so what makes this so different? It is not the taste of garlic on the rim of the glass, but the smell of garlic inhaled as you tip the glass with the far side of the rim level with your nose. Try it!"


The Antarctic Archipelago, once part of a large equatorial land mass that broke off on its own about 180 million years ago, astounds with glacial landscapes and unique wildlife found nowhere else – and an expedition to this magnificent continent is an unforgettable journey of discovery. Explorers throughout the centuries have written about their captivation with the ice and how it compelled them to return; today, we are those explorers. Antarctica Explorer is part of our Exploration collection featuring the expeditions, legacies and discoveries of explorers throughout the centuries in videos, podcasts, documentaries and more.