The word "garden" conjures up a different image for just about everyone – and yet is universal in appeal. There are as many different garden styles, types, uses and designs as there are flowers, vegetables, seeds, and plants to call them home, and their beauty is found on all seven continents. Gardens have long been a muse and inspiration for artists and writers, from Impressionist masterpieces to the literary gardens found in Alice's Wonderland, the plays of William Shakespeare or as immortalized by the world's great poets. Join us, and find your own inspiration in this edition of The Compass.


With a twinkle in his eye and stories that take you behind-the-scenes of every destination he explores, 35-year Tauck Director Don Dunkle holds a special place in the hearts of our guests. His degree in botany is just one aspect of his expertise – get to know a little more about Don and how he shares that expertise when exploring the world's great natural landscapes.


We're so pleased to share a special discussion and presentation, "Dreaming Up Africa," by those who know it best – Tauck Director Chris Mancini, who lives in Tanzania; Tauck Director Patricia Borregerio, who lives in South Africa; and your host, Tour Architect Kelly Rossiter. Get to know Africa through their personal stories and insights, including the differences in geographical safaris, their favorite experiences, and a behind-the-scenes look at creating African journeys in new destinations.
Please enjoy this exclusive presentation, "Dreaming Up Africa," and discover something new about the only continent that lies in all four hemispheres of the Earth.


The main takeaway when learning about Japanese gardens is that they have a sense of purpose. They are inspired by nature and unique in design, bringing to the world a natural beauty, tranquility and serenity that evokes well-being and harmony in our everyday lives. Welcome to a few peaceful moments, steeped in the simplicity of design that a Japanese garden provides.


Welcome to the world's most memorable – and magnificent – gardens via our curated collection of behind-the-scenes stories, presentations, and visual experiences. From great British gardens such as Kew to inimitable Versailles, Keukenhof, and the citrus groves of Marrakesh and beyond, experts share their insights and personal reflections – and inspire gardening aspirations in all of us!


A few weeks ago, we shared a recipe for Irish Soda Bread courtesy of Catherine Fulvio, proprietor of the famed Ballyknocken Cookery School and one of our key Ireland travel partners. She shares another one of her favorite recipes with us this week for her fabulous Beetroot and Parma Salad with Orange Dressing: "Here at Ballyknocken Cookery School, we get so much joy from producing our own fruits, vegetables, herbs and edible flowers. We are always creating new recipes to reflect what we have in season here in our beautiful part of Ireland, County Wicklow – which in fact is known as 'the Garden of Ireland'." Enjoy her special video message for Tauck along with an introduction to Ballyknocken's herb garden.


One of our longtime key partners, the Lobkowicz family, introduces you to Becherovka, a traditional, legendary Czech herbal liqueur based on a secret recipe that has remained unchanged since 1807. It is a mix of herbs, spices and orange oil, inspiring a multitude of cocktails including the Apple Beton: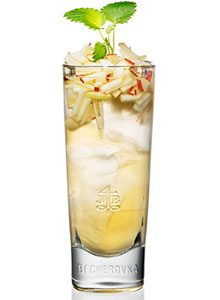 GLASS
Tall glass
INGREDIENTS
1.3 fl. oz. Becherovka Original
1.7 fl. oz. Tonic water
1.7 fl. oz. Apple juice
DECORATION
Fine slice of apples and mint sprig
PREPARATION
Pour Becherovka into a glass filled with ice and top up with apple juice. Slightly mix it with a spoon or a straw, and garnish with apple slices and mint. Enjoy!
Срочный займ без залога и поручителей вы можете получить на сайте
credit-n.ru
круглосуточно, в режиме онлайн.
До 100 000 рублей в виде онлайн займа на ресурсе
credit-n.ru
без залога и поручителей, на карту онлайн.