Families love visiting Italy
As a family-owned travel company, we take special pride in our Tauck Bridges trips, custom designed, interactive trips that every age and generation will enjoy experiencing together. Each is uniquely designed to engage curious minds with opportunities to learn about different cultures and traditions, make history come alive in places we've read about, try new things from food to dances to outdoor activities that introduce adventures, meet the locals and have fun doing it. We take Tauck Bridges families zip lining in Costa Rica, snorkeling in the Galápagos, hiking in canyons, rafting, horseback riding, hot air ballooning, off-roading and so much more. We go on safari, ride the rails in the Alaskan wilderness, cruise on riverboats, and visit Irish castles, Harry Potter's London and ancient Rome. And the best part of them all? The time we spend with one another, sharing stories, making memories, forging bonds.
We were fortunate to operate many of our Tauck Bridges itineraries this year and have received wonderful comments from families who traveled with us. One of the most common sentiments Tauck Bridges families expressed was how safe they felt traveling with us and having the opportunity to enjoy their trips without the worries that have kept them apart during the pandemic, with many others booking a trip in 2022, as noted in the quotes below.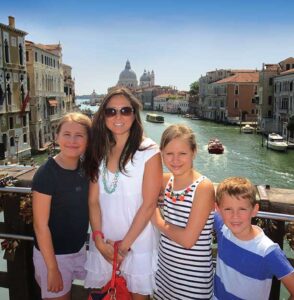 Once I get on the plane and land with you guys, I have no more worries.
I just wanted to share with you that obviously in this new crazy word, we were all alert, we were all informed, but we wanted to enjoy the beauty of traveling again, so we enjoyed great food, great experiences, and great culture that is here in Italy.
We finally were able to book a 2022 trip to Italy with our 13-year-old granddaughter for her Bat Mitzvah. The Bridges tour has become a tradition with our grandkids and we have 503 days (per Tauck) to look forward to this trip. We are starting to see this past year in exile in our rearview mirror. Our trip is June 10, 2022, and it can't come fast enough. Feels good to have something to look forward to.
Due to increasing demand, we are happy to announce that we have opened more dates in 2022 for Italia Bella: Rome to Venice and took the opportunity to ask our Italy Tour Architect, Brenda MacKellar, what families love the most about traveling to Italy. Here's what she shared:
"Families who travel with us in Italy feel so welcomed.  Italy is a family-oriented country. Italians love children and especially enjoy sharing their traditions, food and history with them. They take great delight in seeing them having a good time. Our Tauck Bridges adventures offer so many kid-friendly components that invite them to experience Italy in a lively and interesting way making it fun everyone."
Могу ли оформить займ у вас
в режиме онлайн. Да, разумеется, все микрозаймы в нашей мфо оформляются и выдаются только онлайн.
Достаточно просто перейти по
ссылке
, и оформить любой совершенно займ за 15 минут.