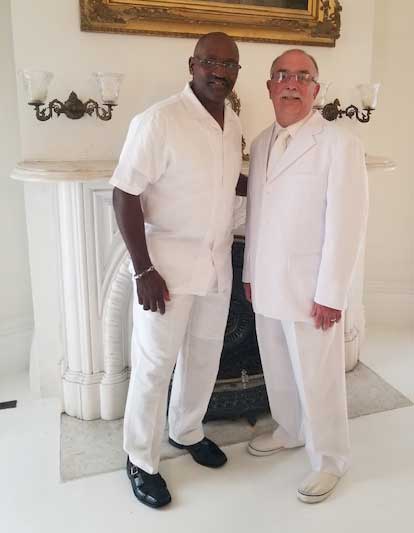 Key drivers in the success of our land trips (pardon the pun here!), our motorcoach partners make it easy for us to get from place to place, keeping our guests' comfort and safety top of mind. They know the roads like the back of their hands, finding traffic-free alternatives to closures, construction and congestion, and finding scenic byways to showcase local sights and views our guests greatly enjoy! Caring and congenial, their dedication to ensuring our guests have a good time makes them an important part of the team and we are grateful that they are at the wheel.
Take Mike Jones, for example. He drives us on our trips to New Orleans and Mississippi River Country. Tauck Director Randy Hammond calls him a total star. Here's why:
"Last spring when Tauck Director Linda Anderson and I set out in a rental car for a trial run of our New Orleans itinerary, Mike volunteered to come along on his own time to help us with the drive. He had just finished driving the training tour for our new Mississippi Riverboat cruise and then immediately returned to drive for us on the New Orleans & Mississippi River Country tour.  That's when Hurricane Ida hit New Orleans, flooding some of the places we had planned to visit and impacting some of our included experiences, like the swamp boat tour.
Undaunted, Mike took it upon himself to check out the route on his own to get an idea if we should – or even could – run the tour.  Because of the hurricane, we had to arrange a different swamp boat tour for our guests, so Mike drove to the new sight in advance to see if we could actually get a motorcoach to the landing spot. At the very real risk of getting stuck in the mud, he weathered a very narrow muddy road in the motorcoach, wide enough for just one vehicle at a time, to make sure we could safely make the trip. After pulling over several times for oncoming traffic, Mike concluded that we could in fact keep this experience in for our guests.
Later, when we arrived at our hotel with our guests' luggage while they were on the swamp boat tour, he personally helped deliver bags to their rooms, as there were no bellmen available. No matter how early in the morning we needed to load our guests' luggage back on the coach bound for our next destination, we would find Mike in the front seat and ready for the day. You can always depend on Mike rain or shine to give us a helping hand."
Или ещё один тренд 2020 года, займы без отказа
наличными или на карту, отлично себя показал на рынке.
Не так важно, какой вид кредита вы оформляете, важно помнить, что даже займ
на карту придётся возвращать.
Онлайн займы до 100 000 рублей можно получить
на сайте
в течение 15 минут с момента подачи заявки.