For me growing up in America, the cultural footprint of Spain was so broad and deep that it almost faded into invisibility.
My first history lesson said that Columbus discovered America and claimed it for Spain. I learned to take that assertion with a grain of salt, but it is true that Spain kicked off the wave of exploration and colonization that created the modern world. Spain casts a very long shadow. The age of European colonization was a Spanish innovation.
Though the global Spanish Empire long ago passed its peak, Spanish culture still exerts a powerful global influence today. Not only is everything south of the Rio Grande referred to as Latin America, much of what is now the United States was once part of the Spanish empire. The influence of Spain cannot be overstated.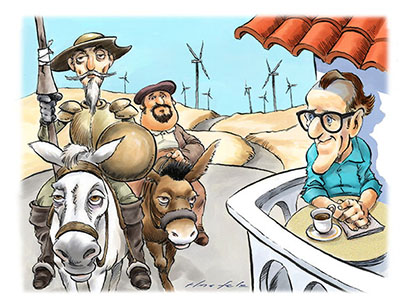 Irresistible Allure
I developed a natural familiarity with Spanish culture through the Latin Americans I knew, my experiences as a teenager traveling to Mexico, and the myriad Spanish elements in America's melting pot culture, from "Zorro" to "La Bamba" to the Spanish references in Western movies.
"Down in the West Texas town of El Paso, I fell in love with a Mexican girl," sang Marty Robbins. The image of a Mexican beauty enchanting the heart of an American rang through many songs and stories.
The romance of Spanish culture reverberated through my world: Spanish guitar music, Spanish wine, fiery Spanish dancing, lively fiestas, the existential daring of bullfighting, the quest of Don Quixote, the mind-bending images of Picasso, Dali and El Greco. The way I saw it, Latins had flair, fire and sauciness that we North Americans lacked, and envied, and went in search of. Certainly I did.
As I experienced more Latin American countries I learned of the diverse ways each former Spanish colony produced its own blend of Native American, African, European and Asian cultural influences under the umbrella of the dominant Spanish culture.
What are those characteristics that are instantly identifiable as Spanish? I can recognize that unique Spanish quality when I see it, but I can't define it. It is as elusive as it is alluring. And yet it is unmistakable when you see it. After experiencing the power of Spanish culture in the Americas, it was absolutely imperative to me to travel to Spain to experience it at the source.
To the Source
I took a tour of Spain designed to present a balanced picture of the country in a week, not an easy thing to do, but it included some essential parts of Spain, such as Madrid, Córdoba, Seville, Granada and Barcelona.
Because of their long histories, these places are almost as different from each other as if they were different countries, and yet they all share that unmistakable Spanish character. As familiar as I was with Spanish culture in its American forms, Spain was still full of surprises.
One of the most striking surprises was the close affinity of Spain to Africa.
The Islamic Arabs and Berbers of North Africa, known as the Moors, invaded Spain in 711 and dominated southern Spain until 1492 when they were defeated by King Ferdinand. Their presence for some 700 years, longer than the entire history of the United States, left an indelible impression. Their influence remains strong today in their architecture and artifacts.
Beneath the cultural affinities there is a natural geographic affinity between Spain and North Africa based on their proximity. I had always thought of Spain as part of Europe because that is how political maps are drawn. But national boundaries are a modern artifice and if you look at satellite photographs without boundaries it is apparent that southern Spain is closer to Africa than it is to most of Europe. The Iberian Peninsula is the western and southern extreme of Europe.
Spain is separated from the rest of Europe by the mighty Pyrenees Mountains, a formidable barrier in the days before air travel. It is only separated from North Africa by the narrow Strait of Gibraltar, which is only nine miles wide and navigable by ferry. From space the Mediterranean might be seen as an inland sea in a vast Afro-Asian continent.
While Latin America has a strong Native American element, Spain instead has a rich mix of European, African and Asian elements, entangling and interacting for millennia.
On Tour in Spain
The highlights of the tour came fast and furiously and were far too numerous to list, but here are a few.
Madrid was a sparkling and sophisticated world city, rich with history, culture and art, not just within its great museums such as the Prado, but practically gushing out of the city streets. For those who don't want to leave Madrid's sunny streets, fountains and gardens to enter the enclosure of a museum, there were brilliant pieces of sculpture lined up along Paseo de la Castellana, one of busiest thoroughfares of Madrid.
I was lucky to see an exhibition of Picasso at the Reina Sofia museum, with works on loan from France and the incomparable "Guernica," vividly portraying Picasso's horror of the Spanish Civil War.
Traveling by motorcoach across the Spanish landscape I was able to observe its great variety. La Mancha, the home of the legendary Don Quixote, was flatlands with conical hills and vineyards. I rested my eyes a while and when I opened them again the plains of La Mancha had given way to the hills of Andalucia, the largest autonomous region of Spain, larger than Belgium, Portugal or Holland.
When we reached Córdoba we were well within what had been the Islamic world of the Moors. And we saw a glimpse of Rome there as well, with a Roman bridge with a giant waterwheel.
Seville was the setting for the opera "Carmen," and the fiery spirit of its heroine seemed to reverberate in the city's streets. We were amazed by the high-stepping Andalusian horses and the third largest cathedral in Europe, which was built over a Mosque, resulting in a strange pastiche of Christian and Islamic architectural elements.
Modernity was well represented in Seville by the Alamillo Bridge, designed by Santiago Calatrava using an astonishing harp-like structure. Seville is the capital of Flamenco music as well as tapas, which originated there, and we experienced both.
In Granada we toured the Alhambra, a dizzyingly ornate Moorish palace and the quintessential site of Islamic Spain. In Valencia we saw the science museum and ate Valencia oranges.
Barcelona was a fitting finale because it stands out even among the cities of Spain. Barcelona is the capital of Catalonia, a region that was one of the first Roman settlements in Spain. The Catalonians have always been fiercely proud and individualistic, taking pride in the fact that the region was not conquered, but joined Spain voluntarily and agreed to be devoted to the King only "if he respects our rights and liberties."
The Catalonians were the first to take up arms to resist the Nazis, who used Spain as a training ground for their planned world conquest during the Spanish Civil War. And today the Catalonian aspiration for independence is rumbling again.
That introductory trip to Spain was only a beginning, but now when I read about Spain, I have a much greater foundation for understanding. I've had a couple more visits, but I have not yet begun to satisfy my curiosity and my hunger to experience Spain as deeply and fully as possible in this lifetime.
And so on that note, I bid you adios. Perhaps we will cross paths while chasing windmills in Spain.
Your humble reporter,
A. Colin Treadwell