Six of the World's Great Wonders
There's something about the phrase "world's greatest wonders" that inspires people to make lists. You can find numeric lists, lists by countries, "old" and "new" lists, top natural wonders lists, top cultural wonders lists – and a treasure trove more. But at the end of the day, the best list is your own list. It's the destinations that inspire you, famous sites that left an indelible impression and sparked your interest to learn more, a place in nature's endless, diverse realm that compels you to want to be there – great wonders of the world that create your own personal list.

Coining "Foliologist" and "Foliology"
The Wonder of Autumn Foliage
For half a century, Scotty Johnston wore several different hats at Tauck – but the one we were most fond of was his title of resident Tauck "Foliologist." Now you may ask, what is a Foliologist… it's a word coined in the late 1990s that best described Scotty's passion for autumn and his expertise on all aspects of the wonder of fall foliage – at that time, he was deemed to be the nation's only "Foliologist." Scotty was a true encyclopedia of knowledge when it came to geography, trees and autumn foliage patterns, and he shared his wisdom on CNN, Good Morning America, CBS radio, and with other print and media outlets. But his primary focus was on the fall foliage experience for Tauck guests. For many years, beginning in May, you could call our Fall Foliage Hotline for Scotty's weekly updates, enhanced by up-to-the-minute reports from our Tauck Directors who were on the road. It warms our hearts to be able to go back in time and share with you one of Scotty's reports, accompanied by a beautiful video overview of scenes from one of the world's greatest wonders, autumn in New England, along with other foliage content.

The Grand Struggle for the Grand Canyon
Ken Burns American Journeys
One of our key partnerships in North America is with award-winning filmmakers Ken Burns and Dayton Duncan. In this video, produced exclusively for Tauck, discover the story behind the creation of one of America's – and the world's – greatest national wonders, Grand Canyon National Park. The fight to preserve the Grand Canyon took many years, despite the best efforts over many years of politicians like Benjamin Harrison and Theodore Roosevelt; as Dayton Duncan observes, every one of our treasured national parks was the result of long, hard political battles by dedicated individuals and groups. And once a park is created, it doesn't mean that it's necessarily safe; it takes constant vigilance, constant care and constant work.

Uluru and the Stories of the Dreamtime
Heart of the Red Centre
On your approach to Uluru (Ayers Rock), you cannot believe your eyes; the sandstone rock formation literally rises from miles and miles of flat desert surrounding it, a monolith created five to six hundred million years ago when it was pushed up by a tremendous earthquake through the waters of a long-gone inland sea – one solid piece. It is the height of the Empire State Building with a circumference just under six miles, and depending on the time of day, it appears to change colors. But Uluru's real story lies in its significance to the Anangu, the Pitjanjatjara and Yankunjatjara people of the Central Australian desert, and the legends of the Dreamtime.
Petra, Antiquities and Archaeology
Stepping back thousands of years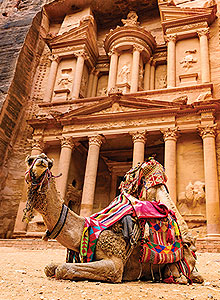 The magnificent 2,000-year-old "pink" Nabataean city of Petra in Jordan is truly unique. A UNESCO World Heritage Site, Petra has been called "a rose-red city half as old as time," a place where nature has framed its grandeur in sandstone sculptures carved by its Nabataean builders, weathered by the elements and a destination where the world's cultures crossed. Much of it remained hidden in the mountains and desert sands for thousands of years before its "discovery" by western explorers in the early 19th century. The ancient site inspires with monumental stories, where past and present speak volumes about cultures and customs indelibly timeless – discover them in our curated collection of documentaries and videos delving into the extraordinary ancient engineering and modern-day conservation efforts.

"Greatest Falling Curtain of Water on this Planet"
Africa's powerful force of nature
There are amazing waterfalls all over the world; some are known for their magnitude and beauty, like Iguazú Falls or Niagara Falls; some are gentle and serene, and some are just plain unique (think Yosemite Falls or Blood Falls in Antarctica, named for the presence of iron oxides). But all told, most waterfall connoisseurs agree that none the world over compare to Victoria Falls in Zimbabwe. The waterfall is not the highest or the widest – but the massive height, and force and size of the continual flow of water, earned it the nickname "greatest falling curtain of water on this planet." Victoria Falls is usually included on any list recounting the greatest wonders of the world – and in our video, you'll see why.

Giant's Causeway, where Legends and Science Meet
Antrim, Northern Ireland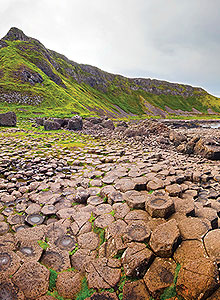 The Giant's Causeway, formed over 50 million years ago by volcanic activity, is a spectacular coastal complex of about 40,000 hexagonal-shaped basalt columns ranging in height from six inches to 39 ft. – at first glance, they resemble "stepping stones." And herein lies the beginning of the myths and legends perpetually intertwined with the fascinating scientific facts about its formation – together, inseparable, they create the story of the Giant's Causeway as it is known today. We've put together both sides of the Giant's Causeway's story along with a look at the Merchant Hotel – the hotel where Tauck guests stay in Belfast on The Best of Ireland.

City of Gold & the Allure of African Gemstones
Enjoy last week's presentation by diamond and gemstone expert Clare Appleyard
If you missed last week's presentation, City of Gold & the Allure of African Gemstones with Tauck partner, diamond and gemstone expert Clare Appleyard, please click the link below to view the recording.
Какой вариант, вы считаете, более предпочтителен при получении онлайн займа
, на карту или наличными?
Не так важно, какой вид кредита вы оформляете, важно помнить, что даже займ
на карту придётся возвращать.