When I first planned my trip to Europe I had never heard of the Coronavirus or COVID-19, the disease it causes. It seemed to suddenly explode onto the scene in January. Now in early March, from what I'm seeing on TV it seems to have almost stopped the world.
With my flight booked for April I am now in the middle of this world crisis, no longer on the sidelines as I thought when I first heard about the outbreak in China. Now there are cases in Europe and in the US, the places I am flying between.
Now I am on the spot. I am either going to travel or not.
I've never canceled a trip during those periodical panics that cause people en masse to avoid traveling. Whether a terrorist attack or a disease outbreak, I've always been one of the ones flying into places that tourism has deserted. And I've always enjoyed the reduced crowding.
Still, if I do perceive actual danger, I will take steps to protect myself. I've never flown into a war zone. I have never traveled into the middle of an outbreak of a dread disease like Ebola. I did travel around Africa a lot during the year when fear of Ebola knocked out tourism on the whole continent and practically destroyed the industry.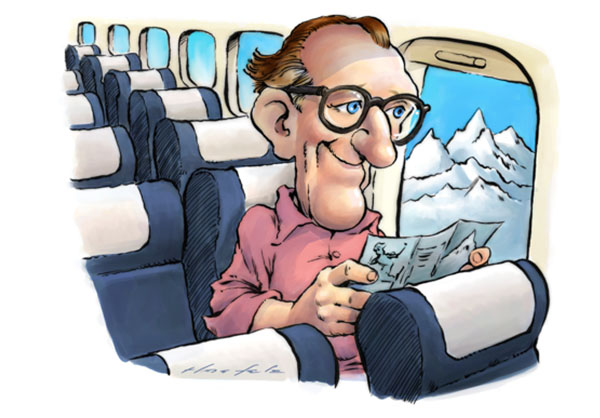 Meanwhile, the rhinos became more vulnerable to poachers, because the tourism infrastructure is often the only thing protecting the animals.
But I didn't go right into ground zero of the outbreak. Africa is a huge continent, three times the size of the United States. There was plenty of room to travel without getting anywhere near the virus.
When my flight from New York stopped at Dakar, Senegal, we were already in Africa, but less than half way to Johannesburg. But many people wouldn't go anywhere in Africa because of the horror stories about Ebola. New York was almost as close to Ebola as Johannesburg. But it wasn't logical. It was just fear.
Wash Your Hands
There were many who did fly into the middle of the Ebola epidemic and went ahead with whatever business they had there. There were medical professionals who went right into the heart of the crisis for the purpose of helping.
One has to applaud the honor and courage of people who take such risks to help humanity. But they are medical professionals, and that's what they do. They know all about disease and its transmission, and they know how to protect themselves. Otherwise we would have no doctors.
They know about hygiene. They know the importance of washing their hands. That's how they stay healthy at the heart of an epidemic. Advances in hygiene constituted one of the greatest advances of the 20th century. That knowledge has been built into our public health systems and is why epidemics have become less devastating.
In the 14th century the Black Plague killed 60 percent of the population of Europe.
The 1918-19 outbreak of the Spanish Flu infected 20-40 percent of the world's population and killed 40-50 million people globally, 675,000 in the US.
Fast forward to 2009. The Swine Flu H1N1 epidemic infected more than 60 million Americans, 274,000 of which were hospitalized. But there were only 12,000 deaths – still a terrible human tragedy, of course, but also a telling measure of how far we've come.
Even though our global transportation system shuffles people all over the world every day, we fared so well in that pandemic that a decade later hardly anyone even remembers it.
Fear Itself
But there's no way I could look at the news and not get flashes of terror, as if I were going in and out of a sci fi doomsday movie.
The news showed maps with the countries or states lit up red if one case was discovered there. It looked as if the virus had suddenly taken over practically the whole world in one rapid march.
But then I had to take a deep breath, gather myself and say, wait. Before fear goes into runaway, I need to try to get my feet on the ground with the facts so I can make a rational assessment.
Decisions made under the influence of fear are often regretted later. Fear distorts the thinking processes. Fear is also deleterious to physical health. It is one of the worst health hazards. The antidote is knowledge.
Disruption
Fear is destructive to our world. We are reliant on a global economic system, and disruptions such as we have seen over COVID-19, can have devastating and far-reaching effects.
Fear of this disease and efforts to contain it have resulted in shutting down much of the normal functioning of many places. Some of this is good policy to help contain the disease. Some of it is just fear.
When the virus first appeared it led to the virtual shutdown of transportation into China. Since China produces parts for products manufactured all over the world, cutting transportation could cause breakdowns in global supply chains with far-reaching effects.
Fears of a disruption of manufacturing and trade led to plunges in stock market values. That stoked more fear and panic.
I would never advocate anyone putting themselves in danger for the sake of the world economic system. But if we all just stop functioning and let the system grind to a halt, it'd better be for a good reason.
So as I consider my upcoming trip I am trying to figure out how much I really have to fear.
There's a ray of sunshine peeking through this dark cloud. As of this writing China, where the vast majority of cases have occurred, has made great strides in containing it. The Chinese government reports that it's on track for new cases to drop to zero by mid March. Apple and Starbucks are re-opening their China facilities.
How to Protect
I face this decision with a resolve to try to remain rational. Science is one of the best tools we have to balance our irrational tendencies. What is known about this menace? What do I need to know to protect myself whether I travel abroad or just to the grocery store?
According to Tedros Adhanom Ghebreyesus, the director-general of the World Health Organization, COVID-19 does not spread as easily as the flu. That means containment is still possible, which is not even attempted for the flu.
It's good to keep some perspective when seeing the numbers. As I write this, there have been almost 115,855 cases worldwide, but almost 64,048 of them have already recovered. Nearly 4,087 have died from the disease worldwide, most of them in China. So far 26 have died in the US.
There are enormous numbers of deaths every day for various reasons. According to the Centers for Disease Control and Prevention, in 2017 169,000 Americans died by accident and 648,000 died of heart disease.
In the 2018-19 flu season, about 35 million people in the US contracted the flu and 34,000 died. This flu season so far, an estimated 32 million people have gotten the flu, 310,000 have been hospitalized and 18,000 have died.
Much of staying healthy comes down to the immune system. Vaccines are based on the immune system. So in addition to carefully observing principles of hygiene, I will try to support my immune system with plenty of sleep, vitamins and good food.
As my departure date approaches, here's my plan. I will stay informed, listen to medical professionals and travel professionals, and upgrade my hygiene practices.
I'll keep an eye on the news on the progress of the illness and efforts to contain it, without letting myself get too carried away with the hysteria. I'll wash my hands frequently, especially as I pass from one place to another. I'll carry hand sanitizer.
I'll avoid contact with railings and knobs in public places. I'll be careful about personal contact. If I must sneeze, I'll sneeze into a tissue.
These precautions will help ward off the flu, too, which is still out there.
A Personal Decision
Choosing whether to travel is always a personal decision, with or without extraordinary circumstances. Though I generally encourage travel, I wouldn't want to urge anyone to do something they are uncomfortable with. I can only tell you my own thought processes.
Right now the concern is COVID-19, but there is always some risk when traveling. That's life, no matter where you are.
There are risks even in staying home. Of course when you go out into the world you expose yourself to more things. A major part of the joy of travel is the fact that you are exposed to things you never thought of before.
But there is always an element of risk. The more events you have in your life, the more you expose yourself to risk. It's not possible to entirely insulate yourself from risk. And if you succeeded, you could hardly call that living.
Bless you. Stay safe. Enjoy life.
Your humble reporter
A. Colin Treadwell