After traveling a number of times through Italy's major tourism centers, I wanted to try to penetrate deeper, so I booked a small group tour that focused on Tuscany. I found a package designed to explore a small area in depth, with immersion in local culture, through activities and encounters with local experts in different fields. I was hoping to dig down beneath the surface and experience a vibrant education, not in a classroom, but out in the world.
It was early afternoon when my flight landed in Florence at Amerigo Vespucci airport. A driver was waiting to take me to my hotel. After hours confined to airplanes and airports, I practically exploded onto the sunny, festive streets of the city that gave birth to the Renaissance. The weather was perfect – sunny and warm. The atmosphere was crackling with energy. Florentine youth filled the streets, overflowing with joyous vitality, the contemporary expression of the ancient character of the city.
The driver took me to a small hotel at the heart of the old city, a block from Lungarno degli Acciaiuoli, the street that runs along the River Arno. It was near the Ponte Vecchio Bridge, a landmark of Florence. It was about a block from the Uffizi Gallery and a couple of blocks from the Piazza Signoria, where Michelangelo's David used to stand, now replaced by a replica. Practically all the major tourist landmarks in Florence were within walking distance.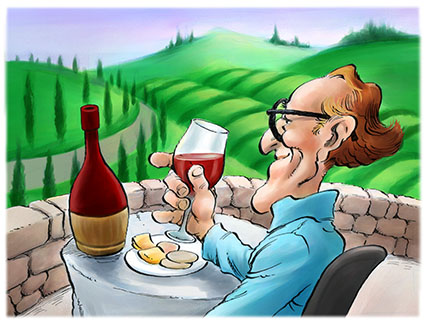 The hotel inhabited a secluded alcove hidden within the busy tourist center of the old city. It could be entered only through a narrow alley. Once through the opening, the street opened onto a small plaza in front of the hotel and its outdoor café.
Moments after arriving, I heard someone speaking to me from behind. "Hi, I'm Florence." I turned to see the radiant smile of a woman who sparkled with enthusiasm. I was still shaking off the airplane haze and my mind was foggy as I pondered the fact that my tour director in Florence was named Florence. Over the next few days, our small group would get to know her well.
I had chosen an active itinerary, and it started right away with a walking tour of Florence. Soon after arriving, I was out on the streets with a local guide exploring Florence on foot. Jumping right into action probably helped me adjust to the new time zone better than if I'd had a day to rest. In the hotel I would have fallen asleep and slipped back into the previous time zone. Walking kept me moving, and helped me push off the tiredness until nighttime, when I would be in sync with the local time.
Florence, who was with us from beginning to end, was the CEO of the trip. She oversaw everything, kept the wheels turning, coordinated with local guides, experts, drivers and restaurateurs. She was as perfect for the job as her name. She was the personification of Florence. And she had real star quality.
She said tour directing was like being on stage, and she performed with relish. She had worked as a model until she was 42. She was in campaigns that put her face on billboards all over Italy. But she preferred directing tours, a job that engages the whole person, not just the physical image.
Florence was truly international. She was born in Strasbourg, France, a place that is both French and German. Her father was from Switzerland, which is Italian, German and French. Her mother was from a village near Venice. She spoke French, English, German, Italian and Spanish, as well as some Greek and Arabic.
Our local guide for the walking tour had a PhD in art history. She gave a survey of the area, providing historical background of what we could see. She also offered tips for how to get around when the walking tour was over, where to find the best shopping and places people wanted to visit on their own.
By the end of that walking tour the people in my group of 18 were already getting to know each other. Group dynamics always fascinates me. I'm amazed by how rapidly groups of former strangers begin to function like a family. That tendency would continue to build through the trip as we shared many experiences together.
The second morning began with a lecture on Michelangelo by a professor of art history at Syracuse University in Florence. She was a gifted lecturer in full command of her subject. She dove into a visual and anecdotal presentation of Michelangelo's life that made him as real as the boy next door.
To set the stage for understanding the Renaissance, she began with Medicis, the banking family that secured the Pope as a client. With his fortune they lent money at 27 percent interest rates, and became so wealthy and powerful that they ran Florence. To atone for the sin of usury, they paid for good works, effectively financing the Renaissance. The 50-minute lecture was riveting. It created mental pictures to augment what I was seeing in the city.
After the lecture, we went to the Uffizi Gallery, one of the greatest museums in the world. Our guide familiarized us with the layout of the museum and its relation to the art history it houses. We started with Byzantine art, then progressed into the 1300s with the painter Giotto, and an emergence from ethereal religious themes to realism and humanism. Then into the late 1400s and the Renaissance with Botticelli, the emergence of portraits, and Leonardo da Vinci and Michelangelo.
After touring the public part of the museum, we got a private tour of the Vasari Corridor, which can only be entered by appointment. It's a long hallway with many works of art that evolve through the centuries, including a section of battle scenes and self-portraits of 1,600 artists.
On our third day, we boarded into a small coach and drove to the outskirts to Fiesole, a village that dates back to the Etruscans before the establishment of Rome. We walked through the picturesque village and then into the country through hills and forests, by sandstone quarries to a precipice where Leonardo tested his flying machine.
As with every trip, after those introductory moments, time seemed to pick up momentum as we rolled through the week from one event to another in succession. By the end of the trip, we had built a dizzying inventory of diverse experiences to add to our lifetime memory banks. Here are a few highlights.
We rode in 4×4 vehicles to the mountaintop quarries of Carrera, which has produced more marble than any other place on earth. This includes the gigantic slab that Michelangelo sculpted into the towering figure of David. It was mind blowing to stand at the top of mountains of white marble. It looked glacial, but was not cold.
Florence gave us an introductory lesson in Italian, which was fascinating and gave us the power to ask for food in restaurants in the local language. To utter even a few words in that great dancing tongue, the language of Dante, is a great pleasure.
We visited an art restoration shop and saw how centuries-old art pieces are saved from deterioration. We attended a food market where we saw local life from the perspective of how people eat and what foods they buy, including meats and fish, fruits, vegetables and spices.
In a cooking class we learned how to make our own pasta. We experienced an ongoing succession of tasty and fascinating meals and drank many glasses of delicious wine. We listened to a vocal performance of arias in a church.
There was much more, but this is a taste. Italy is a feast, and it's especially nice to take the time to dig in deeply and savor it.
Your humble reporter,
Colin Treadwell