Sitting here dreaming about my next trip, the pent-up demand feels like it's about to explode through my skull cap. Thankfully by learning the safety protocols that make it possible to move safely about in the world I've been able to ease somewhat out of the sense of confinement. But I am still looking forward fondly to the day when travel will carry on again as unencumbered as before the pandemic.
After sitting idle for so long, I feel that when my moment comes, I want to celebrate with one big bang-up trip, a modest attempt to make up for the time when people could not visit each other, and grandparents were unable to see their grandchildren.
I'd like to make it a family reunion in motion. Living through such a difficult period has accentuated my sense of the importance of family ties, the closest, most enduring relationships we have in this life.
In a mad-dash world such as this, I often feel that I am chasing my own tail to get ahead, but really only going in circles. Who has time for quality time with family?
It's a rhetorical question! Of course the little tasks that fill up my schedule are not as important as my family. It is to them that I dedicate the work that occupies me constantly, and keeps me from them. Such are the paradoxes of life.
But as this year has slipped away I felt a certain urgency pressing upon me. The thought was this:
If one does not deliberately stop the mechanical motions of life and set aside time for special experiences with your closest family members, how are you going to have those experiences to share, those moments that will endure as an incident by which a grandson remembers his grandfather, the lessons he taught by example, the laughs they had together, the love they expressed for each other through their actions and shared activities? Those moments are the substance of a family history, what makes you who you are to each other.
Time slips by too quickly. Suddenly you notice years have gone by. In their absence you realize how precious are those moments with family, with young but rapidly growing children who will only too soon be sprung out into the world and perhaps beyond your reach.
We have to seize these moments. I am ready for one of those family experiences that leaves an indelible impression on the family history in shared memories that become family lore and legend.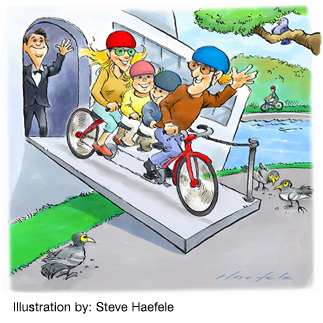 A Family Travel Event
I'm calling it a "family travel event," something that will provide the platform for those shared family experiences. I am looking for a good time for all, but at the same time I also view this family affair as serious business. Carving out some time to create these moments upon which relationships are built is a matter of primary importance to me now.
I've been bouncing my ideas off some of my smartest friends, and more and more I am thinking I want to have my family travel event on a river cruise.
The river cruise style of travel is a sparklingly fresh and comfortable way to travel. It offers many advantages, and some that are particularly suited for families traveling together.
These days there are river cruises that are designed exclusively for families. I learned some things about that recently in a phone call with my friend Katya, who works as a tour director on some of those family river cruises. Out of work at the moment, as the industry takes a break for the pandemic, she had time to talk.
Advantages of River Cruising
Katya gave me some things to think about as I plan my Big Breakout Family Travel Event.
Unfortunately one unavoidable consideration now is safety during the COVID pandemic. I have come to believe that a river cruise might be one of the safest ways to travel under the present circumstances. A riverboat is an ideal environment for controlling against the risk factors.
If people are tested before they board initially, and if guidelines for masking and distancing are observed on board, then it's possible to make the boat a very low-risk environment.
From a rough mathematical perspective, the risk factor on a riverboat seems lower than my trips to the grocery store.
The only people coming and going on the boat are the passengers. The various river boats carry maximums ranging from something like 84 to 190 passengers. If they've all been recently tested and if everyone is observing standard precautions, they don't pose a very high risk. The decks are open-air environments and the cabins open onto their own balconies of sorts. It's easy to avoid closed-in crowds of people.
More activities and more alternatives
The safety factor is just a basic entry-level qualification. Once you cross that threshold, a world of possibilities unfolds regarding how to structure your family event.
Katya caught me up on how the river cruise product has evolved in response to customer demand. The biggest difference, she said, is that people have asked for more activities, and operators have tried to outdo each other with improved offerings. On family river cruises, the boat maintains a team of directors to coordinate activities.
"We have three tour directors and one cruise director on each departure," she told me. "The tour directors go out on the tours; the cruise director stays on board. Because there are four of us, we can offer more activity, different choices, something for kids, something for adults, so many choices. When we start a tour, we take down choices from guests. Different activities are running at the same time. They decide which ones they want to participate in. We can take care of the kids."
Changing demographics
River cruises are now attracting younger customers than when they first broke onto the scene. "When it started, river cruising was seen as a great way for older people with mobility issues to travel," Katya said. "They could stay in their rooms or on the boat as much as they wanted to. And every day or two they wake up in a different city or village. It was a nice, easy way to see the countryside, get inside the countries, but still have that freedom of a cruise when you only have to unpack and pack once."
But today river cruises also attract high-energy people who enjoy vigorous activity and intense exploration of the places along the river. The river cruise style of travel easily accommodates different preferences.
River cruise operators have added more active options, such as bicycling. You can leave the boat in one town, ride your bike along the river and then join the boat again at a later stop. The tours offer various special interest activities, such as yoga and beer tastings.
If a husband wants to take it easy on board, and his wife wants to take an excursion, he can relax knowing she will be looked after by the tour director leading the excursion. The ability to accommodate different needs is part of what makes river cruises ideal for multigenerational groups.
"It's evolved to be multi-generational," she said. "There is so much choice and flexibility. Everything is included, that gives people the opportunity to do different types of things."
While adults may want to go to museums and historical sites or listen to lectures, children can participate in cultural scavenger hunts, cooking lessons, bicycling trips, karaoke or local games. Some activities are designed to bring together the different generations. Some are for kids only.
"We set up a creative corner, where you can draw or paint or anything can think of," said Katya. "We play games, fly kites from sun decks, fish with kids. But there's also a bit of history. For the kids, we tell the history in different ways. We tell stories. We try to make them funny, but they're not only to amuse. It brings the history to life for them."
This sounds good to me. For right now I'm still just rolling on the river in my imagination. But the time when I can make that dream real is coming within view on my horizon.
Your Humble Reporter,
A. Colin Treadwell
А, вот рассматривать вариант быстрого кредита – микрозайм, в качестве выхода,
то ситуация становится не такой печальной.
Не так важно, какой вид кредита вы оформляете, важно помнить, что даже займ
на карту придётся возвращать.
Если Вам требуется займ на карту без отказа уже сегодня, то
здесь
вы всегда сможете подобрать лучший вариант.