I took over the wheel and, though I'm not much of a driver, drove clear through the rest of Illinois to Davenport, Iowa, via Rock Island. And here for the first time in my life I saw my beloved Mississippi River, dry in the summer haze, low water, with its big rank smell that smells like the raw body of America itself because it washes it up. Rock Island – railroad tracks, shacks, small downtown section; and over the bridge to Davenport, same kind of town, all smelling of sawdust in the warm midwest sun.
– Jack Kerouac, On the Road
It's too bad the coronavirus hijacked 2020 and turned it into The Year of COVID-19. But eventually the country will catch up to New York, which brought its curve down from the highest in the world to near the vanishing point.
It can be done. There are many reasons for hope. The year is not over yet. It may yet close out as The Year of North America. This could be a good time to revisit The Great American Road Trip.
Many Americans are venturing out again, seeing the country from within the safety of their automobiles. Most are wisely observing safety precautions when they leave their cars.
Circumstances made me one of them. In January my father-in-law fell ill and needed help managing. He was based in Maine, a two and a half-hour drive from where I was in Vermont.
In March, when the pandemic set in, I went into strict quarantine – staying indoors with my family, or walking in the open, never venturing near people in an enclosed space except at the grocery store, and wearing a mask when I went there.
For 25 years I had been someone who had taken an airplane trip practically every month, to Africa, Europe, Latin America, Asia, all kinds of exotic places. When the pandemic hit, along with almost everyone else I was grounded.
But because my father-in-law's illness, I found myself traveling, though in a strictly limited way. It's funny how even a little travel will help relieve the cabin fever from being confined within four walls. Though I was going back and forth over the same stretch of highway, I found myself looking closer and realizing that if I looked with the mindset of a traveler, what I was seeing was as beautiful as any place I thought of as exotic.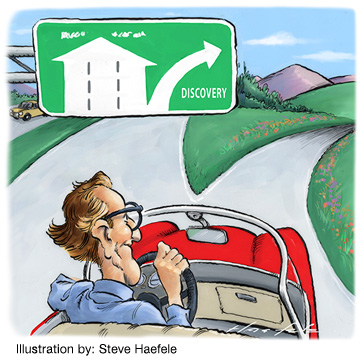 Hitting the Road
I will never tire of the pleasure of getting behind the wheel and driving out on the open road, regardless of where I am going.
Though it's a short drive, it encompasses dramatic changes in the landscape from coastal Maine to the mountain forests of Vermont. Southern Maine is old New England, with colorful coastal life, fishing, beaches, boating and quaint old hotels that line the beach areas.
You cross into New Hampshire at the Piscataqua River Bridge, a towering through arch structure that rises 134 feet over the bay. When your car climbs onto it, it feels as if you are taking off on a flight. From its heights you look down as though from the heavens over the Great Bay, with its complex system of harbors like fingers of water reaching into the shore. Portsmouth has much to delight the eye, from its old New England architecture to its historical shipyards.
As you drive past Portsmouth on Interstate 95, you pass through a suburban area of four-lane highway with residential developments, malls and commercial strips with familiar corporate logos.
For a while, it's a generic suburban setting, and then you see what appear to be blue clouds over the horizon. As you approach they loom larger and larger until it becomes clear that they are not clouds, but mountains.
They are the Green Mountains, the northern part of the Appalachian chain, so called because the evergreens enable the mountainsides to hold their color even when the snow is thick. The four-lane highways give way to two-lane highways, and as they get smaller your relationship to the landscape becomes more intimate.
Further into the mountains the landscape grows up around you and gradually you become couched within it. For a while the highway travels next to a river with crystal-clear water that sparkles in the sun as it flows and splashes. At some points the highway runs near railroad tracks as the mountains loom higher around you.
The further you go west the more it feels like wilderness. Along the way there are many places worth stopping and looking into closer, including quirky shops and restaurants along the highway.
Being a Commuter
I was quarantining at both ends and isolated in my car in between, filling up at self-service gas stations so I was never close to strangers. That's how I discovered bubbling, a strategy for minimizing risk while still being able to get out in the world.
If you are quarantining with your family, you can keep your safe bubble intact in the car. On that basis it's possible to take your family on a road trip even now, during the pandemic, with proper precautions.
I had made the trip between Maine and Vermont many times and always enjoyed it. Now it became a weekly ritual, and it was a good time to get to know the place in a way I never had. With each trip I seemed to bury myself deeper into the environment.
I watched the season change week by week from wild blizzards and deep snow cover in March to the awakening of the northern spring, when the green leaves burst out and cover the land, and then saw the lengthening days of summer.
White Line Fever
I'll never get over the joy of the open road. By setting my sights on remote and exotic places I have often missed the fascination and beauty of areas close to me. Now is a good time to fill in those blanks in my experience.
For me travel is not about the "must-see" sights, even if they are as good as people say they are. Those act as markers on an itinerary. But what is remarkable about America is broader than that. The great vitality of the country seems to radiate out of the land itself, and it is enriched by the many immigrant cultures that have contributed to the building of the country.
It's the quest, the open mind of the traveler on a journey, receptive to new experiences and ideas. If you have that, your location is secondary.
I love the feeling of the open road, the feeling of adventure that the country singer Merle Haggard called "White Line Fever." It's a sense of opening yourself to whatever comes. When you set off on an adventure, you don't know what will happen. But you know it will be new. And sometimes the soul craves something new, something surprising.
It's the adventure itself that counts, and that is in you. It is by your will and receptivity that the magical discoveries take place.
So this is a good time for The Great American Road Trip. When so many doors are closed, we can still experience travel that is modest in expectation, but still driven by the spirit of discovery, and can be done safely in the time of COVID-19.
In time we will get our rapid testing and contact tracing regimen in place. We'll be able to locate the outbreaks, isolate the disease and starve it. Then we'll be able to resume more of our regular activities. For now, I am continuing to take maximum precautions.
But that doesn't dampen my spirit of discovery, which I can unleash even in the most confined spaces. So…
Travel safely!
All the best,
Your humble reporter
A. Colin Treadwell
Процент мфо по микрозаймам через интернет, например
здесь
, составить ровно 1% от суммы кредита в день, а это очень много.