"Sir, when a man is tired of London, he is tired of life;
for there is in London all that life can afford." 
― Samuel Johnson,
No other place could possibly loom larger in my imagination. London is many worlds, layers upon layers, constructed over millennia. From its founding by the Romans as Londinium, London was never just an English city, but was a much larger entity that spread far beyond. It was the center of the largest empire in the world, and though it dismantled its empire, it somehow retained its glory. And its cultural domain still spreads around the world. It seems like nearly everywhere you go in the world, you run into something named after Queen Victoria.
London was the first place I ever aspired to travel to, the first place I ever even knew of as another place. London was well posited in my inner world before I had much concept of any world outside my house, because I grew up in an English household in America.
When I was born my mother and grandparents had only recently come to America from England. They were born and bred there, shaped by it, human embodiments of English culture. And they talked about it every day.
My father was an American serviceman who had met my mother in England during the Invasion of Normandy. She became a war bride, one of many English girls bedazzled by some American Prince Charming and carried off to the New World. A few years later my parents were divorced and I lived with my mother. My English grandparents, who lived nearby, were always close at hand. It was an enclave of British culture in the American Midwest.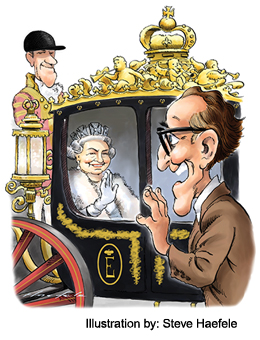 In American culture England wasn't much, just a little country with little people who talked funny. The only Englishmen I saw were actors like David Niven, not a very inspiring role model for an American kid. English characters in films always came off as wimpy compared to the wild west Americans. Being English was a secret I hid away from the outside world. But even so, England was a place I dreamed of visiting some day because I had family there.
And then when I was 13 it all changed. My mother had remarried and I had a new stepfather. One night he showed me a photograph in the newspaper, and said, "You might like these guys." And there it was: my first look at The Beatles, the people who would change everything.
That winter the Beatles hit the U.S. like a storm on a scale no one had ever seen. They instantly transformed American music, fashion and behavior. They changed the way my generation thought about everything. They brought a whole new way of looking at the world into American life, and the kids loved it.
And the greatest thing about it for me was that it was suddenly cool to be English.
It turned all those issues upside down for me. The acknowledged coolest guys in the world were English. The so-called British Invasion brought waves of British culture, including James Bond. English guys could even be tough guys! I was in heaven.
It was years before I finally made it to London, with my newlywed wife. I will never forget it because it was the point for me where London crossed over from imagination to the real world. The galaxy of images of London absorbed over a lifetime all rearranged themselves around the experience of the real place.
The story might have ended the moment I set foot on the ground after riding into town from Heathrow Airport on the underground train. The exit from the Underground opened onto an island in the middle of a well-trafficked London thoroughfare. It was 11 o'clock at night and the streets were glossy with fresh rain, reflecting the city lights from above, creating a dazzling kaleidoscope effect.
As I stepped off the island onto the roadway, I was almost swept off my feet by a rush of wind from a top-heavy British sedan whipping around a corner inches from me at blinding speed. To me it was on the wrong side of the street, and I almost walked right into its path.
My unfamiliarity with English driving patterns could have cost me my life. But it only electrified the experience even more. My brief encounter with mortality accentuated the preciousness of the moment, and intensified my enchantment. London was real, all around me!
We stayed in the Sheraton Hotel that looked out over Hyde Park. I woke to the yellow spectacle of the autumn trees across the landscape as shown in the hotel's picture window. It was early in the morning and it looked like a brilliant painting with great depth and detail.
Comfortable as the room was, and jet-lagged as we were, we had to get out on the street to take in the rich sensory feast of London. Everything fascinated me. Just walking into a store and seeing the packages on the shelves, the things people buy and use every day, was utterly strange and fascinating to me.
My wife and I strolled around Central London, trying to take in some of the principle tourist sights, such as Big Ben, Tower Bridge and Buckingham Palace. But the "must-sees" in London are infinite. Everything seemed important, rich in meaning. It was all finely seasoned and aged.
As we made our way to Westminster Abbey and the Houses of Parliament, we were lucky to arrive on the day of the opening of Parliament. As we stood at the curb looking up at the gigantic, ornate palace, a fantastic horse-drawn carriage, as if out of a fairy tale, went by and as if in a dream we saw the Queen from only a few feet away. When I talked to local people about it later, some said they had spent their whole lives in England and never managed to get that close to The Queen.
Everything was magical. Everything seemed to work out. Every place seemed to be the right place at the right time. We walked along the Thames River, and there was nowhere you could look that did not present you with some reminder of some epic historic event.
No place could be more enchanting. Every street sign evokes memories you didn't know you had, landmarks of a Dickensian world that seems still largely intact. Dickens stories seem less fanciful when you see that there really are streets with crazy names like Wrottlesley Road and Cripplegate Street.
Fortunately, we had guides to help us sort through the infinity of riches of London and find specific places we never would have discovered on our own. They took us to a favorite pub to experience the center of social life of Britain. We experienced the West End, with its theatres and restaurants. We saw the legendary Savoy hotel, Big Ben, St. Paul's Cathedral and Windsor Castle, the oldest inhabited castle in the world.
At the Tower of London the ravens on the lawn were so massive it made me feel like a Lilliputian, or like Alice when she drank the "Drink Me" and shrunk down to a miniature.
Since that first visit I've been to London a number of times, and in some ways it has become familiar. But the fascination could never go away. There is much more in London than you could experience in a lifetime. So any time spent there is a precious opportunity to take as big a slice of it as you can manage.
Who knows? Perhaps I will see you there.
Until then, I remain,
Your humble reporter,
A. Colin Treadwell
Если Вам требуется займ на карту без отказа уже сегодня, то
здесь
вы всегда сможете подобрать лучший вариант.