I heard that being a grandparent was one of the greatest things that could happen to you, and I believed it because of how profoundly being a parent changed my life, and how fondly I remember my grandparents.
Last summer I became a grandparent and now I am finding out for myself. I'm still in the early stages of watching the process unfold. But already I can confirm that I am experiencing wonderful things I never thought of before. I have a new understanding of how grandparents behave toward their grandchildren. As a strong believer in the transcendent value of travel, I understand better than ever before the powerful demand for intergenerational travel today. Travel is one of the most powerful ways to forge a legacy for your children or grandchildren.
Granddad to Granddad
I had a great relationship with my own granddad. He devoted much time and attention to me and was a true friend. I appreciate it now more than ever. Becoming a grandparent seemed to have transported me through some sideways corridor of time back to when I was a child, and I am now receiving messages my grandparents planted decades ago, little seeds that gestated for my whole life and are now blossoming.
When I became a parent it gave me insight into my parents. Now the same thing is unfolding with my grandparents. I find myself daydreaming about my grandparents, feeling close to them, as if they have come nearer, though they are actually farther removed in time than ever.
Lessons of Life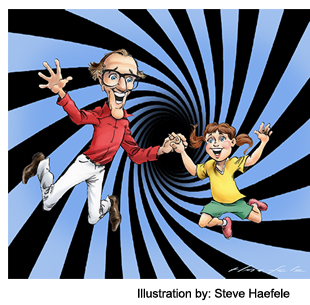 When my Granddad played chess with me, he was not only entertaining me, he was setting an example. Through the medium of the chessboard, he was transmitting lessons about life.
If I started knocking off his pieces indiscriminately, rather than artfully mounting a strategic attack on his king, he was not impressed. "Well, this is just slaughter," he would say. That was for checker players. Chess was more nuanced.
He had fought in the trenches in World War I, so those words carried great weight, though I didn't understand any of that then.
When my other grandfather took me around his farm as he took care of things, or put me to work clearing weeds, he was teaching me things about life and his relation to the land he took stewardship of. Now as a grandfather I find myself revisiting those experiences. They are his legacy to me, now blossoming late in life.
When he let his grandchildren ride horses, he didn't just turn us loose in the pasture. He would require us to practice in a penned area and show him we had developed our rapport with the horse before he would turn us loose in the open.
That lesson transferred to other practices in my life and now when I begin a task, I often recall his horse training as I brush up on my skills in preparation for work.
My grandmothers also left deep imprints on my life. My grandmother's tales of her father, a sailor in the British merchant marine, ignited my imagination. He was a world traveler in the early 20th century when British seamen were among the only global travelers. I think I must have inherited my unquenchable thirst for travel from him.
When these memories come into the present, I see my grandparents from the perspective of today, and it is as if they are speaking to me again.
So now that I am a grandparent, how will I create those intergenerational messages to my grandchildren? What kinds of experiences will leave the richest memories? Certainly at the top of the peak for me would be travel experiences.
Establishing a Legacy
Part of having a grandchild is coming to terms with your mortality and realizing that your grandchild's life will extend far beyond the horizon of your own life. Then you wonder what kind of legacy you will leave for that child.
Now I see that when my grandparents came into their later years they planted seeds in me, knowing I might not understand them for many years. And now as a grandfather I find myself having the same impulses with my grandchild.
I can't return the one-way communication I received from my grandparents, but I can pass it forward as I take my own place on the circle of life. I hope that someday my grandchildren will recall me as I they pass their legacy to their grandchildren.
Quality Family Time
I am grateful to live near my grandchild so I have opportunities to spend time with her. But unfortunately for many grandparents today they live great distances from their grandchildren. This is part of the reason for an explosion in popularity of intergenerational travel over the last 15 years.
Especially when time together is limited, travel is a way to make the precious time together more concentrated, more memorable. Not only grandparents, but parents too struggle to find quality time with their children. Traveling together creates the richest memories in the shortest time.
Weeks of normal routine seem to go by in the blink of an eye, virtually indistinguishable from one another. But a trip is a monument on the calendar of life. Those experiences stand tall in memory.
But managing a family trip can be a huge headache. Creating travel plans for families is much more complex than traveling by yourself or with a companion. You have to balance activities that different age groups can enjoy.
Anyone who has taken a family vacation knows it can be highly difficult to organize everything and keep it harmonious. Traveling inevitably presents problems to solve along the way, and when a group is together for an extended period, little problems can boil up into bigger ones. The stress of organizing activities and moving from place to place can exacerbate the problems. Just throwing a bunch of people together without planning can result in a disastrous experience. That is no way to create wonderful memories.
There is no time when it is more important to enlist professional help than when planning a family trip. Fortunately, a few professional tour operators have developed the craft of family travel planning to a high art. They can maximize the benefits of family travel, and minimize the hassles during those rare family moments.
Jennifer Tombaugh, president of Tauck, explained it to me this way: "There's a lot more value placed on the time you have on vacation to really connect with your family or to a destination. You can't return a vacation. That time is so very precious. And because of that a lot of folks have higher expectations about having someone take care of the details for them so they can truly be present in the destination with the people they love."
That was the rationale behind the creation of Tauck Bridges in 2003.
"What we're trying to do is remove all that hassle, all those challenging points of trying to navigate the map and satisfy everyone in your family for what they're going to do the next day. It's especially good for the moms, who are typically the ones doing the planning, to be able to throw off that weight and let the planning and details, headaches and hassles be taken care of by someone else. It gives you a unique opportunity to be present in the moment with your family."
Travel is certainly one of the greatest gifts and one of the best ways to build your legacy with your heirs. That is true not only when you travel with them, but also when you give them a travel package to go on separately from you.
The most enduring things we have are memories. And travel creates the best memories of a lifetime. 
Your humble reporter,
A. Colin Treadwell