I am fascinated by the way people work together, and the synergy that can happen between people. As human beings we each inhabit our own dimension, in a way. We see things through our own individual lenses. What is invisible to one person, may be obvious to another. When you combine two minds, with different ways of looking at things, you sometimes get surprising results that would not have come about any other way.
Synergy is the concept of a whole being greater than the sum of its parts. It comes from the Greek synergos, for "working together."
It was one of those synergistic combinations that produced Heli-Hiking, taking tourists by helicopter to remote mountain regions where they can experience a rare wilderness beauty and exhilaration that can have an impact powerful enough to change lives.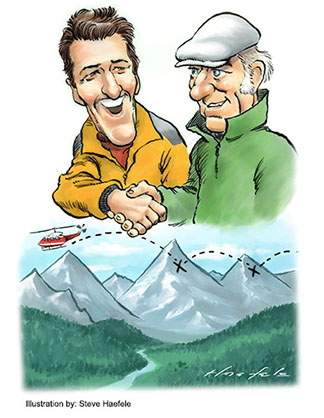 Out of Austria
It begins with Hans Gmoser, an Austrian-born mountaineer and adventurer who devoted his life to Canada's Rocky Mountains. He was one of those rare individuals who is animated by such great passion that he is driven to undertake things that few others even dare to dream about.
Gmoser migrated to Canada when he was 19 and threw himself into mountain climbing, skiing and hiking. He established himself as an acclaimed mountain guide and a climber with many milestones under his belt.
He pioneered a route to the summit of Mount McKinley (now Denali), the tallest peak in North America. He was among the first to climb Mount Alberta and Brussels Peak, and he climbed Mount Logan, the highest mountain in Canada. He scouted many new trails for climbers and hikers to explore.
Driven by a passion to share the mountain experience, in 1957 he founded Rocky Mountain Guides, which evolved into the adventure tour operator Canadian Mountain Holidays (CMH). It was under that operation that he invented Heli-Skiing in 1965.
Though no one had done it, to Hans Gmoser Heli-Skiing was a natural extension of what he observed in the Rockies in the 1950s, where helicopters were the preferred form of transportation to places without roads and with landscapes too rugged for any ground vehicle.
Gmoser saw the helicopter as an alternative to a cable car ski lift to transport skiers to the high country from which they could ski. With Heli-Skiing, skiers were not limited to places with ski lifts. They could go virtually anywhere. Gmoser developed Heli-Skiing into a commercial enterprise by packaging it with lodging, transportation and professional guiding.
Meeting of Minds
Now enter Arthur Tauck Jr., the son of Arthur Tauck Sr., who founded Tauck Tours in 1925. Tauck Tours was one of the first modern tour operators and helped lay the foundation for a new industry. It was the family business that Arthur Tauck Jr. grew up in. When he was in his 20s, his father handed him the reins and said, "It's all yours."
Tauck Tours was so successful with its formula of creating enriching, pleasurable travel experiences that the company never had to focus very tightly on financial concerns. As long as it stuck to its principles of delivering soul-stirring experiences, and followed basic rules of budgeting, the bottom line would take care of itself. That freed Arthur Tauck to focus on his quest of creating experiences that would move people deeply and leave them with unforgettable memories.
Arthur Tauck first visited the Banff area in 1957, and soon started taking groups to the area. He was a skiing enthusiast and during a ski trip in the 1970s that he experienced Heli-Skiing in the Cariboo Mountains and was profoundly affected.
"I found myself experiencing something extraordinary," he wrote, "something that challenged all of my senses far beyond anything I had ever done before."
He observed an extraordinary bonding and camaraderie among the skiers who had shared the experience. "There was something very special going on," he wrote. "You could sense it in the air."
It was a revelation to him, and fed into his quest for discovering and orchestrating the grandest, most soul-moving travel experiences. Tauck had become an artist and travel was his medium.
Tauck had noticed that some of the lodges were practically vacant during the summer. It occurred to him that if helicopters were so great for skiers, couldn't the experience also be shared by others?
Tauck decided to take his idea to Gmoser. He didn't know Gmoser, and in lieu of an introduction, he made a cold call.
Tauck told Gmoser he had just taken a Heli-Skiing trip at Cariboos Lodge and was blown away. Gmoser didn't know who Tauck was, but thanked him politely and prepared to hang up when Tauck proposed going into business together.
"There's an opportunity here," he said. "Let's connect the dots."
Gmoser was resistant. The man who had been innovative enough to invent Heli-Skiing was impervious to the idea of expanding it to walkers, even though it addressed one of his most pressing concerns.
CMH had tried various ways to generate summer business, offering horseback riding, canoeing, hiking and even tennis. All failed and in 1977 the company decided to shut everything down in the summer. Tauck proposed bringing groups of travelers in the summer. Gmoser agreed to think about it. Then when he hung up, he "promptly forgot about the whole thing."
After a few more calls failed to move Gmoser, Tauck said, "If I came out there with my wife could you arrange for us to go with you and some others and to get to know one another and talk this over?"
Gmoser agreed and arrangements were made.
Gmoser started trying to figure out how to entertain the Tauck guests at Cariboo Lodge and suggested a helicopter ride to look around the mountains. Tauck replied, "No. Why don't you do the same thing you do in the winter? Fly the people up to some untouched place, maybe a glacier, to discover its might and learn from a professional guide, then move on to explore another alpine venue."
That statement, Gmoser said, "Turned the light on for me…"
Proof in the Pudding
When Tauck, Gmoser and a sample group took a trial run of the helicopter tour to three spectacular mountain locations, everyone loved it.
"We landed at North Canoe Glacier at Cariboo Lodge," said Tauck. "There were some goats going straight up a vertical wall and we all got our cameras and started taking pictures and all the sudden we heard 'clink.'"
An elderly woman with a walker had come along saying she would stay in the helicopter, but instead she had thrown her walker out on the rocks and was climbing out.
Seeing how the thrill of the scene had so moved an elderly woman to forget her limitations, Arthur said to Hans, "Just think how we can move so many people who have no idea what's up here. This is an alien landscape to them. Just think if we could introduce that to them."
Tauck had finally found Gmoser's button. This was their common ground.
The next year, 1978, the first summer Heli-Hiking was introduced, they took 900 guests Heli-Hiking at the Cariboo Lodge. The second year they took 2000 guests and achieved 100 percent occupancy. Soon it built it up to 5,000 people a year with the expansion to Bugaboo Lodge and Bobbi Burns Lodge.
Heli-Hiking became a great success, and saved CMH's summer business. And it stretched the horizons of many travelers, showed them they could still enjoy some of the kinds of activities they thought they had left behind in their youth.
"It wasn't a money maker, but it was an image creator," said Tauck. The experience resonated among the clientele and pushed Tauck's reputation to new heights. "It paid off by filling other tours."
For Arthur Tauck, it achieved one of his supreme goals, to move people with transforming experiences. "It had nothing to do with dollars," said Tauck. "To see people come out of there with tears in their eyes, having accomplished something that they never thought they could. It was a spiritual reaction."
The experience had a visible impact on the participants.
"After the day is over, the people know one another," said Tauck. "On the last day, there is almost total silence. People have tears in their eyes. They are thinking about where they are."
The trip could only be sold by word of mouth. As great as it was, the experience did not translate into any sort of conventional marketing vehicle. It was hard to find a language to convey the experience of exploring a thousand square mile area where you would never encounter another living soul, except the people with you at the lodge.
"We wanted to give people the opportunity to be in an alpine environment that would take a trained climber five days to reach," said Tauck. "You don't want to talk about the 'spectacular' or 'majestic' mountains. It wasn't sightseeing. What is happening is inside. It is what is happening to how they feel about themselves."
Tauck still offers Heli-Hiking, but with the increase in fuel costs it became increasingly difficult to break even. But profit was never the primary motivator for Arthur Tauck. He is on a lifetime quest to provide his community of travelers transformative travel experiences, and Heli-Hiking is one of the best ways he ever found to do that.
Your humble reporter
A. Colin Treadwell
На данный момент на нашем сайте
credit-n.ru
есть возможность оформить займ онлайн на сумму от 2 000 рублей.