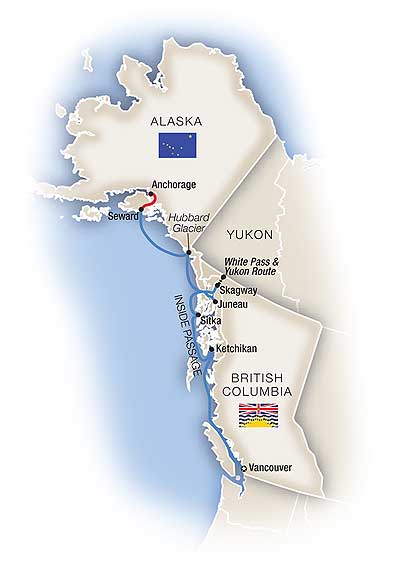 Alaska's Inside Passage
Alaska is known as America's Last Frontier, a wilderness region that borders Canada on the east, the Arctic Ocean in the north, the Bering Sea in the west, and the Pacific Ocean in the south. It's a land of superlatives, unexaggerated and uniquely deserving of them, as it is home to the tallest mountain in North America, the most coastline, most volcanoes, most glaciers and most gray wolves – and the lowest temperatures – of any other state in the US. In winter, the stars come out with the Northern Lights putting on a light show unequalled anywhere as snow-covered landscapes play host to winter sports, dog sledding, the Iditarod and crowd-free spaces everywhere you look.  In summer, wildlife comes out to play on forested slopes, in wildflower meadows and along waterways like the Inside Passage that evoke a sense of magic and wonder in the water and on shore.
Unlike the rest of this state, temperatures in the Inside Passage tend to avoid big extremes. In winter, temperatures rarely fall below 20° F, and snow along the temperate coastline tends to melt within a few days. Summer daytime highs are mild, while nighttime lows are in the mid-to high-40s. It is home to a rainforest so light mist and rain often occur but not the kind that dampens your spirit for adventure.
Set out on our new for 2022 Alaska's Inside Passage cruise next summer to see this incredible place up-close, cruising through Tongass National Forest, North America's northernmost temperate rainforest, and the traditional home of the Tlingit people. We're sailing aboard Silver Shadow, one of Silversea Cruise's all-suite luxury small ships where onboard amenities and impeccable service cater to your cruising comfort in signature style. Imagine spacious suite accommodations with ocean views, an attentive butler at your service, and an opportunity to personalize your toiletry choices and minibar options, indulging in luxuries you may have been dreaming about this past year. Think gourmet dining, with more seafaring views, in a choice of restaurants that tempts your palate with international and regional fare, along with fine wines and premium spirits that raise yours! You can watch the passing scenery – and wildlife sightings – from the pool deck, the Observation Lounge and the Panorama Lounge, drinks and snacks in hand, before and after setting out for naturalist-guided shore excursions that reward with wilderness discoveries and cultural connections.
Intimate, inspiring and indulgent, this cruise celebrates Alaska's treasures in thundering glaciers, carved fjords, hidden villages, breaching whales and captivating wildlife, marrying the dramatic with the serene to immerse you in a week of wilderness wonders you'll not soon forget.
Discover why our Tour Architect David Lewey said "2022 stands to be Tauck's best Inside Passage cruise season yet" when you take a glimpse of the photos below.

Не так важно, какой вид кредита вы оформляете, важно помнить, что даже займ
на карту придётся возвращать.
Срочные займы на карту без залога и поручителей
по ссылке
доступны для круглосуточно для всех категорий населения.