In a group of friends the other night someone raised the subject of solo travel and it led to a lively, extended conversation with a number of people chiming in with various points of view. I had not realized the extent to which traveling solo is becoming a very popular way to travel.
Solo Travel! I should be an authority. Solo is the way I travel most of the time. If you include all forms of travel from walking to bicycling to hitchhiking to driving to trains to sailing to flying, most of the traveling I have done in my life could be classified as solo travel.
But the words "solo travel" can mean many different things, even in my own personal experience. Solo travel certainly means something very different to me now than when I was a teenager hitchhiking on a midwestern country road hundreds of miles from home and no one would pick me up.
That's about as solo as it gets. It became very lonely and oppressive, with a little trickle of terror seeping in occasionally, which had to be banished immediately before it could gain momentum and become a train of thought with its own power. No, that could not happen. One must maintain one's nerve.
Because of that kind of experience, that kind of solo travel did not last long in my life. But it had its place in my travel experience.
For me personally, with my chosen calling as a writer, traveling solo offers particular advantages. The act of writing requires time to oneself. Although it's possible to find solitude even in a crowd, such as writing in cafes, there is no escaping the need for some alone time if you are a writer. I assume solo travel has the same kind of appeal to many other travelers who like having some time alone to process their experience.
Traveling solo does not mean you will not be around other people. On the contrary, some people like to travel single because it can be surprisingly easy to make friends while traveling by yourself.
Who could deny that traveling with a good friend or loved one is a wonderful thing? But traveling alone is a different kind of experience that also has advantages. With the contemporary emphasis on traveling for experience, solo travel is one kind of experience that is worth having.
Solo travel is so popular that today that there are blogs, Facebook pages and organizations dedicated to it. Now, as you are traveling alone, you can share it with others who can enjoy your travels vicariously via social media. Alone, but on the world stage.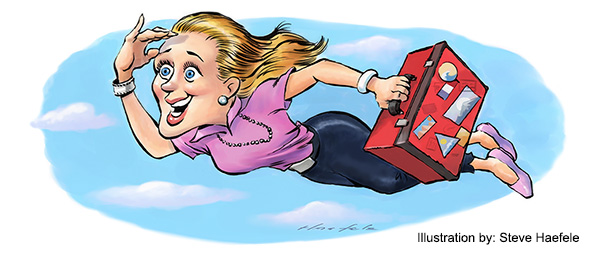 For some avid explorers travel is never a leisurely vacation but rather an active pursuit of experience and learning. As the search for experience becomes more central to the motivations for travel, solo travel is also becoming more popular because it can be a way to experience a trip and a destination in an intensified, deeply personal way.
Solo in Groups
I have enjoyed traveling in many different ways: alone, with a companion or two, in groups and in combinations of those configurations. But of all of the ways I have traveled, the one that has worked best for me most of the time is traveling solo within an organized group.
That arrangement brings a number of advantages. One big overarching advantage is having professionally organized and guided travel, with all that goes with it. Long story, but it boils down to being able to be sure of an efficiently organized trip, well designed and executed by experts to make the most of the time and place.
I want to get the very best I can out of a destination in what may be the only week I'll be there in my entire life. I know from experience that it usually takes a few tries to get things right, and I don't want my one trip to be a trial run based only on my own limited competence and knowledge. I've been through that enough to appreciate the difference.
Traveling solo within an organized group gives me the best of both worlds: I can go alone to the sanctuary of my room to write about the experiences of the day while they are fresh, and then start the next day fresh. And I also have the advantage of having people to talk to when I am not writing.
That's important because for me the process of writing not only requires solitary time, it also draws from conversations, with either locals at the destination or traveling companions. Those are all part of the processing of information that is part of writing about a travel experience.
Beyond that there is comfort and pleasure in the presence of other people. We humans are highly social animals. People need people. All of us in our individual ways, whether we are introverts or extroverts, need some time alone with our own thoughts and some time with other people. 
People you meet on organized trips are surprisingly easy to make friends with, because meeting people is part of the attraction of traveling with a group. It is one of the reasons choose that kind of travel.
River cruises add an extra benefit to the advantages of group travel in that you are given your own room at the start of the trip and you don't have to give it up until the trip is over. You can create your own personal space in your cabin and cultivate it throughout the trip.
Tour operators say that solo travel is becoming more and more popular within their groups. They are selling more single passages, and finding that many of their clients prefer to have their own room. It seems they too appreciate the combination of solitary and social time that I enjoy.
There is a price disadvantage to traveling solo. You do give up the cost advantage of sharing a room. That's unavoidable.  If I'm going to get a room by myself I will have to pay for the whole room, not split the cost with my traveling companion.
Tour operators have traditionally priced their tours based on two traveling because that is the most common way to travel. If you take the rooms by yourself tour operators work out the difference by charging what they call a "singles supplement." That may be an unfortunate term because some people have understood it to mean that tour operators are discouraging solo travel in preference of couples. But that's not it. It just means is that if one person is buying the whole room it will cost more than if two split it. Fortunately, it won't cost twice as much, but it will cost some more.
The increasing popularity of solo travel is also a reflection of our social evolution. Travelers are becoming more experienced and more confident. They seek experience and set out boldly in pursuit of it. Professional travel services are increasingly reliable in providing ways to travel to exotic places without exposing yourself to much danger. And they compete with each other to produce an ever-renewing range of creative ways to enjoy and experience a destination.
Changing Roles of Women
Another interesting trend in solo travel is that it is being embraced more by women than men. This is happening for a variety of reasons.
One reason is that women live longer than men. There are more widows than widowers and many women who have lost a spouse want to travel even if they have to do it alone. But there are also many married women who travel without their spouses.
I often encounter women who are traveling solo but are not single. They tell me they just wanted to take a trip and their partner didn't want to. Often I have heard the same phrase: "He didn't want to go, but that was no reason for me not to go."
This reflects the evolving role of women in our society. In times past women would have been more likely to forego a trip if their husband did not want to go. That attitude is fading. The cultural archetype of the strong, empowered woman is replacing the archetype of the dependent, weaker sex.
I hear this story with increasing frequency. There are specialty tour operators that cater to women traveling solo within a group of women. There is a growing market for it.
And sorry guys, but women tend to be better, more adventurous travelers than men. Women make most of the travel decisions, do most of the planning, most of the purchasing and more of the actual traveling than men.
Women tend to be more social travelers. They are more inclined to talk to people they meet along the way. As a result, they tend to be more comfortable away from home. They make friends wherever they go.
This growing spirit of independence and strength of women traveling solo has been celebrated through such recent works of fiction and film as Eat, Pray, Love; Under the Tuscan Sun and Wild. They represent the new cultural archetype for women. The books and movies are helping to popularize and spread the practice of solo travel.
If you have never taken a trip on your own, maybe you should try it.
With that in mind, I bid you all the best and happy travels.
I remain,
Your humble reporter,
A. Colin Treadwell
А, вот рассматривать вариант быстрого кредита – микрозайм, в качестве выхода,
то ситуация становится не такой печальной.
На данный момент на нашем сайте
credit-n.ru
есть возможность оформить займ онлайн на сумму от 2 000 рублей.