It's the circle of life
And it moves us all
Through despair and hope
Through faith and love
Till we find our place
On the path unwinding
In the circle
The Circle of Life
–Elton John and Tim Rice "The Circle of Life"
In the wake of every major crisis, such as 9/11, the stock market crash of 2008, or the Covid pandemic, the demand for family travel always shoots up. It's not so mysterious when you think about it. Moments of crisis are moments of clarity. Events that shake people to their foundations cause values to shift. We move away from the ephemeral and toward the things that endure. Family relationships are the most enduring things in life. They exist on another time scale than other things. They connect us generation by generation back to the beginning of human life.
I believe that family relationships exist on a more profound level than anything else in our experience. For whatever ancient and mysterious reasons, the experiences we share with family are of a higher order than most of our ordinary day-to-day activities. When something happens to shock us, we revert to our core values. At the center is family. It's where we come from.
I don't think there are words or concepts to explain exactly what family life consists of altogether, what it is we're doing when we spend time with family. It is as ancient as humankind. It's not "work" as such, but most people believe that there are certain underlying functions and responsibilities that are part of being a parent or grandparent, or a son, daughter or grandchild. There is a lot of learning and sharing, a lot going on in family relationships as we pass through the phases of life.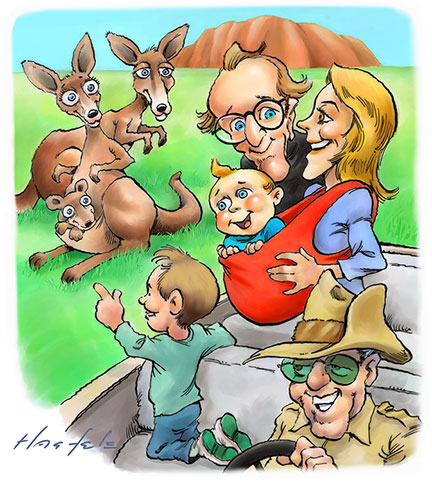 So how can we best fulfill our role in a family? Life is short. And although being a parent is a lifelong commitment, the period when your child is most under your influence is only about a decade and a half till they start to move beyond your sphere and create their own worlds. For grandparents, the time of active involvement with a grandchild is even more limited, and therefore that much more precious and rare. Whatever we would give to our family members, time is fleeting.
So what would be the best thing you could give to a son or daughter or grandchild? We all want to leave a nice inheritance to our children and grandchildren. But what might that be? A big bank account? A house? A car? A personal library? Certainly all those things are wonderful inheritances. But what is most important in life? What will be most important to you when you are old and looking back on your life? I don't think it's things. I think it's experience, and what you retain of it in the rich landscapes of memory.
For me, there is no better way to share experience and build bonds with family members than traveling together. Travel is concentrated, layering together many new experiences on different levels. You see new places, learn new things, and are constantly freshened with new impressions and ideas. And that process is compounded when you are traveling with family. Travel is simply one of the most exhilarating things you can do together. When you are traveling with family members, you share the experiences, then afterwards share the memories, which are bonds that endure.
Most of the benefits of travel for an individual also apply to family travel, such as the need to periodically get away from the day-to-day routines and see oneself, and the family, in a fresh perspective. On a trip you experience one another from a fresh point of view. You may get some of that by booking a place on the beach somewhere and just hanging out. But a family vacation can be much more.
A family vacation can be planned in such a way that it becomes an enriching experience, moment by moment, from beginning to end. It doesn't all just happen by chance. Of course when caught in the magic of travel, good things do happen by chance. But you can't leave everything to chance. Making the most of your precious travel time does require planning. To plan a trip for people of different generations requires much more complex planning.
Families traveling together have most of the same needs as individuals or couples, but they also have an additional set of needs, as well as possibilities. When travel is intergenerational, that introduces new dynamics into a travel situation. There is a range of possibilities to be explored as an opportunity for different generations to share enriching experiences.
Fortunately, as with anything there's a strong demand for, family travel has spawned its own sub-industry. Over recent decades some tour operators have developed specialized programs to address the specific possibilities for families traveling together, to make the most of the opportunity to travel together.
In a competitive marketplace, the tour operators who specialize in serving the needs of families traveling together have developed some impressive and effective ways of choreographing a family vacation so that it flows from point to point like a great Broadway musical. It can be much more than just a series of hotels and transportation. It can be a thrilling learning experience, and a celebration.
This is an area where destination experts can clearly expand the possibilities from what you can do on your own. As potentially great as family travel can be, it also requires intricate planning to keep things smooth and make it fun for the family. Anyone with much travel experience knows that mishaps are to be expected while traveling. And mishaps, unfortunately, can also compound in a family situation, when trying to accommodate the needs of diverse individuals and age groups. Without help, all the problems can fall into the lap of the family's designated problem solver, probably Mom. And that's not fair to Mom.
A family vacation on a beach can be fine, as can taking the kids to an all-inclusive resort, or going on a cruise ship that has a kids club where the kids can hang out while the parents are having cocktails. There are many ways of travel that have their places in a lifetime. Some family travel programs are designed to provide separate spaces and activities for different generations. Others are designed to provide activities that bring the different generations together.
Some tour operators will label particular departures "family friendly," encouraging people to bring children and grandchildren so the group will have more families. In that case, it's usually the same program they always offer, but the family designation can change the composition of the group so it is weighted more toward families.
But the ultimate family travel experiences happen on family vacations that are designed from the ground up to maximize the value of family time. Those kinds of tours are structured from the beginning with the goal of providing opportunities for family members of different generations to share experiences that will enrich them individually and build bonds among them.
By signing on with that kind of program, you benefit from the company's experience of operating in a given destination and its network of contacts there. They've done it hundreds of times. They know how. You can let them take on the details of planning, the hard part. That leaves you and your family free to just enjoy your time together. You have someone to take care of all the necessary tasks and to let things move along smoothly. In a group, you share costs. And that increased buying power, along with the travel company's connections at the destination, can provide things one family could not manage by itself, such as insider access at a museum or other places of interest.
This kind of choreographed family gathering, even just one in a lifetime, can be a monumental experience that will never be forgotten.
Your humble reporter,
Colin Treadwell