People who grew up in New York City had it all, everything that self-contained wonderland had to offer. But a native New Yorker could never experience what I experienced coming from a small midwestern town to New York City, where practically everywhere I looked I found myself gazing upon some iconic monument that had lived in my imagination as long as I could remember, but was now standing before me in its full three-dimensional, imposing physical presence.
Even growing up in the middle of the country, it was impossible to avoid New York. New York was everywhere. It was part of my first memories, at the beginning of the formation of my consciousness. Though New York was remote and inaccessible, in my imagination it grew richer with each new association.
One of my earliest memories was sitting in front of the TV watching "Superman," my toddler heart pounding as I heard of this "strange being" who was "faster than a speeding bullet, more powerful than a locomotive… Look! Up in the sky! It's a bird! It's a plane!"
Superman and his secret identity Clark Kent lived in Metropolis. But what you saw was New York, with its massive skyscrapers, millions of people, and the raw, concrete power of the magical place many call the greatest city on earth.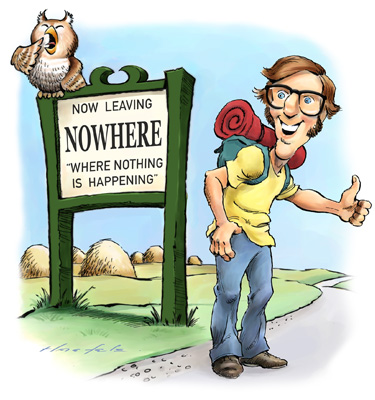 Long before I set foot in New York, New York was in me. But as ever-present as it was in the culture that enveloped me, it was like the Land of Oz, far too magical and amazing to exist in real life. From out there it seemed as far as Neverland, a place I could only travel to in my dreams.
My mother subscribed to The New Yorker magazine, so it was always there. Though its content was mostly over my head, I could understand the cartoons, and absorb something from columns like "The Talk of the Town."
I encountered New York in movies, books, TV, songs, even comics. You could not possibly avoid absorbing it into your inner iconography. "There are eight million stories in The Naked City," proclaimed the TV series. And it seemed that nearly that many reached me.
If it were possible to do an analysis of all the data I received, surely it would be weighted toward New York more than any other place. It seemed that all lines converged in New York. Every inquiry at some point led to New York.
It was where the Beatles first landed in America and performed on Ed Sullivan; where Bob Dylan was discovered at Folk City in Greenwich Village; where "West Side Story" was set. Nearly all famous authors experienced some part of their lives in New York. It was where Jack Kerouac set out On the Road, where Dylan Thomas drank at the White Horse Tavern. Mark Twain, Edgar Allen Poe, Walt Whitman, Richard Wright, you name it, all lived for a time in New York. Even if a writer hated New York, as Jack London did, at some point he had to reckon with it.
Growing up in the Midwest haunted by the feeling of being "nowhere" where "nothing is happening," New York represented the opposite, the place where everything was happening in real time, with no delay for the news to travel from the coast to the middle of the country.
I was drawn like a magnet. I had to go even though I didn't have the means to travel, not like a civilized person anyway. My first experience of setting foot in New York took place when I was 17, and it was crazy. I say crazy because only a crazy person, or an extremely naive teenager with an outsized urge to travel would have ever undertaken such a foolhardy journey.
They say a little knowledge is a dangerous thing, and when I discovered Jack Kerouac's On the Road I learned that a person could travel using just one's thumb for transportation. That was dangerous knowledge for a travel-crazed teenager who had felt trapped in the Midwest. I was just bold enough, and just foolish enough in the summer of my 17th year, to try hitchhiking to New York.
I convinced my best friend Larry to go with me and to leave the next day, hitchhiking across the country with almost no money. We put our faith in magic, and it must have worked because we survived.
It was one of those projects you look back on years later and realize that if you had had any sense you would never have undertaken it. And yet somehow the magic worked and we were delivered from peril. Everything fell into place.
We picked up a ride with a classmate and his father to St. Louis. When we were dropped off we encountered the reality of cross-country hitchhiking and it was a little unnerving. But at that point we had little choice so we continued to hold our thumbs out. Somehow our innocence worked in our favor. People saw us as too young and foolish to be a threat. And we were happy-go-lucky enough to be able to go with the flow.
We enjoyed talking to each other, so we just carried on our conversation while we waited for rides. We didn't get uptight, and our good mood must have radiated because people found us unintimidating, and an object of curiosity. Our youthful innocence was a kind of magic that carried us through.
In Ohio we were picked up by a giant moving van, whose driver took us to Washington D.C., hired us to work for him unloading one afternoon, and then took us on to New York. He dropped us at the 34th Street Y, where we got a cheap room. And there we were! In New York City! We had made it. 
The incessant clamor of New York got into our blood and charged us. We couldn't sit still. We set out exploring the city relentlessly. I can't even begin to name all the things we saw over the next kaleidoscopic days. Nearly everything I saw evoked memories implanted in my brain since I was a child.
Times Square, a towering, glittering display, was too fantastic to be real. And yet there we were standing among its neon canyons. We got lost trying to find the Empire State Building so we asked a police officer where it was. He gestured with his thumb behind him. We were standing right in front of it. I looked up at what appeared to be a massive concrete monolith. It was too huge at that proximity to be recognizable.
At the Plaza Hotel at the Southeast corner of Central Park I recognized the image from news footage of the building where the Beatles had stayed and teenage girls mobbed the place for days. Many of New York's most prestigious visitors stayed there historically, including Scott and Zelda Fitzgerald. In that neighborhood we were deeply immersed in the place where Fitzgerald's The Great Gatsby played out, among the mansions along Fifth Avenue.
I was too naïve to understand most of what I was seeing then. A knowledgeable guide could have taken us behind the facades to rich histories that are invisible to the uninitiated. But it was our first impression, and with New York, it's not just about the sites. There is a feeling in the air – an electricity that is like no other place else in the world. You can feel the tremendous voltage of that powerhouse of human energy that is New York in every corner.
It is the unmistakable feeling of New York, unique and exhilarating. You can start at any point in New York, walk any direction, and you will be rewarded with great riches of impressions and insights.
New York is infinite. To even begin to list the important historical and cultural sites would require a huge volume. Ric Burns' documentary film New York runs 16 hours. Edward Robb Ellis' history The Epic of New York is a 600-page brick of a book, suitable perhaps as the cornerstone of a building, and the author apologizes for having had to cut so much. Some histories of New York run to several volumes.
Unfortunately, after a few days reality set in and we discovered that our limited funds would not last long in New York. We started for home. The hitchhiking magic was still working and in a few days we were home again. But this time we had really been to New York. We had crossed the threshold to the magic land. This time it was not a dream.
For me it was the first of many trips to New York and the beginning of an endless love affair with the city. I can never get enough of New York and I continue to learn more about it in films and books, and as much time spent there as I can. I never get tired of it. Time spent in New York is time well spent.
If I may employ an oft-repeated phrase (try googling this one): "New York gets in your blood."
You have to experience New York.
I bid you farewell, and happy travels.
Your Humble Reporter,
A. Colin Treadwell