Cultural Heritage, Generation to Generation
The first traces of seasonal change are in the air – and no doubt about it, autumn is right around the corner. Throughout the world, nature takes center stage at this time of year… but it also shares a spotlight with artistic, historic and cultural inspirations that combine together to define "cultural heritage." Join us this week for a look at the treasures around the world that define the very fabric of a destination's cultural heritage – and discover how revelations and traditions of the past lead to the present with behind-the-scenes insights shared by local experts, artisans, historians and more.

The World's Cultural Wonders
Europe, Asia & Oceania, Africa & the Middle East, the Americas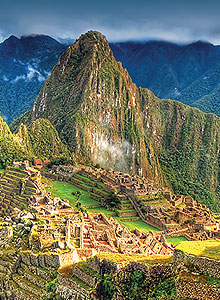 Welcome to our "atlas of cultural heritage," a curated collection featuring many of the world's natural, historic and artistic cultural wonders. Explore the world through insights from experts via podcasts, documentaries, and music playlists; they range from architectural and engineering masterpieces, such as the Colosseum and the Panama Canal, the mysteries of Stonehenge, the Great Pyramid of Giza, the Great Wall of China, to art historians' takes on Italy's key sites and more intangible attributes such as dance traditions of Brazil, textile crafts of Ecuador, performing arts of Japan and more.

Folkloric Traditions of Southern Italy
Masseria Le Stanzie and other traditions
Customs and traditions run deep throughout the whole of Italy, and in Southern Italy you'll find an eclectic range from cuisine to architecture, music, wine, and more inspired by ancient Greek influences and the Mediterranean climate. On A Week In… Puglia we've included what can only be described as a truly magical, authentic evening at Masseria Le Stanzie – a farm to table experience complete with a tour featuring an ancient Roman road, fields of fresh vegetables and olive trees, and an original olive press – highlighted by a typical pizzica music performance followed by a dinner of specialties from their grounds. A video captures our special evening and leads into our curated collection, "Traditions of Southern Italy."
Learn more about traditions in Southern Italy

New Discoveries in Ancient Egypt
Secrets of the past
In Egypt, throughout the 21st century, there have been many new archaeological discoveries and developments. These recent discoveries further help to define the intricacies of a rich cultural heritage that is key to the very essence of civilization – and by clarifying and unlocking ancient mysteries, there is a greater understanding of present-day traditions, art treasures, artifacts and archaeological treasures. Discover Egypt by exploring our collection of documentaries, videos, and podcasts providing recent insights gleaned from archaeological digs, art historical studies, museum discoveries and more.

Kyoto
Traditions of Japan
Discover Kyoto's rich cultural traditions through the eyes of Tauck. The former seat of the imperial court, Japan's emperors ruled from Kyoto for eleven centuries, constructing iconic palaces, temples, and imperial gardens, and commissioning arts which resulted in the city becoming known as the cultural capital of the island nation. Kyoto is home to numerous Buddhist temples and Shinto shrines, many of which are listed collectively by UNESCO as a World Heritage Site. We've put together a selection of insights into Kyoto's rich cultural heritage, ranging from a BBC documentary podcast on 17th-century Kyoto to an insider's take on the ancient art of sake making to an art history look at a Kyoto Zen rock garden – as well as three Tauck videos exploring Japan's traditions and heritage.

Let's Go There
U.S. Travel Association
Tauck is proud to be a member and active supporter of the U.S. Travel Association. Together with our peers across the industry – from hotels and transportation providers, to airlines and small businesses in all 50 states – we support America through the power of travel. We are working together to prepare for the future, ensuring your trips are safe and healthy.
Nothing is more exciting than planning your next travels – planning, and anticipation, fulfills a need for something to look forward to. Your journey begins the moment you decide to go somewhere; to get inspired, to save a date, to book a trip. To decide to visit that destination you've always wanted to experience. With 20+ journeys across North America in 2021, there's never been a better time to explore the United States with Tauck. Join us by looking forward and making plans, because when the time is right for you, we'll be ready.
Сейчас можно легко получить онлайн займ, даже не выходя из дома, на сайте
credit-n
.
Онлайн займы до 100 000 рублей можно получить
на сайте
в течение 15 минут с момента подачи заявки.