Whoever invented the concept of "all inclusive" must have been a genius. Or maybe there was no single inventor, but it was just an idea that had to happen. In any case, the idea of an all-inclusive vacation experience has certainly struck a chord. Any travel product labeled "all inclusive" gets a favorable reception.
To pay one time up front and never again have to deal with money issues until the trip is over is a liberating experience. It's no wonder the public has responded so enthusiastically.
I first encountered the concept of all inclusive in the Caribbean, where all inclusive resorts now dominate the resort market. The all-inclusive concept has also become popular in the tour market, where it is more complicated.
It was thrilling to be able to walk up to any counter in the resort and ask for whatever I wanted and not have to pull out my credit card. What had happened? Had I gone to sleep and awoken as the Prince of Wales?
For the first time I experienced unlimited wealth, the privilege of getting whatever you want without having to think of money. It was exhilarating! I pictured myself as a dashing prince, an international celebrity everyone bends over backwards to please.
Of course I'm not a prince, and the all-inclusive concept really exists within the real world. I'm not really getting it all free. I paid up front.
A Vacation from Money Concerns
The genius of all inclusive is that the providers have been able to figure out how to balance their books and make a profit even though they can't tell for sure exactly how much you will consume at the time they bill you. Obviously some folks will consume more food and drink than others. But over time the providers have figured out how to make it average out.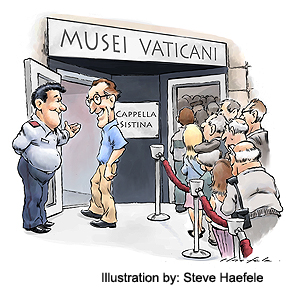 Whether you consider money your favorite thing or you think it is the root of all evil, the one thing you can't do is get away from it. Except for those brief shining moments when you are at an all-inclusive resort or on an all-inclusive tour. That is the beauty of it. For that time, you can put all financial concerns aside and just focus on enjoying your trip.
For the time you are in that special environment you are a special guest who does not have to reach for your wallet every time you do something.
To enter that privileged domain you first purchase an all-inclusive product in the travel marketplace. And whenever you go into the marketplace there are snares to be avoided. And as with any purchasing decision, let the buyer beware!
The All-Inclusive Tour
When the all-inclusive concept is applied to the escorted tour, it becomes more complicated. A tour is a more complex product than a resort, with more elements.
In a resort "all" means "all food and drinks." But a tour moves from place to place. Besides accommodations and food, the package must include transportation, sightseeing, guidance, admissions and activities. What do you mean by "all"? All matter in the known universe?
Obviously not. But the all-inclusive tour does include more elements than the all-inclusive resort.
Including activities in the package rather than offering them as options gives the operator more buying power to negotiate for special privileges, such as skipping the long lines and getting special entry at the Vatican.
Those who approach individually have to just get at the back of the line. The Vatican, including the Sistine Chapel with Michelangelo's fantastic ceiling fresco, has no peer. There is nothing like it. It's one of the most popular and iconic sites in the world, so the lines are long every day. But some tour operators can gain special, off-hours access so that your group can actually have the Sistine Chapel to yourself for a while.
I would much rather get to experience the awe of the Sistine Chapel with an intimate group of friends than to spend hours of my precious vacation time standing in line and then crowding into the place shoulder to shoulder with strangers.
The biggest problem with "all inclusive" is that there is no standard definition. It's like the label "all natural" on a food product — there are no requirements for putting it on the product. "All natural" can be put on almost anything that is not obviously laden with unnatural ingredients. The label is about as meaningful as plastering the word "awesome" all over the product.
The phrase "all inclusive" is a bit like that. When applied to tours, it doesn't tell you much. Each tour operator approaches it in its own way. As a buyer you have to look closely to figure out when you are getting a good deal and when you are getting snookered by pricing discrepancies.
All Inclusive in the River Cruise
The river cruise is more self-contained and more amenable to the all-inclusive model because the accommodations, meals and transportation are all a function of the riverboat.
Even though a river cruise travels across the countryside, the accommodation is the same every night. The meal function can be contained within the onboard restaurants. It's easier to do comparison shopping with river cruising because there are fewer elements to compare. But you have to look closely to be sure you are comparing apples to apples.
The devil is in the details. Sometimes you get charged for things you would not have thought of until you are onboard. Is Internet included, or do they whack you with a big bill for it? Are drinks included? In some cases you get soft drinks free, but will run a tab for alcoholic drinks.
There are other extras that you may want to take advantage of onboard, such as bicycles. Do they charge for them, or are they included? What about shore excursions? Are they included? And beyond the price, what is the quality of the excursions? It can vary widely.
Hidden Costs
It is impossible for a tour operator to include "everything" because some inclusions are mutually exclusive: one or the other, but not both. For example, even on escorted tours, travelers want some time to explore on their own. If a tour operator wants to provide some free time to find a restaurant on your own, then it must remove an included meal from the schedule and replace it with a stretch of free time. You can't have both.
Tour operators also face the conundrum that the more components they include in a package the higher the sticker price will be. Many consumers will always choose what appears to be the lower price, when the one with more inclusions might actually deliver more value.
The lower priced tour could actually cost more when you have finished paying for the "extras." If you really want the best value you have to look closely.
Fortunately the tour operator market is as competitive as it is diverse and tour operators compete vigorously to offer better products than their competitors. But it also makes comparison shopping quite complex.
For me the best possible outcome is to find a tour operator you trust to provide the kind of experience that suits your tastes and standards. If you can satisfy yourself that your chosen operator provides the best overall value, you can trust that the details will fit into the whole in a satisfactory way.
Then you can put your shopping labors to rest and keep returning to the same provider for different destinations, knowing you can depend on them to provide the value you are used to receiving.
Then in a very real sense you can have it all.
Until we meet again, I bid you farewell and safe travels.
I remain,
Your Humble Reporter,
A. Colin Treadwell
Какой вариант, вы считаете, более предпочтителен при получении онлайн займа
, на карту или наличными?
Процент мфо по микрозаймам через интернет, например
здесь
, составить ровно 1% от суммы кредита в день, а это очень много.