Over the years I've often heard the term "pent-up demand" but it's never been a more perfect description than now when applied to travel.
It refers to what sometimes happens when people recover access to something they haven't had for a while. If their desire for it has built up during the time they couldn't get it, there's a surge of buying it.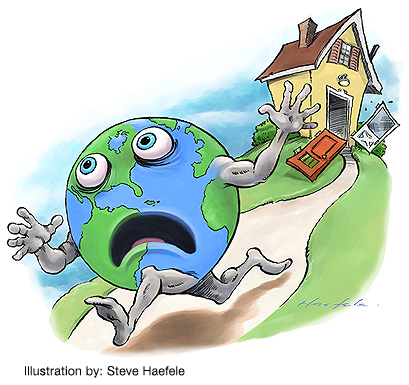 Today practically the whole world is pent up, sheltering in place to avoid being infected by COVID-19. And those of us for whom travel has become an important part of their lives are feeling the need.
I for one am observing the quarantine rules religiously. I do not want to get this disease. And I don't want anyone I am in contact with to get it. I don't want to contribute to its spread in any degree. I want the whole thing to be over as soon as possible. For now the most important way I can contribute to the fight against COVID is to follow the safety guidelines that have proven to be effective in stopping the spread.
In my own humble way that makes me part of a great cause. Not being able to travel leaves an odd space in my life, like a phantom limb. But I will make the most of this unique set of opportunities. And the time to travel will come again.
Cabin Fever Everywhere
I personally don't mind sheltering in place. I'm not one who is complaining about it. I am getting a lot of good from it. I've been able to do many things I normally don't have time for. I've made progress in things that tend to remain stuck in my normal busy life. I am treasuring this opportunity too and making the most of it as I did with the opportunities to travel. I know this too will pass and I may appreciate its advantages when it's over more than I do now. I don't want to waste the time complaining. I can deal.
But still, as time goes by, it does start to wear. And the urge for travel, that cabin fever is burning inside of me. It's that pent-up demand and it is growing, in me and in millions of others.
I know there will come a time when the opportunities will open again and those of us who love travel will be able to take off again. We don't know how much this crisis will change the world or the way we will travel. But a good part of the thrill of travel is the opportunity to experience new things. And the whole world is going to be new, in a way, after this. Everything will be in its new incarnation, in a new era.
Traveling in the Mind
So meanwhile what do I and the millions of others who feel driven to travel do with ourselves while we shelter in place? How do we channel that energy?
I'm finding it fascinating to observe the many creative ways people are doing that. The urge to travel is an ancient, deep-seated drive and it's highly adaptable. It's like water flowing. If you block it in one place, it just flows around the blockage. It finds a different channel.
So now we see a profusion of online events, lectures, workshops, videoconferencing and virtual travel all designed for people with a passion for travel. And all those events are getting a lot of participation.
People are coming up with their own creative ways to re-channel the drive to travel, new ways to experience some of the joys of travel, to recall past travel experiences or to prepare for future travel.
Being locked down reminds me of one of my favorite quotes of Mark Twain: "Life does not consist mainly, or even largely, of facts or happenings. It consists mainly of the storm of thoughts that is forever flowing through one's head."
This is true whether you are traveling or staying at home. When you are traveling much of what you are experiencing is what is going on in your own mind. That's why two people can take the same trip and one can enjoy it immensely while the other is bored.
Much of the richness of the travel experience takes place outside of the time you are actually traveling. It happens before the trip, in anticipation and preparation, after the trip in recalling, sharing and pursuing further research into what you experienced during the trip, and finally in planning the next adventure.
All the parts of the travel experience that normally happen between trips can happen now. Even though the in-between period may be longer and more restricted than usual, that can be good too. Whatever value those short intermissions had may be expanded into longer intermissions.
So I am enjoying as many of the pleasures of travel as I can while strictly observing social distancing. And it's surprising how many of those pleasures are still there to be had while I wait for my next big trip.
Not Restricted
Nature is the greatest healer and the most reassuring friend. One glance at one of the beautiful natural settings sends a wave of calmness through me, eases my anxieties, gives me a greater sense of perspective. And nature is everywhere, just beyond the trappings of civilization.
It is still possible to take hikes in nature. It's especially nice in places where you don't run into many others, or if you do it's easy to keep your distance. On the occasions when I have had tasks that required me to drive, I enjoyed the landscapes from the safe environment of the inside of a car.
I still enjoy traveling vicariously through books, movies and videos. Ironically I have more time to enjoy these activities now.
I've been to some of the world's most beautiful places, and that experience has helped me to appreciate the places I consider home. Just because they are familiar does not make them less beautiful.
There is something very special about getting to know a place in greater and greater depth, to watch it as it goes through changes. Just as I love returning to special places, I also love getting to know my own home territory better. My travel experiences enhance my experience of staying put.
But when the opportunity opens again, I will love it. I will once again fully partake of it and savor it. And I am sure I will appreciate it in some ways more than ever before, having had to go without it.
This pandemic hasn't and won't kill the urge to travel. Humans are a traveling species and in the last half century we have become increasingly able to go wherever we want. The urge to travel is archaic and inextinguishable. Its form is adaptable. Now we are forced to endure circumstances we've probably never imagined. We will continue to adapt our ways of travel to the changing world.
We who love to travel will travel again, in whatever way we can, just as we have in the past.
On that note, I send you my best. Stay safe. Keep enriching your mind and soon we will all be unleashed and able to travel again.
Your humble reporter,
A. Colin Treadwell