Our Tauck Directors are the true frontline workers of Tauck, personally welcoming guests to the trip they've long been waiting for and joining them on a journey that's enriching for everyone. Compassionate, passionate and consummate professionals, they manage all the day-to-day details and tour logistics seamlessly, while setting expectations and delivering explanations thoroughly and impressively. Universally admired by our guests, they raised the bar even higher in our restart era, going the extra mile to assure a good time was had by all. Take a look at some of the kudos sent their way this year; they are but a few of the countless "thank you notes" we received on their behalf.
"We had an incredible time. This was in no small part due to our Tauck Director who was an absolute pleasure. Extremely pleasant and professional in setting expectations, she offered a great deal of valuable commentary to the sites we were seeing. As importantly, she brought enthusiasm to her work, making it seem like she was seeing all these wondrous sights for the first time along with us. Instead of just telling us about the sights, she helped us make memories for a lifetime."  – Jim O'Brien
"Our Tauck Director did an outstanding job of navigating the ever-changing COVID testing requirements, road construction, inoperable headsets, Pope visits, etc. His knowledge of the countries and their history was truly amazing and made our tour so much more enjoyable and enriching. We loved his personality, sense of humor and entertaining stories. Guides like him have led us to book three tours with Tauck for 2022." – April Andres
A guest recently back from our Iceland cruise shared that nearly half of the guests were booked on a return flight that was canceled "Our TD quickly turned the situation around and arranged for a motorcoach tour of Reykjavik. It was so appreciated – and my traveling companion (new to Tauck) called and booked another Tauck tour while still on the tour!"
It goes without saying that our Tauck Directors love what they do and they have really missed getting out in the world with our guests. Here are a few of the sentiments our Tauck Directors in Canada shared:
Sarah Brooking:
"From the minute I met my first guests in Calgary, all my anxiety and uncertainty about returning to the travel industry evaporated. Over and over, I heard versions of 'We needed this.' And I realized that I too, needed this. I was so grateful to experience this journey with them, in the magnificence of the Canadian wilderness. Educating and sharing my appreciation for nature is my raison d'etre, and I was so happy to be back doing what I love, in a place I am passionate about."
Rob White:
"After not working for more than a year and a half, I was blessed to run 6 tours in Canada, three in Nova Scotia and Prince Edward Island followed by three Manitoba: Polar Bear Adventures on the shores of Hudson Bay. Each made me realize that I missed it more that I could even begin to understand. Sharing emotions, introducing beauty, learning, flavors, gratitude… and hugs.  New friends and old ones, their smiles made me feel as though I had come home… and I have."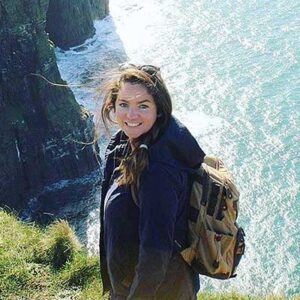 Sydney Holmes:
"After far too long it was an absolute treat to welcome our guests back to Canada! With each new group of travelers, we could feel their excitement and the pure gratitude they felt to have the opportunity to explore with us once again! Even with all the new protocols and rules in place – that feeling of joy, the buzz of excitement and the sense of connection you experience on any Tauck tour was still at the forefront. It's clear that our guests' desire for adventure is as strong as ever and for all of us whose passion is to facilitate the lasting memories that travel brings, it's nothing short of a dream come true to be back at it once again! Bring on 2022!"
Thank you for all you do!
On behalf of our extended team, thank you to our Tauck Directors for showing our guests what it means to Travel Beyond Ordinary.
Watch the video below!