Back when Odysseus began his Greek odyssey some 2,700 years ago, adventure called him first to Troy, located in what today is known as Turkey, where he used his guile to conquer the city with his colossal Trojan horse. His challenges overcome, Odysseus resumed his voyage back to Greece. While it may seem like a stretch to compare the Odyssey to this year's departures of Treasures of the Aegean, we did face a few obstacles along the way, including rough seas and high winds, along with the closure of the sea border between Greece and Turkey.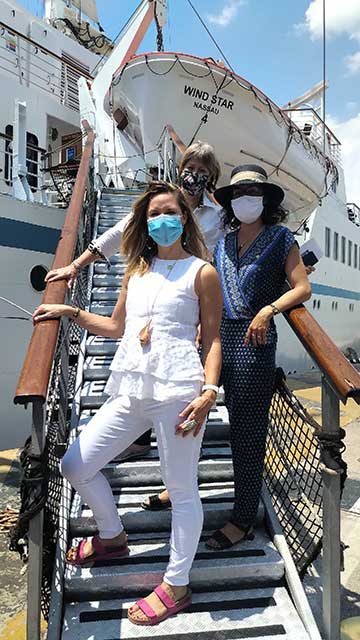 It had been two years and three days since we last visited Turkey on the Treasures of the Aegean cruise tour. Although we resumed the cruise in June, 2021 with the opening of travel in Greece, the sea border between Greece and Turkey remained closed due to an ongoing squabble over Cyprus by the two countries. Not entering Turkey was a huge disappointment for our guests because it meant not visiting the archaeological site of Ephesus, where we follow up a daytime visit with a very special dinner under the stars at the Celsus Library. We remained in constant communication with our partner Yasar Karadag in Turkey every Thursday, hoping we would receive good news about the sea border opening up. Finally, on our very last departure of the season, we received the news we were waiting for. Yasar was there to welcome us ashore with a warm greeting we will long remember.
Our partners in Greece were equally happy and excited to see us this year, jumping through hoops to make sure our shore excursions were everything we hoped they would be, and making alternate sightseeing plans due to weather and unavoidable detours that impacted our scheduled cruise itinerary. With the closure of the Turkish border, we wanted to give our guests alternative experiences in Greece they would long remember so everyone worked together to make this reimagined cruise epic in every way.
On several of our cruises due to high winds, many of our days' activities were flipped as we visited ports out of the order we had originally planned. That's when our Greek heroes really saved the day. From making an advance trip to the island of Syros in the heart of the Aegean to ensure we had enough beach loungers for our guests during our impromptu visit there to setting up last-minute touring in Milos, a colorful hidden jewel of an island, to orchestrating new excursions in Sparta, they made it easy to explore destinations new to Tauck. They hung in there with us as we canceled, reinstated and re-canceled visits to Patmos because of the weather. They sent in extra guides from Athens to Mykonos when we unexpectedly changed our schedule and no local guides were available and arranged a last-minute evening tour of Nafplion, staying on call for us virtually 24 / 7 to help in any way they could. Similar to the gods and goddesses who helped Odysseus safely navigate his way through the Greek islands, our partners used their special powers to perform feats of magic that are the stuff of legends for our operations team at Tauck. And from the comments and photos from our guests below, they have become cherished memories for them too!  
Guest Quotes from their Treasures of the Aegean Experience
Tauck tours effortlessly changed our ports based on weather and country closure.   
We appreciated the flexibility and creativity of rearranging excursions when Ephesus was no longer a possibility.
We thoroughly enjoyed all aspects of this our Greek cruise and are grateful for all efforts to keep us safe during our journey.
Our expectations were exceeded in every way! 
Many thanks to everyone involved for giving us a trip of a lifetime – a wish fulfilled to see Greece! 
I loved the uniqueness of each island! I loved learning about the history.                              
The people involved on the tours and every touchpoint were wonderful.    
We looked forward to a luxurious journey and we were gifted with so much more.  
OMG! We absolutely loved this tour.
The tours were extremely organized and every single detail was taken care of.
We have cruised with Windstar before, but Tauck Windstar was even better – A+!    

И мне бы очень не хотелось переплачивать за микрозайм на карту именно сейчас,
так как очень жаль денег.
А, вот рассматривать вариант быстрого кредита – микрозайм, в качестве выхода,
то ситуация становится не такой печальной.
Основная рекомендация – получайте займ до 10 000 рублей только на
своё банковскую карту и онлайн, это выгодно.