Our private rail journey for 58 Tauck guests, A Grand Rail Adventure: Milan the Alps & Vienna, debuts in 2021 – eight days from Milan to Vienna by way of the Swiss Alps aboard Golden Eagles' magnificent Danube Express. A European journey unlike any other…
When Agatha Christie took her first ride aboard a luxury train in 1928, European rail travel was in its second golden age. There were faster ways to get somewhere if all you wanted was to get there. But Agatha… was looking for an adventure. And a train journey was just the ticket. A handful of companies ran high-end train lines steeped in romance and intrigue as conveyors of royalty, heads of state, celebrities – and spies. For those accustomed to traveling in comfort and style, there was no other choice for a long trip but rail travel.
The sleeper train was an intimate, exclusive hotel on wheels where the carriages were elegantly appointed, the service expert and attentive, the wine and cuisine first-rate, you could move freely, and the views outside were ever-changing. You could dine watching the moon on Lake Lucerne, enjoy cards, conversation, and a nightcap, go to bed, and step off the next morning in the heart of Zurich.
As a young married woman, Agatha Christie often visited the Continent and would see elegant midnight-blue carriages emblazoned with gold trim and medallions standing in Calais station, inviting her to come aboard. All her life she had wanted to go on a long-distance train journey – and in 1928, she divorced her husband, saved up her money and courage, and took a solo trip across Europe to the Middle East. And fell in love forever with train travel.
Agatha's love affair was less about exotic locales and more about refined society and the imagined possibilities in "a tangle of strangers… with nothing in common but the need to go from one place to another and never see each other again." As a luxury train traveler, you could be anyone you wanted to be on a rail journey. And the traveler sharing drinks and stories with you could be anyone too – a prince… a poseur… a Belgian detective…
Graham Greene observed that the travelers he met on long-distance trains were like characters in a Chekhov play; "They have no reserves – you learn the most intimate secrets. You get an impression of a world peopled by eccentrics, of odd professions… and, to balance them, amazing endurances."
If you want to write a novel, take a train journey.
The world outside your sleeping car window passes by like a dream, what Paul Theroux calls "travel as a continuous vision… the swell of hills, the surprise of mountains, the loud metal bridge, or the melancholy sight of people standing under yellow lamps." You drift off to sleep and wake up in another country.
Returning from a grueling archaeological dig, Agatha Christie noted her appreciation for the many amenities of traveling by train in her journal, which speaks of the pleasures of a bygone time: "The train starts! I follow the conductor along the corridor. He flings open the door of my compartment. The bed is made. Here, once more, is civilization… The conductor takes my passport, brings me a bottle of mineral water, and announces 'We arrive at six tomorrow morning. Bonne nuit, Madame…' "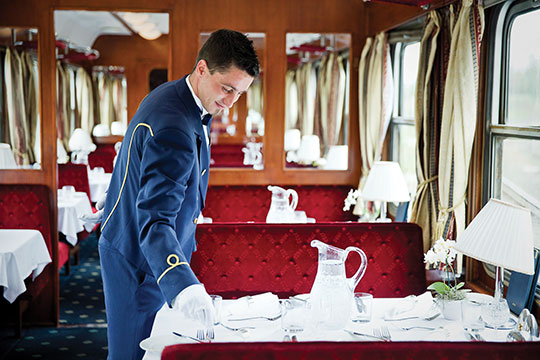 Thanks to high-speed rail, sleeper trains in Europe were mostly gone with the last century – but thanks to Agatha Christie, the romance of them lingers in our imagination; and with that, the desire for the comfortable, slower, more intimate travel experience they offered.
Seasoned travelers know that how you get there can be as important as the destination itself – as Theroux observed, if the train is comfortable enough, you don't even need a destination.
Our rail journey is bookended by overnight stays at luxury hotels in two of Europe's most popular cities. Traveling east (or west, if you prefer the scenery in the opposite direction), you'll begin by exploring Milan with a stay at the Excelsior Hotel Gallia in the heart of the city, opposite the Centrale rail station – the Liberty-style hotel was actually built in 1932 as a companion to the train station. And from there, it's a short walk to the Danube Express.
Explore idyllic Lake Como, then wind through the spectacular mountain landscapes of the St. Gotthard Pass and Switzerland's breathtaking lake country to Vienna for a stay at Hotel Bristol – an art deco masterpiece opposite the Vienna State Opera House and a favorite of kings and presidents since it opened in 1892. Along the way you'll appreciate the camaraderie of train travel and Golden Eagle's reputation for impeccable personal service, first-class cuisine, and a bar lounge that stays open every night until the last guest leaves.
For additional information on Milan, Vienna and the Alps, we've put together some documentaries, videos, articles and podcasts – including a look at Café Residenz, where they share a recipe for the famed Viennese apple strudel.

Experience a European journey unlike any other.
Exploring…
Какой вариант, вы считаете, более предпочтителен при получении онлайн займа, на карту или наличными?
И мне бы очень не хотелось переплачивать за микрозайм на карту именно сейчас, так как очень жаль денег.