I have always jumped at any opportunity to travel to France. I am easily seduced by the chance to have a real French pain au chocolat for my breakfast and the temptation of a simple lunch of baguette, fresh from the Boulangerie, with a generous chunk of perfectly ripe Camembert never fails. Before even discussing the endless dinner menu options my bags would be packed. Whilst France's reputation as the culinary epicentre of the globe is based on an elegant and often complex cuisine it is the simple grass-roots food of this extremely varied and diverse cuisine that tempts and excites me.
As a royal chef, I worked in a very small team, there were only three of us. This had many advantages over working as part of a large brigade in a big kitchen, where you would be tied to one section. It meant that frequently I would be working on my own in the kitchen and I prepared the whole meal rather than just the appetizer, just the entrée or just the dessert as a hotel or restaurant chef would do. I loved planning the meals and menus around whatever fresh produce was growing in the garden at that time and I loved the cooking aspect every bit as much. The downside was the lack of exposure to other chefs with new ideas and different ways of doing things. When you are cooking for the same people every day, you certainly need inspiration to come up with innovative and delicious ways to present old favourites in new guises.
Cooking for Prince Charles, Princess Diana and the young Princes William and Harry was wonderful on so many levels, and many of them very obvious. However, Prince Charles was an exceptional boss. He loved his food and was passionate about the wonderful organic produce grown in the garden. He was always very proud to serve his homegrown produce to guests and it was very important to him that they enjoyed their food. He was always involved in the menu planning and was very generous in his praise and thanks for meals that he had particularly enjoyed. I have a box full of handwritten thank you notes which I treasure! There can be no better motivation for a young chef than cooking for someone whom you know is eagerly anticipating what will be on their plate at each meal. In addition to that, having the most beautiful and perfect produce to work with, so fresh that sometimes it went from garden to plate in less than an hour, was an enormous privilege. Prince Charles was very aware of the importance of keeping young chefs motivated and up to date with current trends in food. It was for this reason that each year he sent me either to France or to Italy for two to three weeks to do a 'stage' (unpaid work experience) in a restaurant. This was an unbelievably exciting prospect for me and an incredible perk in an already amazing job, particularly as The Prince of Wales name opened many doors and gave me access to restaurants that I had only ever dreamed of visiting.
My first stage in France was working alongside the truly legendary chef Roger Verge at his beautiful restaurant the 'Moulins de Mougins' (and I mean that in the sincerest form of the word legendary!) The restaurant is in a 16th-century mill (moulin) in the inland French Riviera town of Mougins. It is one of France's most highly acclaimed restaurants, with 3 Michelin stars, and many of the country's finest chefs trained there under Roger's watchful eye; Alain Ducasse, David Bouley and Daniel Boulud, to name but a few. The restaurant's proximity to Cannes makes it a very popular destination for the rich and famous and for visitors to the Cannes film festival. Roger Vergé was known for his contemporary cooking style, often named 'Cuisine du soleil' a variation of Provençal cuisine, focussing on using fresh, local ingredients. This was a departure from traditional rich and often quite extravagant French 'cuisine classique.' In the preface to his first cookbook 'Cuisine of the Sun' he wrote "Cuisine Heureuse (happy food) is the antithesis of cooking rich and pretentious food just to impress. It is a light-hearted, healthy and natural way of cooking which combines the products of the earth like a bouquet of wild flowers from the garden." This was a perfect fit with Prince Charles philosophy on food and is the style of food that I most love.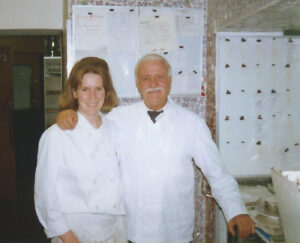 I refer back to my opening paragraph, where I talked of my love for the simple aspects of French food. I couldn't believe my luck when I found that I was going to be spending 3 weeks working with the French chef whom I had always admired above all others! I would describe Roger Verge as a true gentleman, a very gentle and unassuming chef and he was obviously enormously talented and knowledgeable but above all he was so generous in the way that he shared his knowledge. Having said this it is still quite intimidating entering a kitchen which is in full swing, where you are the only girl and when your French is far from perfect! Every chef in the brigade knows exactly what they are doing, where everything is in the kitchen and how each dish should look whereas for me it felt as if I did nothing but ask questions (trying hard to make myself understood) for the first few days. However, this is the nature of doing a stage and once over the initial hurdle of finding your way around the kitchen and building a rapport with very capable and proud chefs (who are clearly sceptical about your ability!) it is the most fantastic, inspiring and enriching experience a young chef could ask for. At theMoulins de Mougins finding a chef whose English was better than my French was a big turning point and made everything a lot easier!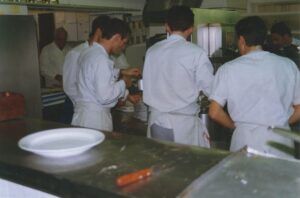 Roger Verge had an amazing head chef, but he was still on the pass at every service, casting his eye over every plate of food that left the kitchen. At the end of my first week in the kitchen he invited me to sit down with him in the restaurant for lunch; a rare treat for a chef to venture out beyond the kitchen door! He ordered the food and I can only describe the meal as utter perfection. Having worked in the kitchen and having seen just how much work went into creating dishes, that on the plate seemed so simple, made my appreciation even greater. He always let the individual flavours, colours and shapes of each ingredient sing for themselves – the sign of a great chef! Here are just a few plates of his wonderful food.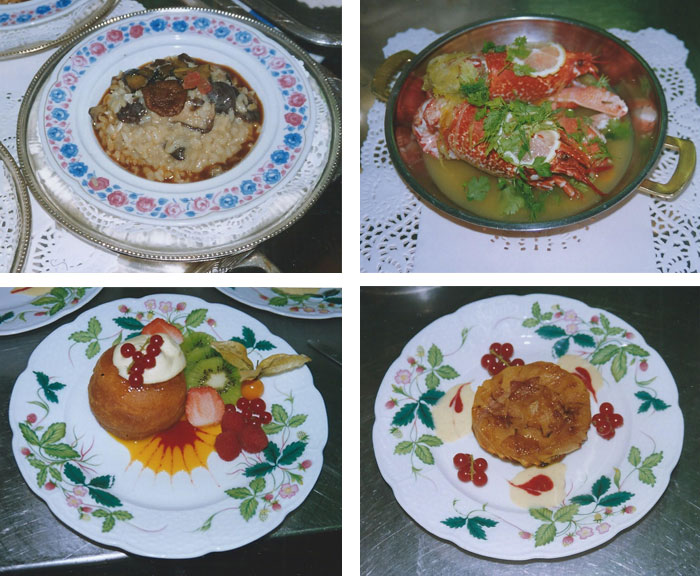 By the end of my three weeks at Moulins de Mougins I had made some wonderful new friends, my French had improved immeasurably, I was feeling very inspired by all that I had seen, done and tasted and I was excited about putting all that I had learnt into practice. Back at Highgrove, the royal verdict was that it had been a very successful exercise, not only for me but for Prince Charles too. He loved the meals that I was cooking; food with an abundance of fresh herbs, lashings of colour and flavour and somehow, even a hint of Provencal sunshine!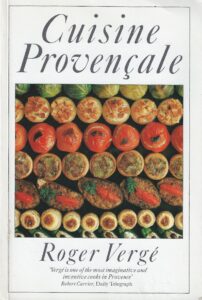 I treasure my copy of 'Cuisine Provencal' given to me by Roger just before I left. It has been a source of great inspiration to me over the years so instead of including a recipe from my book, I have decided to share Roger Verge's recipe for ratatouille with you, instead. This epitomises his style of cooking – vibrant, authentic and bursting with the colours, flavours and aromas of Provence. Serve with roast lamb, fish or on its own with crusty bread and a chunk of your favourite French cheese and of course a glass of wine – Roger recommends a dry white or young rose. I hope you enjoy it as much as I always do!
'My Ratatouille'
La ratatouille niçoise a ma facon
Serves 4
Fairly simple, fairly cheap
Preparation time: 1 ½ hours
Ingredients:
1 lb 2oz egg plant (small elongated ones with firm flesh)
1 lb 2oz small, firm fleshed zucchini
7oz small onions
3 ½ oz plump sweet peppers with thick flesh
1 lb 5oz ripe tomatoes
1 pinch thyme
3 finely chopped cloves of garlic
10 basil leaves, chopped
1 tablespoon chopped parsley
¼ pint olive oil
Salt & pepper
Method:
Peel eggplant. Half peel the zucchini in stripes to give a green and white zebra -effect. Cut both vegetables lengthwise into pieces as thick as your thumb and keep them separate.
Bring 3 ½ pints of water to the boil and plunge in the tomatoes. Remove after 2-3 seconds and plunge into cold water. Peel, halve and remove the seeds. Dice coarsely and set aside.
Peel onions and slice into rounds, Set aside. Remove stalks from peppers and cut them in half vertically. Remove seeds and slice downwards into fine strips. Put on one side with the sliced onions.
Once the forced labour of preparing the vegetables is over, they are ready to be cooked. Put 3 tablespoons of oil in each of 2 shallow saute pans and when it begins to smoke, put the onions and peppers in one and the tomatoes in the other. Season with salt and pepper and sprinkle the tomatoes with pinch of thyme. Cook tomatoes for only 2 – 3 minutes over a brisk heat then transfer them to a plate and keep warm. Cook the onions and peppers gently over a low heat for 15 – 20 minutes, without letting them brown, then add the tomatoes.
Put 5 tablespoons of oil in one of the pans and cook the eggplant for 7-8 minutes over a brisk heat, stirring frequently. Drain in a colander over a bowl and return the oil to the pan with 2 tablespoons of fresh oil. Heat and add the zucchini. Let them brown for 7-8 minutes, then add to the eggplant in the colander.
When you are ready to serve the ratatouille, mix all the cooked vegetables in a saucepan and stir well with a wooden spoon. Heat through, season with salt and pepper and at the last minute add the finely chopped garlic, basil and parsley.
* This is good with grilled or roasted meat and also cold, as a first course.
* Normally ratatouille is made by simmering the vegetables for 2 -3 hours. My recipe conserves the texture and freshness of the ingredients.
*Recommended wines: Dry white or young rose (Provence, Coteaux de Nice)
Recipe by Roger Verge from 'Cuisine Provencal'.