Our partnership with Scylla started in 2004; today, Scylla is one of our most significant partners. Scylla is involved in the design, construction, outfitting and operations of our riverboat fleet. Together, we have custom-crafted all of our riverboats, working with an amazing group of international engineers, designers, electricians, mechanics and craftsmen to bring these wonderful vessels to life… to transport guests on unique, innovative, immersive, and authentic travel experiences in towns, villages and cities found along the great rivers and waterways of Europe.
As the holiday season quickly approaches, the team at Scylla have provided a few traditional holiday recipes for you to try your hand at making at home. Spice up your dessert tray and impress friends and family this holiday season with one of these tasty treats from our partners and friends at Scylla.
German Vanillekieferl
Crescent-shaped biscuits dusted with vanilla sugar | Makes about 21
Ingredients:
9 oz flour
7.5 oz butter
3 oz sugar
4 oz ground almond
1 pinch salt
2 oz powdered sugar
2 tsp vanilla
1 pinch cinnamon
Directions:
Add all ingredients into a bowl or stand mixer. Mix for seven minutes.
Once mixed, put in the refrigerator for 3 hours and then roll into small crescent shaped portions.
Bake at 300°F for 15 minutes.
Cool completely before dusting with powdered sugar.
Lebkuchen
A delicious variation of the traditional German gingerbread cookie | Makes about 30
Ingredients:
1/2 cup dark molasses
1/2 cup butter or margarine
1/4 cup brown sugar (packed)
2 cups all-purpose flour
2 tsps ground ginger
1 tsp ground cinnamon
1/2 tsp each cloves, nutmeg and salt
2/3 cup ground California pistachios
1 tsp baking powder
1 large egg
1 egg yolk, beaten, with 2 teaspoons water
For Decoration:
1/4 cup each chopped and whole shelled California pistachios
Directions:
Combine molasses with butter and sugar in saucepan; heat, stirring just until butter melts. (Don't let it boil.) Once butter melts, bring it off to the side to cool.
In a separate bowl, mix flour, spices, salt, ground pistachios and baking powder. Add egg and cooled syrup mixture and blend to a dough.
When ready to bake, preheat oven to 375°F (190°C).
Roll out dough into two (12-inch) rounds and cut out holiday shapes with cookie cutters. Place cookies on an ungreased cookie sheet, leaving 1/2-inch between them. Brush with egg yolk-water mixture. Decorate with chopped and whole pistachios.
Bake for 10 minutes or until lightly golden at edges. Cool on wire racks.
Traditional German Christmas Stollen
Fruit bread containing nuts, spices and dried fruit coated with powdered sugar or icing | Serves 10
Ingredients:
2.2 lbs (1000g) all-purpose flour
16 oz (450g) soft butter
1.10 pints (½ liter) milk
7.1 oz sugar
3.55 oz (100g) fresh yeast
1 tsp Gingerbread spices (cinnamon, cardamom, cloves, anise)
1 small lemon, grated
1 tsp almond, bitter flavor
1 tsp ginger, freshly grated
18 oz (500g) raisins
5.30 oz (150g) candied orange peel
5.30 oz (150g) candied lemon peel
5.30 oz (150g) dried cranberries
5.30 oz (150g) almonds slices or sticks
11.11 oz (300g) melted butter
6.6 oz (180g) glucose syrup
5.5 oz (180g) powdered sugar
Directions:
Pour flour into a large mixing bowl, make a small depression in the center of the flour and crumble yeast into it. Mix the flour and yeast with warm milk and 1 teaspoon of sugar to form a liquid paste. Cover and let the dough rest for 45 minutes in a warm place.
Soak raisins and cranberries in boiling water and leave for 15 minutes. Then, strain and dry thoroughly. Chop candied lemon and orange peel.
Heat butter until it is completely melted. Add the milk and heat until the milk is lukewarm. Mix the dough with the butter milk, sugar, and spices. Beat the dough vigorously until it dissolves itself as a bale of the mixing bowl. Tip: knead dough by hand, you'll have a better feeling for the consistency this way. Let the dough rest for about 1 hour.
Add the raisins, almonds and candied fruit. Knead again and let rest for 45 minutes to 1 hour.
Preheat oven to 380°F (180°C) (top and bottom heat). Brush the bread pan with butter. Put the dough in the pan and bake. Check with the knitting needle 10-15 minutes before end of baking time.
While still hot, brush with melted butter and dust with vanilla sugar, sprinkle with powdered sugar at the end.
Let cool completely and wrap airtight with cling film and aluminum foil.
German Glühwein
A spiced, mulled wine typically made with wed wine | Serves 4
Ingredients:
1 bottle of dry red wine (750 ml)
1 lemon
1 orange
2 sticks of cinnamon
3 cloves
3 tablespoons of sugar
Pinch cardamom (or ginger) (optional)
Directions:
Heat the red wine in a pot (don't boil). Cut the lemon & oranges into slices and add to the wine.
Add the cinnamon, cloves, sugar and a little cardamom (optional) (to taste).
Heat everything for about 5 minutes – do not boil – just simmer lightly. Strain and serve hot!
Make It Your Own:
Glühwein can be made also with variations like:
Blueberry wine or syrup
Cherry
Cranberries
A touch of vanilla maid!
Ginger bread spices
A touch of chili
Star anise
Note: The wine you use is important! Don't use to cheap wine. Wine should have a full and rich flavor.
Dutch Stroopwafels
Thin waffle wafers joined together with a sweet caramel filling | Makes about 35
Ingredients:

4 cups all purpose flour
1 ½ cups butter melted
¾ white sugar
2 1-oz packets active dry yeast
½ cup warm milk
1 egg
1 ½ cups molasses
1 ½ cups brown sugar
½ cup butter
1 teaspoon cinnamon
Directions:
In a large bowl, mix together flour, melted butter, sugar, yeast, milk and egg. When the dough becomes too stiff to stir, turn out onto a floured surface and knead by hand for a few minutes. Set aside to rise for 45 minutes.
To make the filling, heat molasses, brown sugar, the remaining butter and cinnamon in a saucepan over medium heat. Stir to blend, and set aside.
Preheat a pizzelle iron. Knead the dough briefly, and divide the dough into 2 inch balls, or a size compatible with your pizzelle iron pattern. Press the balls onto the preheated iron, and cook until the iron stops releasing steam, or until the waffles are golden brown.
Carefully remove with a knife or spatula, and split in half horizontally (like pocket bread) while they are still warm. Don't wait too long, otherwise they will break. Spread filling on the insides, and put the halves back together.
German Christmas Gebrannte Mandeln
Cinnamon-roasted candied almonds | Serves 15
Ingredients: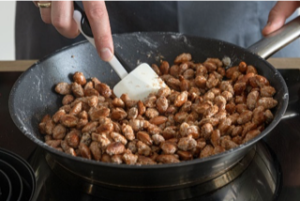 1/3 cup and 2 tbsps water
1 ½ cups sugar
1 tsp vanilla sugar or vanilla extract
1 tsp cinnamon
2 cups raw whole almonds
Directions:
Heat water, cinnamon, and 1 cup sugar over medium heat. Stir continuously. Bring to a boil.
Add almonds. Turn temp up a bit if needed to keep water simmering. Stir continuously until the water has boiled out and the almonds look dry and fuzzy.
Turn the heat down to just below medium and keep stirring until the sugar has melted and almonds are shiny and are evenly coated.
Turn heat down to low. Add the rest of the sugar and the vanilla sugar. Stir until the sugar has melted and almonds are evenly coated with clumps of sugar.
Carefully transfer almonds to a lined baking tray. Work quickly to spread out the almonds and separate the clips. Use a wooden spoon to do this – not your fingers (you'll burn yourself!) Let almonds cool. Once cool to the touch you can break up more clumps if needed.