By Amy C.
In college, as soon as I saw Audrey Hepburn in Roman Holiday, I knew I had to go to Italy. I was no princess like the one she plays in the movie, but I was almost as dutiful – and did I ever want to run away to the freedom and fun of discovering Rome on a Vespa with Gregory Peck! Italy has often been an escape for people who long to experience the pleasures of life – and why not? The scenery, the food, and the warmth of the locals are irresistible. History and art are around every corner, not to mention gelato. These movies set in Italy will inspire you to dream about your next trip…
FILMS FOR THE WHOLE FAMILY
Roman Holiday (1953)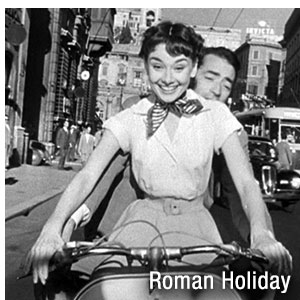 Audrey Hepburn and Gregory Peck light up the screen in this timeless comedy about a sheltered princess who pays an official visit to Rome and unofficially falls for an American newspaperman. A must-see classic.
Life Is Beautiful (1997)
Roberto Benigni directs and stars in the Academy Award-winning story of an Italian-Jewish waiter in the 1930s who uses his ingenious gift for comedy to help his young family survive the war with their spirits intact. Filmed in Tuscany. English subtitles.
Palio (2015)
The oldest bareback horse race in the world takes place every year in Siena's Piazza del Campo, and this exciting documentary takes you behind the scenes and up close. A story of medieval pageantry, deal-making, and magnificent animals. English subtitles.
Letters to Juliet (2010)
A New Yorker on vacation in Verona (Amanda Seyfried) visits the home of Shakespeare's Juliet, a mecca for women pining for lost loves. Enter Vanessa Redgrave in search of the man she never got over. The plot thickens in Siena.
The Lizzie McGuire Movie (2003)
Hilary Duff stars as her TV series character, Lizzie McGuire, in this movie about the middle-schooler in Italy. The scenes in Rome will introduce your family to the Eternal City, and the soundtrack is fun. Geared to the younger set.
AMERICAN AND ENGLISH FILMS SET IN ITALY
Enchanted April (1992)
In the 1920s, four well-bred (and comically incompatible) English ladies flee their rainy homeland for a holiday at a castle in sunny Italy with glorious views of the surrounding countryside in Liguria. Travel turns out to be quite broadening!
The Trip to Italy (2014)
In this road movie about male friendship, two British comedians banter their way through gorgeous Italian landscapes on a writing assignment from a newspaper. They dine on sumptuous meal after sumptuous meal, stay at exquisite hotels, and do uncanny impersonations.
The Wings of the Dove (1997)
Early 20th-century Venice is the star of this adaptation of the Henry James novel. Portrayed in lush period detail, the city provides the backdrop for the story of an American heiress and the impoverished British aristocrat who plots to inherit her fortune.
Angels and Demons (2009)
This adaptation of Dan Brown's thriller about a professor trying to prevent an ancient secret society from destroying the Vatican is set in Rome. Watch it for the intrigue, the interplay between science and religion, and for Tom Hanks as the professor.
Gladiator (2000)
An epic blockbuster starring Russell Crowe as an ancient Roman general who becomes a gladiator. Not for the faint of heart, but this Oscar winner definitely brings the Roman Empire and the Colosseum to life.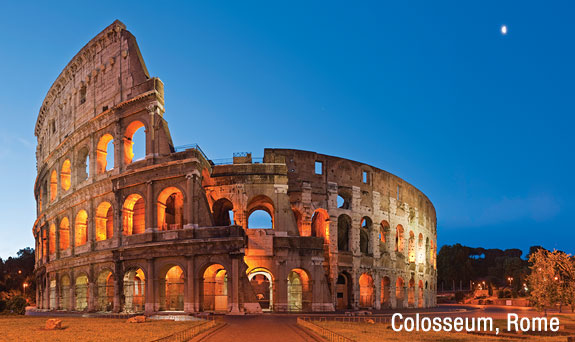 Summertime (1955)
Katharine Hepburn plays an American secretary from Akron, Ohio, on vacation, who succumbs to all the charms that Venice – in Technicolor – offers, including Rossano Brazzi. Director David Lean loved Venice and filled the movie with stunning location shots.
It Started in Naples (1960)
Sophia Loren and Clark Gable star in this comedy-drama about a strait-laced American who comes to Italy to settle his deceased brother's estate and discovers he's left a young son in the care of his aunt, a nightclub dancer on Capri.
Only You (1994)
This light romance about a young woman (Marisa Tomei) who believes she is destined to marry a man named Damon Bradley and the man who may or may not be Damon Bradley (Robert Downey Jr.) plays out in Venice, Rome, and Positano.
Under the Tuscan Sun (2003)
An American woman with a broken heart (Diane Lane) buys a run-down villa from a contessa in Tuscany and settles in to restore it. She gets involved in the local community and finds a new lease on life.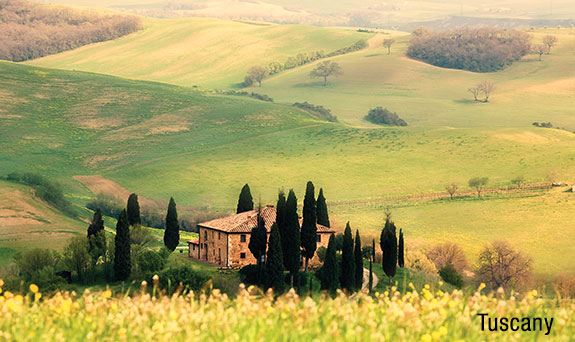 Three Coins in the Fountain (1954)
An old-fashioned Hollywood romantic comedy about three young women living in Rome who throw coins into the Trevi Fountain to make a wish – and end up with husbands. Gorgeous shots of Rome and the Italian countryside.
Casino Royale (2006)
Daniel Craig's debut as James Bond, doing what he does best, includes a sensational scene involving a sinking Venetian palazzo along with some quality time spent at the lovely Villa del Balbianello on Lake Como.
Quantum of Solace (2008)
Agent 007 goes about his action-packed business in the lake country of Lombardy and the Carrara marble quarries of Tuscany, not to mention chasing a villain across the tiled rooftops of Siena during the Palio horseback race.
ITALIAN FILMS (with English subtitles)
Cinema Paradiso (1988)
If you love movies, this nostalgic Oscar-winner is for you. A famous film director looks back on his boyhood spent hanging around the local cinema where the folks in his little Sicilian hometown would come to vicariously experience the world and dream.
Il Postino (1994)
A simple postman on a remote island pursues a friendship with the Nobel Prize-winning Chilean poet Pablo Neruda during his stay on the island – and the poet helps the postman win the woman he loves.
We Have a Pope (2012)
This comedy-drama is a fictional story about a crisis behind closed doors in the Vatican: a new pope is elected, but he really doesn't want the position. Respectful of the Catholic Church, this film has a warm heart and gentle humor.

Garden of the Finzi-Continis (1971)
Vittorio De Sica's film based on the novel of the same name explores what happens to a wealthy, intellectual Jewish Italian family, who have enjoyed high social standing and privilege for generations, during the time of Mussolini.
La Dolce Vita (1960)
"La dolce vita" means the sweet life, but director Federico Fellini uses the title ironically, depicting the stylish but empty world of a gossip journalist who zips around Rome frenetically seeking love and happiness. A risqué but well-regarded film.
Займы на карту или наличными всегда доступны по ссылке:
credit-n.ru
. Оформите выгодный микрозайм уже сегодня.
А в чём выигрыш по сумме, при оформлении онлайн займа
без отказа на ту же карточку? Ничего, кроме высокого процента.
Нет смысла искать другие варианты, когда есть возможность взять онлайн займ на карту
без поручителей и залога.
Займы на карту или наличными всегда доступны по ссылке:
credit-n.ru
. Оформите выгодный микрозайм уже сегодня.