St. Patrick's Day at Ballyknocken Cookery School, Wicklow
with Catherine Fulvio – and a recipe for
Beef Stout Pies with Potato Pastry Topping
One of our great global partnerships is with Ballyknocken Cookery School, in Wicklow, Ireland, run by Catherine Fulvio – a well-known award-winning celebrity television chef, writer, and co-host of the popular streaming series Lords & Ladies where she embarks on a historical journey through the history of food. Having grown up on an Irish farm, Catherine is the third-generation proprietor of Ballyknocken House – and is a committed supporter of fresh, easily sourced local ingredients.
On St. Patrick's Day morning, March 17th, Catherine will be cooking live on NBC's Today show; you can tune into her television special later that evening on Recipe.TV television network – A Taste of Ireland with Catherine Fulvio: St. Patrick's Day Special at 8:00 PM EDT (more information can be found @ Recipe.TV).
She shares the following look at Irish traditions with us – and a special recipe for Beef Stout Pies with Potato Pastry Topping:
"Visitors to Ireland are always so surprised about how much we celebrate St. Patrick's Day.
Saint Patrick is our patron saint and all of us, through our schooling from a young age here in Ireland, learned the magical story of Saint Patrick's arrival to our island and how he gathered his followers.
For me growing up on our family farm here in Wicklow, we have many traditions around St. Patrick's Day – all of which are still alive in Ireland to this day.
The first is shamrock. Shamrock symbolizes the holy trinity and they also say that the three leaves represent faith, hope and love. The fourth leaf is where you get your luck from! And as it happens, shamrock appears in the fields around St. Patrick's Day. I have many memories as a child being sent out to the field to gather shamrock for my grandmother, who would pin it to her lapel, roots and all, so that she could attend church on St. Patrick's Day. And woe betide me if I brought in clover instead of shamrock by accident! They do look quite similar though!
Another tradition on St. Patrick's Day, that I'm sure will be back in full swing for 2022, are the parades. The Dublin parade in particular is quite magical, it's like Mardi Gras mixed with lots of green! But all local towns and villages have their own parades and they are so sweet and so homely, I absolutely adore them. Local artists, crafts people, farmers and lots of children march through the villages playing their music, twirling their batons, showing off their Irish dancing skills, their prized farm animals and much more. So, when you're in Ireland for St. Patrick's Day, no matter where you are in the country, you will most certainly enjoy flavours of the atmosphere.
And when you visit me in my Ballyknocken Cookery School, I'll be teaching you that corned beef and cabbage is not a traditional Irish dish! Are you surprised to learn that? You may see it on some menus but is most certainly not something we have for St. Patrick's Day. Dishes that we may enjoy around that time tend to be hearty dishes such as Beef and Guinness Pie. But the most important thing is a hearty Irish breakfast, we need to be well fed before we head out to enjoy our local St Patrick's Day parade. Then we return home to a wonderful family meal gathered around a farmhouse table. For me this year, my Beef & Stout Pies with Potato Pastry Topping will grace our table. And we will toast to Saint Patrick add to our friends and family with maybe have a Guinness or two or an Irish coffee to complete the occasion.
Wishing you all a very happy St. Patrick's Day and I look forward to welcoming you to my Ballyknocken Cookery School."
Lá Fhéile Pádraig sona daoibh 
(Happy St. Patrick's Day)
Catherine
Ballyknocken Cookery School, Wicklow, Ireland
Beef & Stout Pies with Potato Pastry Topping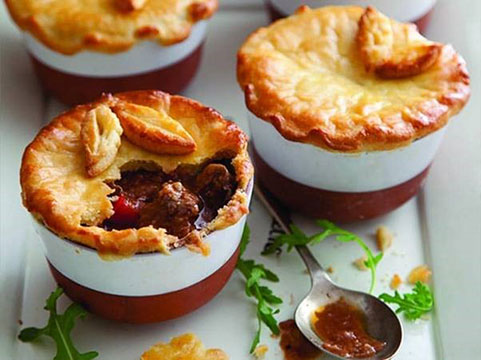 For the filling
100g (3.5 oz) smoked bacon, sliced into lardons
1kg (2 ¼ lbs) round steak stewing beef, diced
Plain flour, seasoned with salt & pepper
1 large onion, thinly sliced
1 red pepper, diced
400g (14 oz) tinned diced tomatoes
1½ tbsp tomato puree
2 tsp sugar
¾ tsp English Mustard powder
500ml (17 fluid oz) stout
A bouquet garni (4 to 5 parsley sprigs, 1 fresh thyme sprig and 1 bay leaf, tied together)
Salt and freshly ground black pepper
200g (7 oz) chestnut mushrooms or any of your favourite, cleaned and sliced
1 tbsp butter
Rapeseed oil
For the pastry
170g (6 oz) plain flour
½ tsp salt
115g (4 oz) chilled butter, diced
150g (5 ¼ oz) steamed potatoes, pressed through a ricer
¾ tsp baking powder
Cold water (about 3 tbsp), to bind
Flour, for dusting
Egg wash
Heat a casserole dish with oil over a medium heat and sauté the bacon until crispy, transfer to a clean plate and set aside. Toss the diced beef into the seasoned flour and dust the excess flour off. Add a little more oil to the casserole and fry the beef in batches until browned on all sides. Place the seared beef pieces on the clean plate with the bacon and set aside.
Add a little more oil to the casserole and gently sauté the onion until just softened but not brown. Deglaze the pan with some stout. Return the beef and the bacon and its juices to the casserole and stir in the red pepper, tomatoes, tomato puree, sugar, mustard and bouquet garni to the saucepan and season with salt and freshly ground black pepper.
Add the rest of the stout and bring to the boil, cover, reduce the heat and simmer over a low heat for about 1½ hours or until the meat is tender and the sauce thick. Stir from time to time.
During the last 10 minutes of the cooking time, heat a medium frying pan with a little butter and add the mushrooms with some salt and pepper and sauté for about 4 to 5 minutes. When the casserole is cooked, add the mushrooms and simmer for 3 to 4 minutes. Check the seasoning, adding salt & pepper if required.
During the cooking time, prepare the pastry. Firstly, sieve the flour and salt into a large bowl. Add the diced butter and rub with your fingertips until the mixture resembles fine breadcrumbs. Add the baking powder and mix well. Stir in the mashed potatoes and pour in just enough cold water to form soft pastry dough. Turn the dough out on a floured surface and knead very lightly.
When you are ready to make the pies, remove the bouquet garni from the beef.
Choose 6 ramekins. Preheat the oven to 210°C/fan 190°C/gas 7. Carefully roll out on a floured surface, the pastry shouldn't be too thin and roll out the pastry. Using a large cutter, cut out 6 or more discs that are 2cm larger than the ramekins. Spoon the beef into the bowls, brush the edges with egg wash and place the pastry discs on top. Crimp the edges. Make a small hole in the top for the steam to escape.  Leave in the fridge to "rest" for about 20 minutes.
Brush with egg wash and transfer in the oven for about 18 to 20 minutes or until golden and baked. Leave to "rest" for about 5 minutes before serving with a fresh garden green salad.