Ready for river cruising
"Europe's rivers are calling, and are more wonderful than ever…" – that's the message from our our longtime riverboat partner, Scylla, owned by the Reitsma family. We're pleased to bring you a special video message from the team aboard ms Emerald, our wonderful riverboat cruising the Seine. They send a preview of what to expect – along with a special recipe for Lavender Cheesecake, provided by Delio Vargas, Scylla's Corporate Pastry Chef. In the chef's words: "Lavender desserts pair to perfection with Riesling, which has a sweet taste and flowery aroma, and delicately will let the lavender's fragrance grow on the palate."
We extensively searched to find the right company to partner with on Europe's rivers, a company that would share our values and our commitment to do the right thing by our guests – and we found it in family-owned Scylla. Based in Basel, Switzerland, Scylla is involved in the design, construction, outfitting and operations of our riverboat fleet. Together, we have custom-crafted all of our riverboats, working with an amazing group of international engineers, designers, electricians, mechanics and craftsmen to bring these wonderful vessels to life… to transport guests on unique, innovative, immersive, and authentic travel experiences in towns, villages and cities found along the great rivers and waterways of Europe.
Lavender Cheesecake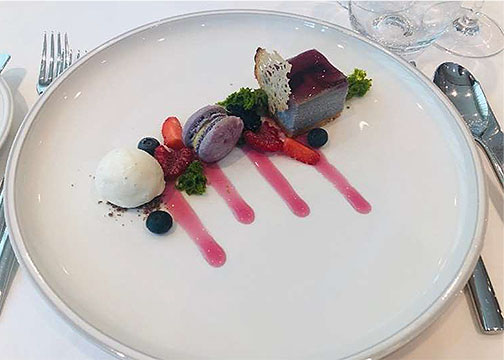 Ingredients for 5 portions:
Cheese cake
4.5 oz / 130 gr Philadelphia cream cheese
1.5 oz / 40 gr Liquid Eggs or a small egg
1.25 oz / 35 gr Granulated Sugar
1.75 oz / 45 gr Sour cream
Pinch of kosher salt
.25 oz / 8 gr Vanilla pudding power
.25 oz / 7 gr Lavender paste
1 tsp / 0.2 gr ground vanilla
Crust
2 oz / 50 gr Butter cookies ground
.50 oz / 15 gr Egg white
1.25 oz / 35 gr Butter / melted
1/2 tsp / 0.1 gr Ground cinnamon
Lavender sauce
2 fl oz / 60 ml water
.25 oz / 7 gr glucose
1 tsp / 2 gr Lavender paste
Pinch of violet color
Pinch of cornstarch for thickener
Preparation for cheese cake
Whip the cream cheese and half the sugar together. Add the egg, vanilla seeds, salt, sour cream, and Lavender paste and whip thoroughly, scraping the bowl. Take the cheese mixture and very gently pour into a prepared spring-form pan. Bake in the oven for about 20 minutes at (145°C, 290°F). Remove, cool on a rack, and then refrigerate for 12 hours.
Preparation for crust
To make the crust, mix the graham cracker crumbs, sugar, melted butter, egg white, pinch of cinnamon until well blended. Press the mixture into an 8-inch (20 cm) spring-form pan, ensuring a thin, consistent layer, and bake at (160°C, 320°F) for 7 minutes. Leave to cool, and then chill for an hour
Note: To cover the lavender cheese cake use top glace coloring with lavender paste and a pinch of violet color.