Our longtime global partnership with Carolyn Robb, formerly then-Prince Charles and Princess Diana's executive chef for 13 years, has enriched guests' travels in the UK during special presentations filled with behind-the-scenes stories (and recipes). It's been one month since the passing of Queen Elizabeth, and we're honored to share with you Carolyn's personal, heartfelt reflections.
Wednesday evening (September 7th 2022), during a cheerful Tauck England, Scotland & Wales tour farewell dinner, I talked at length to the group about my former boss, Prince Charles, and why, in the fullness of time, I knew he would make a wonderful King. Less than 24 hours later His Majesty King Charles III ascended to the throne. Even as beautiful flowers are laid in great swathes in every corner of the country, by those paying their respects to our late Queen, it still somehow seems surreal and inconceivable that our one 'constant' over the past 70 years, is no longer with us.
During my incredible 13 years as a Royal chef, I was hugely privileged to meet The Queen on many occasions; each one so memorable in its own way. During my first few months at Kensington Palace, when I was cooking for TRH The Duke and Duchess of Gloucester and their children, I accompanied them to Windsor Castle, where they were joining the annual Royal Family Christmas gathering. On Christmas morning, (the one day in the year when I had assumed that the Queen would not undertake any 'duties') I was surprised to be called to one of the drawing rooms in the castle, along with all the other members of staff who were on duty that day. Her Majesty shook each of us by the hand, said a few words and handed out beautifully wrapped gifts. I was thrilled with the exquisite lavender soap that she kindly gave me, but that paled into insignificance compared to the gift of her time. Her words to me were warm, engaging and humorous and most notably, it was an 'un-rushed' conversation, despite there being a room full of people for her to 'get through' before she could relax and enjoy the day's festivities with her family. She commented on the fact that I was working on Christmas day; I wish I had had the presence of mind at the time to ask her if she ever, ever gave herself a 'day off'.
I think I know what the answer would have been.
I was struck by how petite The Queen was, but then I realised that in the myriad of images that we see of Her late Majesty, she was seldom photographed without one of her fabulous 'trade-mark' colourful hats (or, of course, a crown or tiara) and Christmas morning at home called for none of the above! My first impression was of a woman of great warmth, charm, compassion, wisdom, wit and humour and this was reinforced each time I met The Queen.
In 1997 Prince William was confirmed at St George's Chapel at Windsor Castle. It was a small and intimate gathering of family and godparents. I was very privileged to be one of a handful of members of staff who were invited. The Queen attended the service as a grandmother and mother and not in her 'official' capacity. It was wonderful to observe the interaction between this dearly-loved grandmother and her grandchildren. It was instantly evident that the children all held their grandmother in the very highest esteem, but this was matched by enormous mutual affection. The gathering was joyful, not a hint of the formality that many would assume always surrounded The Queen.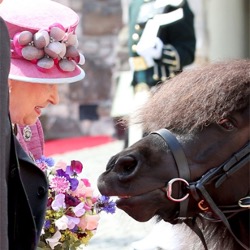 Her Majesty had a quick wit, beaming smile and love of quirks, foibles and those little things that didn't quite go to plan when she was out and about, like the ceremonial pony on parade who nibbled her bouquet….
This is what made her the greatly loved grandmother, not just of her family, but of the nation and in fact many nations around the globe. She was quite simply everyone's Queen.
Each year, The Queen hosted five garden parties; four at Buckingham Palace and one at The Palace of Holyrood House in Edinburgh. Eight thousand guests would be invited to each one; that's an incredible 40,000 visitors in total. One of Buckingham Palace's best kept secrets is the secluded, yet extensive gardens behind the building; perfect for parties when you have invited several thousand guests! I was very fortunate to attend several garden parties. One could not hope to be part of a more patriotic celebration, capturing the spirit and essence of everything that is quintessentially British…. cream scones, cucumber sandwiches, and Victoria sandwich cakes, jugs of 'Pimms' crammed with fresh mint and strawberries, dapper gentlemen in tail suits and ladies in beautiful hats, a brass band playing Elgar and THE Queen.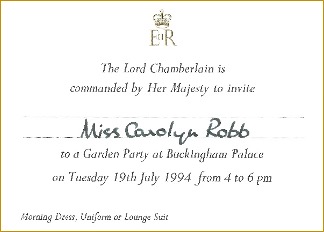 Watching Her Majesty and the royal party walk down the steps that lead from the palace into the gardens, to join the sea of guests, was one of those moments when I had to pinch myself to be sure that I was actually there (in my hat), and that it wasn't simply a dream. Watching The Queen work her way along the almost endless line of guests was amazing. She spoke to hundreds of people and each one of those lucky guests surely walked out through the palace gates at the end of the afternoon, cherishing their own personal treasured few moments in the company of The Queen and desperately trying to commit to memory, every detail of their conversation.
Another remarkable 'perk' of being a royal chef was receiving an invitation to the annual Christmas Dance, held either at Buckingham Palace or Windsor Castle. Hosted by The Queen and The Duke of Edinburgh, this was nothing short of a fairy tale evening. On arrival there was an opportunity to stroll through the state apartments and this was followed by a wonderful dinner enjoyed to the sound of a band playing. At about 10pm many members of the royal family, led by The Queen and The Duke, would make an entrance and join the party. The conversation was always very animated and jovial and the mood was simply magical.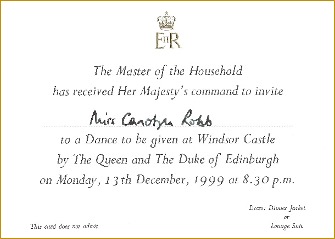 It was a highlight of my time as a royal chef (and one of my proudest moments as a daughter) to be able to take my parents to the dance and give them this little glimpse into life beyond the green baize door. My mother dined out on tales of this magical evening, many a time. Having the traffic brought to a halt outside Buckingham Palace, to allow us to drive in through the front gates, (a privilege usually reserved for royalty) was a great start to the evening. The conversation that she had with Her Majesty, brought a smile to her face every time she regaled it and it was along the lines of how useful it was to have a large house, so that one could hold large Christmas parties. The Queen was always infinitely practical!
I have had the joy of cooking for a remarkable catalogue of incredible people; Kings, Queens, Presidents, Prime Ministers and diplomats from around the world, entrepreneurs, environmentalists, artists, musicians, sportsmen and religious leaders. I seldom worried about a souffle sinking or a sauce splitting, but I vividly remember the first time that I cooked for The Queen – this was a different matter altogether! It was a simple lunch composed of wonderful home-grown produce, with little scope for disaster, but never before had I been more nervous. As a seven-year-old visiting Buckingham Palace, I remember peering through the black railings, hoping that Her Majesty's face would appear at one of the many windows, and day- dreaming that one day I would cook for her. When that day finally arrived, it was nothing short of a dream come true.
Rest in Peace Your Majesty